OHS boys tennis team has near-perfect season

By Sarah Brewer

The Oakwood High School Tennis Team had an amazing season this year. The team overall lost only one match. OHS Tennis was ranked one until the last match against Miami Valley.
"Mrs. Gilbert is a terrific coach and did a wonderful job again," said 2008 OHS graduate David Wang. This is the third season David has had with the Oakwood Varsity Tennis team. He moved to Oakwood from Texas after his freshman year where he had also played tennis.
As for an overall record, David and his doubles partner Isaac Hong, also a 2008 graduate of OHS, were undefeated in the regular season for Division II. But they ended up playing several Division I teams, including Vandalia Butler. "Their first doubles team was also undefeated at the time, so it was in essence the showdown between DI and DII," said David. OHS ended up winning overall as well.
First Team Doubles
Isaac Hong, Sr./David Wang, Sr. 19-1
Second Team Singles
Ethan Greene, Jr. 14-4
Ben Williamson, Sr. 15-2
Court Wille, So./Trevor Schumacher, Sr. 16-1
Honorable Mention
Nick Zunich
Academic Awards
Isaac Hong, David Wang, Trevor Schumacher
The only loss for the two before the state tournament came from Lakota East. But OHS tennis team won overall. "The loss was frustrating because rather than playing against us with their regular line-up, they decided to cleverly place their top two players at first doubles. However, their plan backfired when everyone else on their team lost," said David.
David has won the OHS tennis sportsmanship award all three years he has played on the team. "On the court Isaac and I always keep each other going by encouraging one another and getting excited when amazing shots are made," said David. David was also awarded a scholar athlete all three years. Isaac Hong was awarded Most Improved Player the past two years by the team.
David's three years have been successful in Oakwood. In his sophomore year, he and his old doubles partner Ethan Greene lost only one match during the regular season. In his junior year the two lost two matches. This year he and Isaac Hong lost only one match. All of these matches were lost to DI teams.
For the league, Southwestern Buckeye League (SWBL), I've placed first for the past three years in the league championship (2007 and 2008: First Doubles, 2006: Second Doubles). I've been awarded First Team in 2007 and 2008 (senior and junior year) and Honorable Mention in 2006 (sophomore year). Isaac Hong was Runner-Up Third Singles in 2007 earning him Honorable Mention that year. This year he and I won the First Double Championship and he was awarded Second Team in 2008.
In the fall David will be attending Harvard University. He also looked at Stanford, University of Pennsylvania and Duke University but decided on Harvard because of the academics and the attractions and opportunities associated with Boston. He intends to study Molecular and Cellular Biology as his major with hopes of becoming a neurosurgeon. He also has considered Political Science. It is his dream to run for public office someday.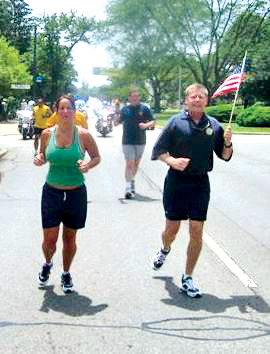 Chief Alexander Bebris, led and escorted by
Capt. Randy Baldridge and Officer Tiffany Conley,
carries the Special Olympics Torch
as it passes through Oakwood.
On Thursday, June 26, Chief Alexander Bebris, Captain Randy Baldridge, and Officer Tiffany Conley of the Safety Department had the honor of carrying and escorting the Torch of the Special Olympics as it passed through the City of Oakwood. Each year in Ohio, law enforcement officers run the symbolic torch across the state from six different starting locations, all ending at the opening ceremonies of the Special Olympic Games, which are held in Columbus.
This year, more than 85,000 law enforcement officers carried the Flame of Hope across all 50 states and 34 other nations, raising awareness and funds for Special Olympics. The Law Enforcement Torch Run began in 1981 when Wichita, Kansas, Police Chief Richard LaMunyon saw an urgent need to raise funds for and increase awareness of Special Olympics, this event was quickly adopted by the International Association of Chiefs of Police (IACP) and spread across the country and the world. Participation has steadily grown each year since its inception.
"I am proud that I am among the thousands of other law enforcement officers who proudly carry this torch on behalf of Special Olympics." said Chief Bebris. Also participating in this leg of the torch relay were officers from numerous other area police agencies, including Centerville Police Department, Kettering Police Department, and the Montgomery County Sheriff's Office.
Oakwood girls soccer Head Coach Dawn Gaydosh held a girls soccer camp from June 9 to 13. Up and coming girls from grades first through fifth attended the camp with members of the OHS varsity Jills soccer team helping with co-coaching chores.
OCC Soccer Camp (Coach Bill Sellers)
July 28-August 1, 5:00-7:00 P.M.
Old River Sports Complex
All boys and girls from grades 2 - 6
OCC Basketball Camps at Orchardly Park (Coach Adam Woessner)
July 14-18
Boys and Girls
Grades 3-5 9:30-10:30
Grades 6-8 10:30-11:30
Tri-Sports Camp (Coach Andy Seyfang)
July 21-25, 9:30 A.M.-12:30 P.M.
Boys and Girls entering grades 3, 4, 5, & 6.
Intro Sports Camp Week
August 11-15, 9:30 A.M.-12:30 P.M.
Boys and Girls ages 7-10
Old River Sports Complex
Tennis Camp Deuce (Chris Cubbage pro at Hollinger)
July 7-11, 3:30-4:30 P.M. ages 4-6
July 14-18, 3:30-4:30 P.M. ages 7-11
July 21-25, 3:30-4:30 P.M. ages 12-14
The Oakwood High School Athletic Hall of Fame Committee would like to invite the public to the First Annual Oakwood Athletic Hall of Fame Banquet to be held Thursday, Aug. 21 at the Dayton Country Club (jacket/no denim) beginning at 6 p.m. Cost for the event is $30 for adults and $12 for children 12 and under. Social hours begins at 6 p.m. with heavy hor'devours; program begins at
7:15 pm.
The following individuals will be inducted:
Dr. Roger Beardmore, Class of 1969
Kate Burton, Class of 1981
Edward Cook, Coach
Bess Hayner, Coach
Dan Howell, Class of 1973
J. Mack Hummon, Coach
Barry MacKay, Class of 1953
Joe (Buzz) Pierce, Class of 1964
John Sauer, Class of 1943
Marisa Tuzzi Maher, Class of 1995
State Championship Track Teams of 1929, 1930, & 1931
The Committee is trying to locate the family members of Dan Howell, Bess Hayner and the 1929-1931 State Championship Track Teams. If you know of any information that would help us, please call the Oakwood Athletic Department at (937) 297-5342.
To purchase tickets for the event, please send a check made payable to Oakwood Athletic Boosters, and mail to Oakwood Athletic Hall of Fame, 1200 Far Hills Avenue, Dayton, OH 45419 by Aug. 1, 2008. Attendees will not receive a ticket in the mail; check-in begins at 5: 45 p.m. at the Dayton Country Club.
For more information, please contact Mark Hughes, Chairman, Hall of Fame Committee, at (937) 297-5342.
Hi, This is Scott Herman, head softball coach at Oakwood High School. I want to tell you about some girls that are playing select softball that will surely have an impact on Oakwood softball in the future.
Liz Stoecklein and Ally Kern play on my 14U select team called the Diamond Dominators. Just this last weekend, we won the Fairborn Tournament. Two weekends ago, we finished third out of 21 teams in the USSSA State tournament in Beavercreek.
The team that won that tournament, The " Cinci Storm" has first baseman Caroline Turner from Oakwood on it. All three of these girls have qualified to play in the World Series in late July.
Ellie Rodebeck plays for the Miami Valley Xpress 18U Ellie along with Ali Botello have been invited to play on the District All Star game where the top players from each school are invited to play in.
In addition, we have some girls that are playing in a 12U Recreational league. They are being introduced to the game and are improving every time they take the field. These girls are Rachel Garriety, Ally Ross, Nichole Bucio, Sydney Corbean, Rachel Bolmida.
The girls are working hard and are improving their game, but most of all, they are having fun and enjoying the game. The great thing about softball is you can start playing at an older age. There are different levels of play where you can start playing. E.K.R.C. and K.A.B.C. are two leagues out of Kettering that support that. We have select teams in place if you want to take your game to a higher level.
If anyone is interested in pitching lessons, my email address is bhahah@aol.com.