It seems like a century ago. I sat in a cornfield listening to Robert Oelman, chairman of NCR, announce the founding of Wright State University. Enthusiastically, he predicted that the university would have an outstanding medical school, engineering school, business and undergraduate school and, above all, a theater department of national repute and scope. Oelman became the first president of the WSU Board of Trustees and everything he prognosticated, and much more, has come true.
Perhaps the least likely area of success for a new university in metropolitan Dayton, Ohio would be in the arts. But in these four decades, WSU has fulfilled the dreams of generations of aspiring students of acting, dance, technical theater, music and visual arts through its theater department. The faculty, the ever-improving facilities, and the enthusiasm of complete involvement have made WSU creative arts among the most sought after university programs.
As applications pour in for every aspect of the theater department, Chairman Stuart McDowell continues to develop new opportunities and new talents. The results on the stages of the WSU Creative Arts Center speak loud and clear from these columns. Some of our great moments in theater, anywhere, have been given to us by the WSU students.
The creative arts faculty is star-studded. Such luminaries as Mary Donahoe, Joe Deer, Greg Hellems and Bruce Cromer not only teach and direct but are seen on local and national stages in leading roles. Such a combination of pedagogues, who are active in their art, sparks the magic at WSU.
Chairman Stu McDowell is also active in his art. He has recently won a major award for an essay on the works of German playwright Berthold Brecht. This essay will join
his other writings to become a book on Brecht which will have far-reaching effects. Again, scholarship mixed with active participation - a winning combination.
Stu speaks with the greatest pride not about his accomplishments but those of the students. Theaters all over the country have employed WSU students. Names such as Susan Blackwell, Nick Farina and Nicole Scherzinger, are but a sample of those alumni who have met success.
The department of theater tech, design, implementation, and back-stage management has the loftiest record. These graduates have 100 percent employment within two months of entering the job market. This record is unbroken for six years.
The long range plans call for emphasis in every genre of theater. The goal is to "nail the classics" and to produce the best in contemporary theater. Brecht will be well represented as will Shakespeare, Gilbert and Sullivan and visits to the great American musicals.
Next season is a great example of this diverse but very effective concentration. The 50th anniversary of Lorainne Hansberry's ground-breaking A Raisin in the Sun will be commemorated with a special production in honor of Dayton's own theater icon Sheila Ramsey.
Song and dance wizard Joe Deer will direct Thoroughly Modern Millie. He promises 50, count 'em 50, tap dancers exploding on the stage and bringing the roaring 20s to life. Greg Hellems will direct the debut of Smokey Joe's Café, exploring the 60's music in a gala revue fashion.
Thornton Wilder's immortal Our Town will make its WSU debut under the direction of Sinclair's Brian McKnight. It is hard to believe that this play, seen on every conceivable stage from high schools to historic Broadway, has never been done at WSU.
Brian McKnight brings a wide range of sensitivity to everything he does. He understands comedy, tragedy, satire, pathos equally. Our Town is an exposition of life and death. It is complex in its simplicity. Its characters glow with each line, each word.
I can predict with certainty that this Our Town will plumb the very depths of emotion with elegant truthfulness.
The fifth annual DayTonys award banquet was held on Aug. 17. The event is divided into two very different categories.
The Dayton Theatre Hall of Fame inducted two more into their Olympian cadre. The addition of Dodie and Jim Lockwood brings that number to 31. To me, the measure of talent required should make their number 30. The extra "1" was yours truly, inducted in 2006.
I maintained, before my induction and since, that my depth of talent is like the skin of your teeth. I know that teeth have no skin – that's where my own talent lies. At any rate, the nomination of two fabulous actors, directors and theater activists honors the Hall of Fame.
Both Jim and Dodie have played every conceivable role on stage. Their complete devotion to theater has given their son and daughter no choice but to follow the gene pool onto the boards. At some future time, they could be the first family of the Dayton Theatre Hall of Fame.
The second part of the evening was the DayTonys. Eleven local theaters - community, collegiate and professional - are members. A complex judging and rating system views nearly 100 works each season and awards Dayton's answer to the Tony Awards from some other town in the East.
The list is prodigious. One of the wonderful aspects is the nearly total admixture of the talent pool among all of the theaters.
Medals, Olympic style, are awarded and the parade of winners is impressive. Not every winner is present. A representative is assigned to accept these awards. Irrepressibly cute Katie Pees accepted so many awards for the Human Race that she made Michael Phelps look like an amateur as she clinked about covered in gold.
What is so memorable are not the awards, but the winners. There are so many and they are so deserving. What a reminder of the rich tapestry of the arts we enjoy and appreciate here in Dayton.
---
(Dayton, OH) – August 8, 2008 – At Dayton Opera's recent annual meeting, four individuals from greater Dayton were elected as new trustees on its Board of Trustees. A new slate of Board officers for 2008-2009 was also recently approved.
The new trustees, elected for a three-year term, are: Barbara Ann Hardy, educator with Xenia City Schools; Gary L. Nicholson, M.D., Greater Dayton Cancer Center and Hospice of Dayton; David G. Small, M.D., Kettering Health Network; and Merle F. Wilberding, attorney with Coolidge Wall LPA.
The Board Officers for the new fiscal year are: Chair: Jeffrey Ireland, Partner with Faruki, Ireland & Cox P.L.L.; Vice-Chair: Greg Robinson, , President of HCS, Inc.;
Secretary: Dale E. Creech, Jr., Senior Vice President and Chief Legal Officer of Premier Health Partners; and Treasurer: Ann Knerr, CPA with Clark, Schaefer, Hackett & Co.
Dayton Opera will open the 2008/2009 "Love Triumphant" season with performances of Puccini's "Turandot" on October 18, 24 & 26 at the Schuster Center.
---
Annie Bartlett, a fourteen-year-old freshman at Oakwood High School, is both a musician and artisan. She has been an avid guitarist for the past five years and also enjoys making bracelets and necklaces using beads. Recently, she combined the two pursuits into one by making guitar pick bracelets and necklaces.
Her handiwork will be featured in an article written by her and published in the Fall specialty issue of Beading Parties, a spinoff of Bead Style magazine. She obtained her guitar from Hauer Music, her guitar picks from Ace Music and her beads and necklace threads from The Bed Cage. She also said she will custom make bracelets and necklaces. Call her at 299-4479 if interested.
When she isn't threading her way through a guitar chord pattern or threading guitar picks into beadwork, she enjoys playing on the junior varsity soccer team where she is co-captain along with Cara Mumford. Apparently, she lives in a zoo as her family has two cats and a dog, an aquarium of fish, a cage of birds and a terrarium of turtles. When asked what she wanted to be when she grew up she said she wanted to be an architect or engineer, "or an artist" she added.
---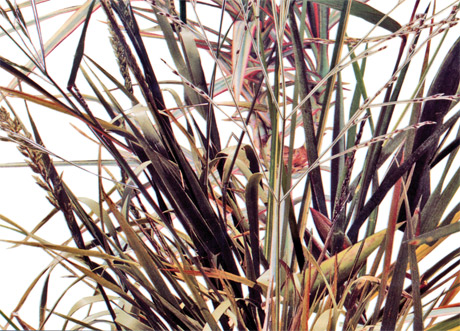 Artwork Tristes Tropiques by Stephen Eichhorn.
Chicago-based artist Stephen Eichhorn (OHS, 2002) is currently showing work in a solo show at Bucket Rider Gallery, The show is entitled Tristes Tropiques, and features delicate paper collages created from reproductions of foliage (palm fronds, grasses, leaves, and flowers) cut by hand mining a variety of sources, including National Geographic magazines and the dead stock of 70's and 80's wall coverings. Eichhorn reassembles these elements into something outside of the reality of the natural world. Formally transferring the simplest elements of the pastoral into conceptual sculpture, he takes a cue from theoretical or invisible architecture, creating another world, wholly existing on its own terms and with its own visual language.The final product eerily retains a sense of its origins: his constructions feel as if they could exist in reality but clearly do not. They simultaneously offer a vestige of the world around us while also acting as a reminder of the way that we mediate every part of it into something that is our own.
The title of Eichhorn's exhibition is taken from Claude Levi-Strauss' influential study of the same name and is used to loosely reference the author's encounter of the elements of otherness and his attempts to arrange and describe his experiences. Detailing the creation of an abacino, or fire fan, Levi-Strauss explains, "there are several ways of solving the problem and several kinds of palm leaf (and) it is possible to combine leaves and methods to produce every conceivable form, and one can make a collection of specimens illustrating these miniature technological solutions." Eichhorn is also creating solutions, albeit aesthetic ones, to the world around him.
Eichhorn lives and works in Chicago. He received his B.F.A. at the School of the Art Institute of Chicago in 2006. Currently, he also has artwork in group exhibitions at the Illinois State Museum and Josee Bienvenu Gallery in New York City. At the end of August, he will have work exhibited in a group show in Hallway Bathroom Gallery, in San Francisco, CA. Next month, he travels to Seattle, Washington, where he will open a solo show entitled "House Plants" at Cairo Gallery. Stephen's work is included in a number of private and corporate collections, including recent acquisitions by Fidelity Investments. Samples of his artwork can be viewed at www.stepheneichhorn.com.