R. Peter and Judith Finke of 27 E. Thruston Blvd. in Oakwood announce the wedding of their daughter, Rachel Finke, to Michael Chambers of Cincinnati, Ohio. The wedding will be held at St. Rose Catholic Church in Cincinnati, Ohio. Rev. Barry Windholtz will be officiating at the wedding. Honor Attendants will be Rachel's sisters, Kathleen and Sarah. Best man will be Ralph Chambers and Bridesmaid will be Maggie Miller. Ushers will be James White, Christopher Chambers, Peter Chambers and Richard Chambers.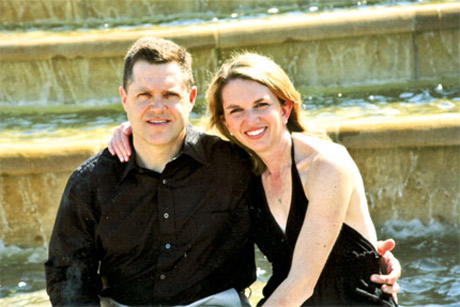 Rachel graduated from Alter High School and the University of Notre Dame where she graduated with a BA and earned an MBA from the Wharton School of Business. She currently works at Proctor & Gamble as a Brand Manager.
Michael is a graduate of Xavier High School and of Miami University. He currently works for Hyde Park Mortgage. He is the son of the late Ralph and Elaine Chambers.
Following the ceremony a reception will be held at The Cincinnati Club.
Wedding__________________________________
Vail - Archer

Mr. and Mrs. David Vail announce the marriage of their daughter, Melissa Kathleen to Michael David Archer, son of Mr. Michael Archer and Mrs. Mary Strawser on Saturday, June 21.
The wedding took place at St. Albert the Great Church in Kettering with Father Chris Conlon of the University of Dayton officiating. Maid of Honor was Jessica Buzenski, a friend of the bride, and Best Man was Tyler DeSantis, a friend of the groom.
The bride attended Bethel High School and is a graduate of the Ohio Dominican University with a bachelor of science degree as an intervention specialist.
The groom is a graduate of the United State Air Force Academy with a degree in electrical engineering. He is currently a second lieutenant in the United States Air Force stationed at Eglin AFB located in Okaloosa County, Fla.
---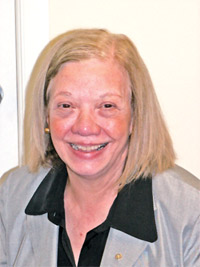 The Rotary Club of Dayton has a new president for 2008-2009. Constance M. Mahle took over the leadership of the club from outgoing President Dave Neer of Kettering on July 1. Mahle joined Dayton Rotary in March 1998. Her efforts have earned her recognition as a Paul Harris Fellow, a J.R. Woodhull Fellow and a Frederick C. Smith Fellow.
Professionally, Mahle has served as the executive director of the Montgomery County Medical Society in Dayton since 1997. In addition to her service at Rotary, Mahle was a past board member of the American Cancer Society and Zonta International. She lives in Oakwood and is a member of Holy Angels Church.
The Rotary Club of Dayton is a fellowship of diverse business and professional leaders who commit their time and talent to staying informed and serving the club, the community and the world. The Rotary Club of Dayton was organized on May 27, 1912 and was chartered as the 47th club of Rotary International on June 2, 1913.
We invite all local business professional to attend our regular Monday Club meetings, held at 12 Noon at Sinclair Community College, Building 12, 444 West Third Street, Dayton, Ohio 45402. Please call 937-228-3331 for reservations. For more information on the Rotary Club of Dayton and Rotary International, please visit our website at www.daytonrotary.com .
---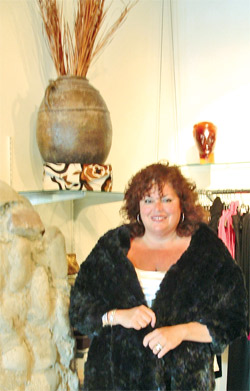 While it seems like small, family-owned businesses become more scarce each year, many still flourish despite current economic woes. Elan Women's' Wear of Kettering, Ohio, is a local, small business celebrating its 30th anniversary this month. Julie Shone-Baker, owner of Elan, believes customer loyalty is the key.
The late Laverne Shone opened Elan in 1978 under the name Ultimo. The fashion forward women's apparel business began in downtown Dayton, and focused on hand selected designs which were chosen to work together. With their move to the current 3117 Far Hills location in 1997, Elan fine tuned its focus on truly personal service and developed a local customer base of ladies who wanted to personalize their fashion to their body type and lifestyle.
Julie Shone-Baker joined her late mother in the business in 1981 and now operates the store with her husband Chris Baker. A third generation is becoming involved; as the Baker Children, Erin and Josh, help at the store when their teen schedules permit. Perhaps the store's continuing success over thirty years is due in part to close family ties.
The Elan staff is like a part of that family. Elan maintains a staff of around a dozen local women. Some of these women have been with the store for 15 to 20 years. The store has always been owned and operated by women, as well. The store is probably best known for unique, often artisan-crafted designs and locally produced fashion shows benefitting the Opera Guild and the Dayton Art Institute.
"Surely, loyal customers are the real secret that makes this business prosper," she says. "We love to take part in the special occasions of our customers' lives, dressing them for dances, weddings, anniversaries, christenings, bar mitzvahs, and celebrations of every sort. Indeed, we value every one of our customers. If we don't have what they want, we do our best to find it and special order it for them," said Julie Shone-Baker.
Regarding Elan's upcoming anniversary, Shone-Baker states, "We are pleased to announce the 30th anniversary of Elan Women's Wear. With our deepest appreciation, we thank our customers for a fabulous thirty years; and we look forward to the future with great excitement and the hope that we will have the honor of continuing to be a part of their lives."
---
By Abby Mansfield

Since 1959, the Holiday at Home parade and festival has been a favorite tradition in the Kettering and surrounding communities. Families flock to partake in games, art and auto shows, concerts and the parade. For a few young women, however, the most anticipated event of the festival comes before Labor Day weekend: the Miss Holiday pageant and election of the queen and her court.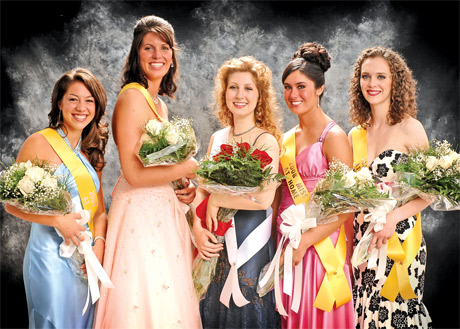 Pictured, left to right: Princesses Brittany Sanders, Sara Tahy, Miss Holiday at Home Katrina Baker, Princesses Marie Byer and Dacey Jackson. Photo courtesy of 808 Studios
Five lucky girls aged 17 through 21 are chosen based on their "poise, personalities, appearance, and community service," as stated by the Holiday at Home website, to receive a scholarship and the honor of appearing on the float. What follows is a short profile of each young lady and why she thinks the Holiday at Home Labor Day tradition has been such a roaring success for the past 50 years.
Miss Holiday at Home for 2008 is Katrina Baker of Beavercreek, ironically self-proclaimed as "not a pageant type of person." She is 18 years old and a junior at Ohio State University, having completed college-level courses during high school. While she is currently studing Business Administration and Law, her true passion seems to lie in the performing arts. At the tender age of ten she started classical voice lessons at Miami University; at age twelve she was accepted into the Wright State College of Music and began formal training in opera as well; when she was thirteen she recorded her first CD. Baker performed live in Orlando at the ages of fourteen and fifteen, and recently appeared in a Cincinnati Bell Commercial with Nick Lachey.
According to Baker, the Holiday at Home festival is "special because Kettering is a unique community" and full of volunteerism. "People really tend to get behind Holiday at Home," and as a result the tradition has gained popularity over the years, rather than petering out. Although Baker was six or seven the last time she attended the parade, she remembers seeing the queen and court on the float, waving to the crowd. She was "absolutely shocked" to be made queen, saying that all she wanted was to ride on the float and have the "opportunity to get involved in the community and meet new girls."
Court member Marie Byer of Kettering is 19 years of age and will be a freshman at Ohio University, where she will study Education, specifically Secondary English. In high school, Byer was a member of the National Honor Society, the Track and Field Hockey teams, as well as a member of the student government. In addition, she has been employed at the Lincoln Park Retirement home since grade 10.
Byer says she has attended the Holiday at Home festivities, "since before I can remember, honestly," and has been in the parade on multiple occasions with her school and job. She decided to enter the pageant as a service opportunity in this "incredible community event." When asked why she thought the festival was so successful, Byer said it was because Holiday at Home had become an ingrained tradition in the Kettering community, which people "carry in their family."
Dacey Jackson of Oakwood is 19 years of age and a freshman attending Notre Dame University this fall. She is currently enrolled as a chemical engineering major with a pre-med curricular track as she hopes to be a medical researcher someday.
"I always used to go to the Holiday at Home parade with my family. I like the way the community comes together for it," she said. In addition to being chosen as one of the four Princesses in the Holiday at Home Court, Jackson was also chosen for the Skip Lowe Scholarship.
Dacey is contributing to her college tuition in a number of ways. Her mother Healy mentioned the Holiday at Home pageant to her and the scholarship that went with it. Dacey was working at Smith elementary school as a janitor for the summer at the time. "Just think, you can be a janitor during the day and a Princess at night!" her Mom quipped Dacey also performed a major public service when she traveled to Bolivia for six weeks and worked in a shelter called Nuestra Casa, refuge center for sexually-abused girls. She has also raised over $2800 selling homemade pesto sauce around the Oakwood and Kettering area.
Brittany Sanders, age 18, of Kettering, will be attending Miami University this fall to study pre-med with a major in Psychology. During high school, she was involved with cheerleading for her school and a select team, as well as competitive dance, Spirit Club, the school news magazine and various volunteer activities. Sanders has already participated in the parade during middle and high school as a member of the cheerleading squad, and regularly attended the festival as a young girl.
Sanders believes that Holiday at Home is an "important part of the community" because it encourages families to spend the holiday together, and many people who have moved or gone away to college come back to Kettering for this "exciting time."
Last but not least is Sarah Tahy of Oakwood. Tahy is 20 years old and attending Mount Saint Joseph College to study Sports Business and play basketball, her foremost extracurricular activity. Being selected as a court member feels "amazing" to Tahy, however she isn't used to the attention it brings: "People around Oakwood that I don't even know congratulate me!" she laughs.
From the age of five, Tahy has been attending the Holiday at Home festival, though always after a visit to her grandmother's house. As a child, her favorite attraction was the arts and crafts fair. To Tahy, Holiday at Home has endured because it is "family-oriented" and is made special by the people involved, who are all "in there for a reason."
There you have it, folks, the 2008 Holiday at Home queen and court agree: the upcoming 50th anniversary of our Labor Day tradition is a thing to celebrate indeed.