Mr. and Mrs. Robert Becker of Oakwood announce the engagement of their daughter, Amy Christine Becker to Jordan Anthony Wyant.
The Bride-elect is a 2002 graduate of Oakwood High School and graduated from the University of Dayton in 2006. Amy is currently a manager at Tannenberg Kennels, Inc. and lives in Kettering, Ohio.
The Groom-to-be graduated from Elida High School and is a graduate of Capital University. Jordan is an account executive with the Berry Company and lives in Kettering, Ohio. He is the son of Mr. and Mrs. James Wyant of Elida, Ohio.
A March 28, 2009 wedding is planned in Kettering, Ohio.
---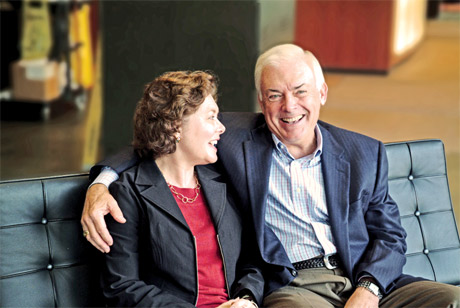 For Oakwood High School graduate Fred C. Setzer, Jr., and his wife Jane, giving is something you simply do. "It's what being a part of a community means," Jane Setzer said.
A native Daytonian, Fred Setzer evolved Setzer Corporation from his family's business. In 2002 he and his wife Jane established a Dayton Foundation chari
table fund. He joined the Foundation's Governing Board in 2001 and served as chair from 2006 to 2008.
"Few people understand The Dayton Foundation's central role in numerous community efforts, including education, The Job Center, the Schuster Center and RiverScape, to name a few," he said. "The Dayton region might look very different were it not for the Foundation and its nearly 3,000 donors and their charitable funds.
"The Foundation has a unique perspective as a community problem-solver and an ability to bring organizations together to tackle complex regional issues. In many ways, it is the eye of the community. But, because of its tradition of modesty, few understand its impact on Greater Dayton. I truly believe that the stronger The Dayton Foundation grows, the stronger our community will be."
Through volunteerism, Fred Setzer learned the power of participation and giving back. For Jane Setzer, it was part of her South Carolina upbringing by her church and her parents. They instilled in her the importance of neighbors taking care of one another.
Fred Setzer's greatest satisfaction has been through his volunteering on community boards and campaigns and through philanthropy. His leadership helped to bring the YMCA of Greater Dayton back from near-bankruptcy to a strong organization helping children and families—and the Setzers' charitable fund has given him another way to con tribute.
"To see the faces of inner-city children, who through scholarships were able to go to camps like the YMCA's Camp Kern for the first time and experience nature…that makes me happy. My greatest wish is to make this region better for our grandchildren and others' grandchildren. The Dayton Foundation helps us to do this."
Since 1921, The Dayton Foundation has been helping people help others in the Dayton community and beyond. The Dayton Foundation helps donors find the best and most tax-wise ways to achieve their charitable objectives, invests and manages donors' charitable funds, and provides grants and leadership to grow philanthropy and help meet present and future community needs. More information about The Dayton Foundation and its services is available at www.daytonfoundation.org.
---
Routsong Funeral Home National Funeral Directors Association (NFDA). Only 168 funeral homes, nationwide and abroad, received this prestigious recognition, placing Routsong Funeral Home in an elite group of funeral service professionals.
In order to receive NFDA's Pursuit of Excellence recognition, funeral homes must demonstrate proficiency in all facets of funeral service. Pursuit of Excellence Award recipients must fulfill strict quality service criteria that exemplify commitment to: Ethical practices and regulatory compliance; ongoing education and profession
al development opportunities for staff; outstanding programs and resources to bereaved families; community involvement through participation in volunteer opportunities and sponsorships; professional association participation; and community outreach through a variety of marketing, advertising and public relations programs.
"The Pursuit of Excellence Award Program proves that funeral service excellence is not limited by geographical boundaries," said NFDA Chief Executive Officer Christine Pepper, CAE. "These award-winning firms, no matter their size or location, are dedicated to improving the face of funeral service by going above and beyond the expectations of the families and communities they serve."
NFDA is the world's leading funeral service association, serving 19,500 individual members who represent more than 10,000 funeral homes in the United States and internationally. From its headquarters in Brookfield, Wis., and its Advocacy office in Washington, D.C., NFDA informs, educates and advocates to help members enhance the quality of service they provide to families. For more information, visit www.nfda.org.
---
An Oakwood firefighter spent time with kindergarten students at The Miami Valley School recently, teaching the children fire safety tips that could save their lives.
Lt. Chuck Balaj, of the Oakwood Public Safety Department, visited Connie Howard's class and told students if a fire would break out in their homes, they should get out immediately. Balaj taught students how to crawl on the ground to avoid smoke and also let students see him in full gear. He said the exercise is more than just show-and-tell.
"I think it's important to get in full gear so they can see what we're going to look like," he said. "The first time they see a firefighter should not be in the dark, in the middle of the night when it's dark and smoky."
Six-year-old Troy Benedict, of Oakwood, was not only excited to try on Balaj's helmet, he also walked away with some valuable information. "I learned that hot air makes the smoke go up to the ceiling," he said. "So you should crawl around and feel the door before you go out."
---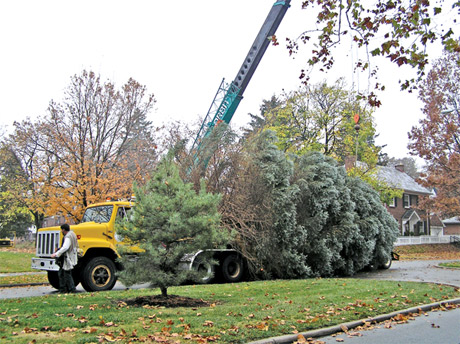 A very large blue spruce formerly located at 920 Shafor Blvd. in Oakwood was chosen amongst dozens of candidates to be the Holiday Tree that will be lit during the Grande Illumination at Courthouse Square at 8 p.m. on Friday, Nov. 28.
The magic will continue when the 2008 Dayton Children's Parade rounds the corner of Second and Main Streets moments later. The 45-minute parade will feature everyone's favorite floats and entertainers. This year's Grand Marshal is Clifford The Big Red Dog.
The tree was cut down, hauled onto a truck bed using a lifting crane and driven downtown on Thursday morning last week. For more information about Dayton Holiday Festival activities, call (937) 224-1518 or visit www.downtowndayton.org.
---
All Oakwood residents are welcome to contact the Oakwood Public Safety Department to request a home delivery meal on Nov. 26. This free dinner is sponsored by Oakwood Fraternal Order of Police and the Oakwood Rotary. The meal will be provided by MCL cafeteria and delivered by the students of Oakwood High School. The menu will consist of turkey and dressing, mashed potatoes, green beans, cranberry relish and a roll. A slice of pie will also be provided for dessert. To have a meal delivered to your residence; contact Oakwood Public Safety Department at 298-2122 to place your order. The last day to place an order will be Sunday, Nov. 23. Have a safe and happy holiday from Oakwood FOP 107.
If you are living single in Oakwood, its time to join the POSSSSIE: Professional Oakwood Singles in Socialization, Service and Self Improvement Education. POSSSSIE is a newly-formed organization addressing the unique needs of the single population of Oakwood. Did you know that there are over 3,000 single people living in Oakwood? Opportunities are being developed to enrich the lives of single residents including social events, community service activities and personal development workshops.
The first meeting will be held on Monday, Dec. 1 from 6:30 to 7:30 p.m. at the Wright Library in the lower level meeting room. Plans for future events and activities will be discussed. For more information call Kathy at 294-0493.
Everyone needs friends; sometimes institutions do too. Friends want you to achieve your goals and they get involved with your special projects. This best explains why the Wright Memorial Library Board of Trustees views the establishment of the Friends of the Library as a worthwhile community endeavor.
Maureen Anderson, Chair of the library's Citizens' Advisory Group, will host an organizational meeting for the Friends group on Tuesday, Dec. 2 at 7 p.m. in the library's activity room. Attendees will consider a proposed constitution and bylaws, and vote on a prospective slate of officers.
According to Library Board President Beverly Jones-Arthur, "A Friends group will play an invaluable role in promoting the Board's objectives through advocacy, volunteering, and finding ways to support special library projects." Many libraries have Friends groups because they allow more people to be a part of the library community. "There's a natural synergy to it," said Anderson. "Citizens feel more a part of the library which, in turn, makes the library more part of the community."
Anyone interested in being a part of the steering committee directing this start-up should contact Maureen Anderson at 371-6714.
Visit the Wright Library website at www.Wright Library.org.
---
By Lance Winkler

A rash of six separate thefts from unlocked cars and garages has occurred over the past three weeks in the northeastern section of Oakwood. According to Oakwood Safety Department records, the thefts started with a number of items stolen from an unlocked detached garage on Hathaway Road on Oct. 28 and an unlocked motor vehicle parked on Oak Knoll Drive, also on that date.
On Nov. 6, another unlocked motor vehicle was rifled on Hathaway and two motor vehicles on Woodview - one locked and the other unlocked - were also robbed. On Nov. 8, an unsecured detached garage on Collingwood Drive was also entered and a number of items taken.
One victim who locked her car and had it parked in her driveway had the rear window broken open and had her purse taken with cell phone, wallet with ID and money. She believed her purse was safe as it was hidden under a blanket.
"They (the robbers) were very polite. They just broke the smallest window to get in the car… I've lived in four houses in Oakwood over 25 years. I never felt unsafe. I'm moving next spring," she said.
According to the victim, the robber began using her cell phone to call various people almost immediately after absconding with it. One call was made on her cell phone that evening to a pizza delivery business at 1:15 a.m. giving a specific address for a pizza to be delivered in the Patterson Park area.
"From these phone calls that were made, we have potentially identified a suspect but the case remains under investigation,' said Detective Alan Hill of the Oakwood Safety Department. Dayton Police are also involved in the investigation.
Residents are reminded to remove valuables from motor vehicles and to keep both garages secure and motor vehicles locked.
---
On the evening of Dec. 8 our city will finish a very important annual task. This is the day when I will present for approval our 2009 city budget. I will present the budget to city council at the public meeting that evening. The meeting takes place at the city building located at 30 Park Avenue and begins at 7:30 p.m. All citizens are invited to attend. You can also watch it live on cable channel 6.
We began assembling the 2009 budget in August. The budget reflects the work efforts of your city staff and finance department, led by Finance Director Cindy Stafford. The budget also reflects input from our 34-member citizen Budget Review Committee ("BRC"). The committee includes at least three members from each of our 11 voting precincts. We met with the BRC on four occasions in 2008. The following are some budget highlights.
First and foremost, we have not raised taxes for city services since 1991 and we will not ask for a tax increase in 2009. Furthermore, we have just taken steps to reduce Oakwood property taxes that pay for city services.
The 2009 Budget reflects a decrease of $340,000 in property taxes. This decrease is the result of city council's unanimous decision on Aug. 4, 2008 to allow our 5.5 mill property tax issue to expire. The 5.5 mill issue was first approved by Oakwood voters in 1978 and had been renewed every five years since then. With the increase in property values since 1978, the 2008 effective rate of the 5.5 mill issue was 0.95. The decision to allow this issue to expire results in a tax cut for all Oakwood property owners. The decision to cut taxes was supported by many members of the BRC and was made because of our cash reserves. We currently have more cash reserves than expected because of the 9.9 million estate tax windfall received in 2007.
As has been the case for at least ten years, we rely on significant annual estate tax revenue to balance our budget. Estate taxes are imposed and collected by our state and federal governments but a portion of those taxes are distributed to the local governments in which a person resides at their time of death. Our annual average estate tax over the past 10 years is $2.8 million. Because estate tax receipts are so unpredictable, it is best, from a budgeting policy standpoint, to avoid relying on this revenue to cover normal annual operating expenses. That said, with concurrence of the BRC, we have chosen to do this. We have done so because our fund balances have been at levels that could cover annual revenue shortfalls if and when they occur.
Our income tax provides the single largest amount of money to pay for city services. This year we expect to receive about $5.7 million. That is 3.6 percent more than 2007. For 2009 we are budgeting $5.8 million. The small amount of growth is included to account for the new businesses at the Sugar Camp Professional Offices.
In 2008, we began receiving some new income tax revenue from the Sugar Camp reuse project. The new revenues will continually increase as more professional offices are filled. When all the buildings are occupied we estimate new revenues to be approximately $250,000 annually.
When the Sugar Camp and Pointe Oakwood projects are completed, our total city-wide appraised residential property value will increase by about 9 percent and commercial property value by about 23 percent. This significant increase allows us to spread the total tax burden (including taxes for our schools, county, library, etc.) across a larger tax-paying base. Because we were able to pay the new public roadway costs with unexpected 2007 estate tax dollars, as opposed to borrowing money, our businesses and citizens will realize the financial benefit of the new development as it is built.
The 2009 Budget commits $785,500 for capital improvements and $207,000 for capital equipment. The largest items are $560,000 for street and sidewalk maintenance projects, $90,000 for a dump truck with snow plow and $42,000 for two police cars. Our 10-year history for total annual capital expenses is about $940,000. Each year we continue to make significant investments in our public infrastructure and replace capital equipment as needed. With those investments, we are keeping up with our infrastructure needs and maintain the equipment to provide the comprehensive and high quality services that our citizens expect.
Eight years ago we completely rebuilt our public works center and four years ago we finished major construction on the city and public safety building. With the completion of these projects our primary public facilities are entirely rebuilt and will serve the city well for many decades. Although we borrowed money in 1999 and 2002 for these projects, we continue to have cash set aside to pay off this debt in accordance with an established payback schedule. This schedule calls for the total
debt to be retired in 2014.
On Sept. 22, 2006 we purchased the 28-acre Old River Athletic Field from the NCR Corporation. We paid $2,300,000 for the facility using cash reserves from our Special Projects Fund. We then borrowed $2,300,000 and placed that money in our Public Facilities Fund. In the same manner as debt on the public works center and city building explained above, we are slowly and regularly paying back the borrowed money.
With the purchase of Old River, we now own athletic fields that meet our needs for outdoor athletic and recreation space. This year we began construction on a new access road to the fields from Far Hills Avenue and Springhouse Road. We also began discussing options for capital improvements to these fields and other city athletic and recreation facilities. We will continue these discussions in the months ahead.
If you have an interest in learning more about our city finances, I encourage you to attend the Dec. 8 meeting. Alternatively, you can call me anytime at 298-0600 or e-mail at klopsch@oakwood.oh.us.
Norbert S. Klopsch
City Manager