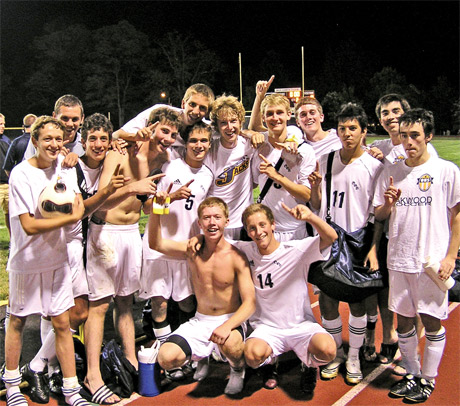 Varsity Soccer Jacks team.
In a tournament game which saw the Jacks shut out Milton-Union in regulation plus double overtime while outshooting them 36 to 8, the Jacks lost a heartbreaker PK shootout 3-1 to end the season. The lone Oakwood shootout goal was by Team Captain, Tristan Schnader.
As painful as the tournament loss was, the season was both glorious and historic. The defense, one of the top two or three in the entire Dayton area on paper, in all three divisions, was the best in Oakwood's history, with an in-season record of 13-1-2, nine regular season shutouts, a goals-against average (GAA) of 0.56, and school records for the fewest losses in a season and the fewest goals against (9). Only Centerville had better statistics this year in the region.
The season marked the first time since 1989 that Oakwood has beaten Bellbrook, a year before any of the team's players were born. It was also the first time since 1991 that the Soccer Jacks had won the Southwestern Buckeye League (SWBL) Championship Title. Team spirit could never have been higher than that crisp October night when the Jacks rang the Oakwood High School Victory Bell, during a brief ceremony presided over by Athletic Director Mark Hughes, just after beating Brookville.
Who could forget the high points of the season: Kyle Kissock, sliding in at the far post for the goal which sank Bellbrook; the Andrew Morris bicycle kick on the goal line to preserve the win against Bellbrook; the come from behind win against Milton-Union when Zach Hood scored in the dying moments of the game; Phil Wille's 21 goals, fourth highest in Dayton Division II; the dangerous long balls into the box from Schnader's free kicks; Scott Harman's 0.32 GAA and his heartbreaking knee injury at Valley View; Zach Harmony smothering and frustrating Bellbrook's league-leading striker; the give-nothing defense.
But central to the team's success is Coach Jeremy Storost. Prior to Storost, there had been a string of 4 coaches who had not lasted more than one or two seasons each. There had been problems of stability and continuity for the players. In 2005, during his first season as coach, Storost picked his first freshman player, Schnader, the only 2005 player who remained on the roster this season. It is in 2008 that, for the first time, Coach Storost has personally picked every player on the varsity roster. This was his team. After four years, the team is a stable unit, arguably playing better as a team than any other Oakwood soccer team in memory. It is the judgment of this writer that this year's team surpassed, as a team, the sum of its individual talents, and that this is due largely to its stability and the positive nature in which coaching was gifted to the players.
On Nov. 12, the following awards were announced at the Oakwood High School Sports Banquet:
Team Captain Tristan Schnader, Team's Most Valuable Player, SWBL Player of the Year, 1st Team All-SWBL, 1st Team All-Dayton South, 1st Team All-Dayton Region, Senior All-Star; Phil Wille, Team Coaches' Award, 1st Team All-SWBL, 2nd Team All-Dayton South, Senior All-Star; Team Captain Kyle Kissock, Team Sportsmanship Award, Kettering Medical Center Sportsmanship Award; Team Captain Zach Hood, 2nd Team All-Dayton South, Senior All-Star; Zach Harmony, SWBL Newcomer of the Year, 2nd Team All-SWBL, 3rd Team All-Dayton South; Andrew Morris, 3rd Team All-Dayton South; Scott Harman, 3rd Team All-Dayton South; Ryan McFarland, Team's Most Improved Player.
---
With Oakwood High School girls basketball coach Aaron Oakes, father Dr. Thomas Hardy, and mother Victoria Nilles looking on, OHS senior Cathryn Hardy signs on the dotted line a Letter of Intent to attend the College of Charleston in Charleston, South Carolina, and play basketball there. Cathryn will be receiving a full four-year scholarship at the university. Hardy will be basketball co-captain this season at OHS with Molly Breidenbach.
---
The Lumberjack Leaders along with the entire OJH are raising funds for their Special Olympic "Team Oakwood" students. Artillery games, baked goods, candy, popcorn, face painting, and balloon animals are available during lunch in the pit. Donation jars are located in the Jr. and Sr. High Offices and the cafeteria.
Over $1800 has already been made! Mr. Weckstein has agreed to be duct taped to the wall if we raise $2000! Help us get him on the wall! The JH students have already earned a PJ day, Super Hero day, and an ice cream social for meeting
incremental goals.
Oakwood Superintendent, Dr. Mary Jo Scalzo has agreed to be slimed at the Student vs. Faculty Artillery Game on Tuesday, Nov. 25 at 2:30 in the Oakwood Pit. Raffle tickets for the chance to be a "slimer" are $1. See Dawne Roeckner in the Junior High Office for your tickets. Come join the fun!
Smith and Harman Elementary are supporting the efforts of the Lumberjack Leaders by holding their own fundraising. Smith students are donating money that will be used to purchase uniforms in the future for replacements and future
members of Oakwood Adapted Athletics. If they raise $500, Mrs. Nance Bradds volunteered to kiss a pig and faculty and staff members have agreed to play against a sixth grade team in prisoner bombardment, their favorite game. This will take place on Nov. 21 at 1 p.m. Likewise Harman students are doing the same and Mr. Ed Bowman will supply a pizza party for the top collecting classes in the 1-3 and 4-6 grades.
The Senior High Project Support group is planning on a "Sock Hop" in February as their contribution to "Team Oakwood".
Come learn about the kids wrestling program in the Oakwood High School auditorium on Tuesday, November 18 at 7:15 pm. We will be discussing our upcoming season, fees, practice and tournament schedule. In addition, we will answer any questions or concerns that you may have about the sport.
The focus of the Oakwood Kids Wrestling program is to generate interest in the sport of wrestling by allowing the kids to experience how fun wrestling can be.
Enrollment is open to residents of Oakwood in 3rd grade through 6th grade.
To register a new wrestler in the program, bring the following items: a copy of your child's birth certificate and information to complete an emergency medical form. Returning wrestlers just need to complete an emergency medical form.
The cost for each wrestler will be $90. Registration ends Monday, December 1.
The first practice is December 2. Practices will be on Tuesday and Thursday nights at 7 pm through the end of February.
All tournaments are scheduled on Sundays. The tournaments generally start at 1:30pm, and end near 4:30pm.
If you have questions call Jay Lane (Director), 643.1498, or email lanejamr@sbcglobal.net.