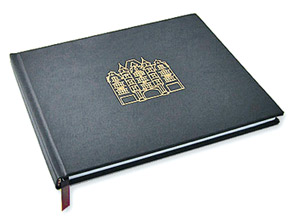 Author Curt Dalton will be signing his new book on Saturday, Nov. 29 from 11 a.m. to 2 p.m. at the Kettering Family Education Center located in Carillon Historical Park.
Since the closing of the Dayton Arcade in March 1991, there has been worry that a wrecker's ball would end its historic presence in downtown Dayton. That would be a shame. The Arcade, with its magnificent domed rotunda, has survived the Great Depression, the 1913 Flood as well as ups and downs of the economy. It has been
purchased and sold several times; its future is tenuous. But a spark of hope lies with the "Friends of the Dayton Arcade," a group of dedicated citizens who refuse to give up the quest for saving this historic building.
In an effort to urge the significance of the Arcade, the Friends of the Arcade have published a book titled "The Dayton Arcade: Crown Jewel of the Gem City" by Curt Dalton. In addition to the history components, the book intersperses reminiscences by people who experienced the Arcade in its various periods - those who visited the Arcade as children in tow with their parents, merchants who had shops under the grand Rotunda, people who remember shopping there, eating there.
The interesting, well-selected photos are artfully laid out alongside the commentaries. Its 95 pages provide a lively peek at the Arcade's splendid past and confirms the fact that saving the Arcade would indeed restore a "jewel" to the crown of Dayton, the Gem City.
---
Phil Boyer, president of the Aircraft Owners and Pilots Association (AOPA) will be the featured speaker at the dinner celebration Dec. 17 in Dayton, Ohio, of the 105th anniversary of powered flight first achieved by Daytonians Wilbur and Orville Wright.
The event, hosted by Aviation Trail, Inc. and the National Aviation Hall of Fame, will again be held in the National Museum of the United States Air Force on Springfield Pike. Tickets are available to the public.
Boyer's speech, entitled the "Past, Present and Future of General Aviation," will follow a Wright-family-style dinner and entertainment by musicians from the United States Air Force Band of Flight. Capping the evening will be the NAHF's announcement of its class of 2009 honorees to be formally enshrined in July.
The evening's social hour begins at 6 p.m. in the NAHF's Learning Center and dinner in the Modern Flight Gallery follows at 7 p.m. Boyer's speech is scheduled for about 8 p.m.
Tickets for the flight anniversary event are $60 a person. Requests for reservations should arrive at ATI no later than Friday, Dec. 13. Mail your check to ATI, P.O. Box 633, Wright Brothers Branch, Dayton, OH 45409.
ATI President Marvin Christian said that with the many commercial and private pilots in the greater Miami Valley, he anticipates a large and warm audience for Boyer. "He is coming to an interested, receptive group which I'm sure is attuned to the focus of his organization," he said. "With 13,411 AOPA members in Ohio, "we anticipate a large turnout of the association's membership."
AOPA numbers 415,000 members, representing two-thirds of all certificated pilots in the United States. Its headquarters is in Frederick, Md. Boyer, who has been AOPA's president since Jan.1, 1991- and whose tenure concludes at the end of this year-increased its membership during that time by 33 percent. He is an 8,500-hour-plus, instrument and multiengine-rated pilot who has flown for more than 40 years -15
of those as an aircraft owner.
A general aviation advocate, Boyer has two decades in major corporation executive positions prior to his AOPA post, including senior vice president/Development for Capital Cities/ABC Video Enterprises, Inc. During his tenure with ABC he created
ABC's "Wide World of Flying," a quarterly, subscription-based video magazine and served ABC in top management positions in Chicago and New York.
Boyer's considerable accomplishments while leading AOPA include:
• Advocating for the federal government's 1994 General Aviation Revitalization Act regarding tort law;

• Persuading the Federal Aviation Administration that the Global Positioning System should be endorsed, developed and certified for use in general aviation flight operations;

• Creating a sophisticated AOPA web site for pilot use for flying and medical certification and offering "AOPA ePilot," a weekly newsletter e-mailed to members;
and,

• Creating the Airport Watch program to increase vigilance and security at the nation's 19,000 landing facilities, and inserting general aviation considerations into the 2003 FAA reauthorization bill.
Boyer has been president of the American Bonanza Society and president of the Sacramento Pilots Association. He was honored by the FAA for guiding a fellow pilot in distress and has flown over the Atlantic twice as pilot in command of a general aviation aircraft. In 1992 he was elected president of the International Council of Aircraft Owner and Pilot Associations, which represents 66 national AOPA organizations with more than 70,000 pilot members around the world.
Aviation Trail was organized in 1981 as a non-profit group of aviation professionals and enthusiasts who seek to foster the local area's aviation heritage. It is developing a Parachute Museum in its headquarters, West Third and South Williams streets, to especially recognize parachute advancements at McCook Field and Wright-Patterson Air Force Base.
---
The 12th Annual Senior Holiday Luncheon will be held on Wednesday, Dec. 3. Space is limited so call the OCC at 298-0775 to reserve your place now. This event is open to all Seniors and includes lunch and entertainment.
---
The regular December meeting of the Oakwood Planning Commission, scheduled to take place Wednesday, Dec. 3, has been cancelled due to the fact that no issues are ready for consideration at that time. The Commission will resume its regular schedule on Wednesday, Jan. 7 at 4:30 p.m. in the City Council chambers, 30 Park Ave., at which time they will hear the revised plans for the Routsong property located at the corner of Oakwood and Irving Avenues.
A suggestion that the property be used for an Oakwood Senior Center had popular support. (Recent statistics provided by Claritas show Oakwood's current estimated senior population of citizens 55 and over to be close to 25 percent.) However, the cost of the property makes it prohibitive for the City to purchase, according to City Manager Norbert Klopsch. The City may consider other alternatives.