It started out as a fundraiser at the junior high level by the Lumberjack Leaders - to raise funds for uniforms for the Oakwood students that participate in Special Olympic and Paralympic sports. The elementary students wanted to be a part of it as word spread rather quickly. Their campaign was dubbed "Dough for Duds" (duds - meaning uniforms) – children were to bring in spare change for the cause. Smith school Principal Nance Bradds said that if the kids were able to raise $500, she would kiss a pig. Jr. high Principal Daniel Weckstein volunteered to be duct-taped to a wall in the Pit if the junior high students met their goal. Next, came Superintendent Dr. Mary Jo Scalzo who agreed to the prospect of having slime poured over her. Then they decided to add to the incentive (as if that wasn't enough) that a group of faculty and staff would play a group of sixth grade students in a game of prisoner bombardment, the students' favorite game. Needless to say, the enthusiastic and very generous students donated over $2000, the pig was kissed, the principal was duct taped to the wall, the superintendent was slimed and the game was played. The game was officially declared a tie.
Suspect in custody after noontime burglary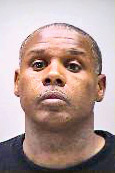 By Capt. Randy Baldridge

On Nov. 21 at 12:15 p.m., the Oakwood Safety Dept. investigated an aggravated burglary at 300 Southview Rd. One suspect fled the scene and was apprehended by Lt. Keith Benson on East Thruston Drive after a foot pursuit. Both officer and suspect suffered injuries – Lt. Benson was bitten by the suspect and the suspect suffered cuts, bruises and scrapes. Both parties were taken to the hospital for treatment.
The suspect has been identified as Mark Anthony Fair, age 48. According to Oakwood Police Chief Alexander Bebris, the suspect had a significant criminal history including armed robbery. Also according to Bebris, Fair was on parole and owed the state 150 years of prison time when he was released."He is looking at going back a long time so no wonder a fight was his only way," said Bebris.
On Monday, Nov. 24, warrants were obtained from the Montgomery County Prosecutor's Office charging Mark Anthony Fair with the following offenses: Complicity to Commit Burglary, a 2nd degree felony; Possession of Criminal Tools, a 5th degree felony; Receiving Stolen Property, a 5th degree felony; Charges of assault on a police officer are pending. This case will be heard by the Montgomery County Grand Jury.
Property taken from the burglary was recovered in the suspect's possession at the time of his arrest. The officer injured during the arrest was treated and released. Further investigation by detectives indicates this incident is isolated and not related to other similar crimes that have occurred recently in the city.