Col. and Mrs. Richard Hayes of North Charleston, SC are pleased to announce the wedding of their daughter, Megan Alexis Hayes, to Kraig Patrick Miller. The wedding took place on October 4, 2008 in Charleston, SC., Rev. Keller officiating.
The Maid of Honor was Mrs. Diana McAlroy. The Best Man was Kyle Miller. Bridesmaids were Marlena Smith, Miranda McKinney, Ashley Dean and Stephanie Neff. Ushers were Robby Taylor, Brian Tull, Aaron Klosterman, David Wenig and Scott Hayes.
The Reception took place at the Doubletree Inn in downtown Charleston, SC. The couple then enjoyed a honeymoon in Mexico.
The bride is a 2005 graduate of Clemson University, She currently employed as a Registered Dietitian at Bariatric Solutions in Greenville, SC.
The groom is a 2006 graduate of Clemson University. He is currently employed with the Robert Bosch Corporation. He is the son of Mr. and Mrs. Douglas Miller of Oakwood, Ohio.
The couple resides at 203 Tanner Chase, Greenville, SC.
Erin Michelle Jaynes and Curtis Alan Todd were united in marriage on October 18, 2008 at Hope United Methodist Church in Centerville, Ohio.
Erin is the daughter of Sheryl Rife Merker and Mark Jaynes, both of Beavercreek. Erin works at her family business, Rife Jewelers, in Oakwood.
Curtis is the son of Brenda Todd of Centerville and Chris Todd of Union. Curtis works for Yellow Book in Centerville.
The newlyweds have made their home in Beavercreek.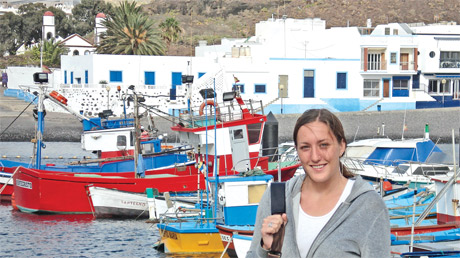 Sarah Lockhart at port in the Canary Islands.
The following story was published in the Miami Valley School magazine...
As The Miami Valley School graduate Sarah Lockhart, of Oakwood, boarded a plane in 2008 for her junior college semester abroad in the Canary Islands, she took something of a leap of faith.
The Eckerd College student knew only two things for certain at the time. The first, all of her courses at her new school, La Universidad de Las Palmas de Gran Canaria, would be taught only in Spanish. And number two, she was still searching for a place to live.
As the 2005 MVS alumna ventured off to write the new chapter in her life's story, she said she was given confidence by the immersion adventures she had already experienced while a high school student at The Miami Valley School.
The Washington Township school's immersion program, Lockhart said, played a prominent role in bringing out her natural enthusiasm and curiosity. From year-to-year, the school's immersions helped her connect the dots between her interests, her potential and her future.
Lockhart said she caught a glimmer of her future during her MVS sophomore-year immersion in marine ecology at Andros Island in the Bahamas. In addition to earning advanced certifications in scuba diving, she explored the ecology of the islands.
"I loved it there," she said. "There was a spark that this might be something I'd like to do with my life."
During her junior year at MVS, Lockhart traveled to South America for the Peruvian Adventure. The students visited Peruvian cities and participated in a guided survival trip in the Amazon Rainforest, where they learned to forage for food and build their own shelters.
"It was really fun and it sparked even more interest in wanting to do research," she said. "I also saw how important it was to communicate across cultures. I realized that it was worth it to invest my time in the Spanish classes."
Senior year Lockhart departed for Cuba for an independent study of American crocodiles with Earthwatch Institute's voluntary researching program. The location, language immersion and research component built on her sophomore and junior adventures and solidified her passion in these areas.
She said her experiences demonstrate the enduring impact personal attention and inspired, hands-on learning can have on a student's life.
"I'm the biggest advocate for The Miami Valley School," she said. "I don't think I'd be as confident in anything I was doing if it wasn't for that school. The teachers are amazing. I don't know if I'd be here without them."
In the end, Lockhart's college travels to the Canary Islands turned out to be a great success. She studied marine biology and Spanish literature and tutored students in the English language.
Currently, the Oakwood resident is back on the Eckerd College campus completing her senior year. After spending the summer in Greece working with sea turtles, she's already dreaming about her next steps.