Oakwood resident and 20-year real estate veteran King Merritt has company. His wife, Beth, has just signed on as a realtor herself and the two will be working as partners in the real estate business for the foreseeable future. Beth just got her real estate license in October and signed on with her husband's long-time real estate firm, Sibcy Cline, this past month. Both are looking forward to working with Oakwood clients.
"Oakwood is important to us. We want our customers to find the perfect home here," said Beth Merritt. "The focus for King and I is that we grew up here, raised our children here and know the Oakwood community."
Prior to her newfound realty career, Beth worked in personnel management for five years, served on the associate board of the Dayton Art Institute, has been a five year member of the Oakwood Board of Education as well as serving as its president, and has been a volunteer with The Little Exchange, the Harman PTO and the Oakwood Schools Education Foundation.
---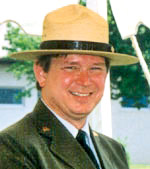 Dean K. Alexander, currently Superintendent at Hopewell Culture National Historical Park (NHP) in Chillicothe, Ohio, has been selected by the National Park Service (NPS) as Superintendent for Dayton Aviation Heritage NHP in Dayton, Ohio.
Alexander will assume his new post March 5, succeeding Lawrence "Larry" A. Blake, who retired from the NPS in December 2008.
"I am excited to be given this opportunity to work with the Dayton community and the park staff in preserving and interpreting the sites associated with the Wright Brothers and Paul Laurence Dunbar." Alexander remarked. "With legislation pending to add new locations to the park, it is an auspicious time to join the team."
Alexander is a member of the Experimental Aircraft Association, an international organization of aviation enthusiasts, and the National Air and Space Society, a membership organization that supports the National Air and Space Museum.
The park is a cooperative effort between the NPS and four partners. Sites are The Wright Cycle Company complex (The Wright Cycle Company building and the Wright-Dunbar Interpretive Center and Aviation Trail Visitor Center); Huffman Prairie Flying Field and Huffman Prairie Flying Field Interpretive Center; John W. Berry Sr., Wright Brothers Aviation Center; and the Paul Lawrence Dunbar State Memorial.
---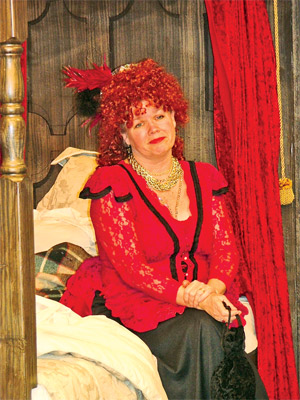 Pam McGinnis of Oakwood is appearing as "Miss Fancy" in the Beavercreek Community Theatre's production of "Sly Fox," playing Fridays, Saturdays and Sundays from Feb. 6 through Feb. 15 at Beavercreek Community Theatre, 3868 Dayton-Xenia Road. The show begins at 8 p.m. on Fridays and Saturdays and 3 p.m. on Sundays.
The comedy is based on Ben Jonson's "Volpone," or "The Fox," and premiered on Broadway in 1976 with an updated setting, moving it from Renaissance Venice to 19th century San Francisco.
Tickets are $12 for adults and $11 for BCT members, students and senior citizens. A group discount of $1 per ticket is available to groups of 10 or more when purchased at the same time for the same performance.
---
The French word 'gamine,' describes a boyish, wide-eyed young woman, along the lines of iconic actress Audrey Hepburn. Taking that definition into account, Oakwood store owner Leigh LeBoeuf felt the term was a much better fit for her clothing boutique than The Pink Daisy. LeBoeuf is currently doing business at 2504 Far Hills Ave. under the name change Gamine.
"People would call us up thinking we were a florist," LeBoeuf said. Gamine is first and foremost a clothing boutique with a number of exclusive clothing lines one cannot find anywhere else in the Miami Valley area: Lily Pulitzer, Theory, Diane von Furstenberg, Tory Burch, Suzanne Monaco... Paige Premium Denim, Michael Stars T-shirts and Tom Ford sunglasses are also on the list.
"The style hasn't changed," LeBoeuf said. "It's like a mini-Nordstrom in the middle of Oakwood." Also found at the boutique are a unique selection of jewelry, shoes and purses. The store primarily caters to smaller women ranging from sizes 0-10.
LeBoeuf invites women to stop in and seen her new spring clothing lines coming up in the next few weeks.
---
Two of the areas best known corporate apparel and promotional products companies are joining forces. Vince Lewis is the Chairman of 4 Iron Development Group, a holding company that acquired Hooper Concepts in January of 2008. On December 31st, 4 Iron Development (a Rough Air Business) added Logos @ Work to its growing portfolio.
"We are excited to build a business that offers high quality local service that customers have come to expect with the capacity of a larger company. " Lewis said. "We bring expertise to the table that will allow our customers to get the biggest impact for their dollar. Many promotional products companies outsource their garment decorating. By integrating Hooper Concepts and Logos @ Work, we are able to do any job, small or large, in house. That gives us better control over quality." All current employees of Hooper Concepts and Logos @ Work will stay with the new company and several new employees will be added. "We expect this new partnership will create a 1 +1 = 3 equation. By combining the companies, we will have more capabilities, and more capacity. We're planning to grow, not cut back."
The new company will also allow Lewis to follow his passion, building the entrepreneurial spirit. Lewis and his partners formed the 4 Iron Development Group in 2007. The goal is to grow businesses in the Dayton region by investing in local companies in various industries. "With Hooper Concepts we were fortunate to have growth of over 60 percent in the first year. Logos @ Work gives us the opportunity to do this on a larger scale. The combined companies will have 25 employees operating out of three area locations including the main showroom at 2874 South Dixie Drive in Kettering.
"We work with many types of customers; schools, governments, healthcare, and businesses of all kinds. Of course we will continue to serve their primary needs for corporate apparel and other printed items, but we will look for new ways to work together. We can work with a school to design an entrepreneurial experience for students to build an on-line store; we can help a non-profit with fundraising ideas. We want to create an environment where we are exchanging ideas, not just invoices and checks."
"It's a great time to do this. We're excited to find local opportunities for success" said Mr. Lewis. "Dayton is our home and we are committed to creating jobs here."
Financing for the acquisition was provided by First Financial Bank. Buyer legal representation was provided by Joe Gruenberg of Coolidge Wall & Lombard, and the deal was brokered by Jim Sachs of Battelle Capital. Terms of the deal were not disclosed.
---
The Oakwood Schools Education Foundation is pleased to welcome new Council members, Kim Donnelly, Pattie Edmonson and Pat Koons.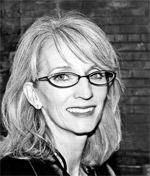 Kim Donnelly and her husband, John, have been Oakwood residents for 12 years, and have three children in the Oakwood Schools. Kim has a B.S. from Purdue University, where she also obtained a Master's degree in Industrial Administration. She is the Director of Market Strategy for the Lunne Marketing Group, and was active with the Junior League of Dayton for nine years. In her free time, Kim likes watching great movies, exploring and cooking ethnic foods, doing yoga, and spending time with her family.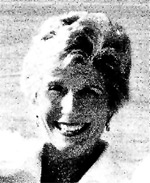 Pattie Bieser Edmonson is a third generation Daytonian. She grew up in Oakwood and graduated from Oakwood High School in 1958. She is married to Alan, a retired physician, and also an Oakwood graduate. Pattie and Alan have three adult children and five grandchildren. Pattie was employed in the health care field and has worked extensively as a volunteer for many local organizations, including the Junior League, Dayton Art Institute, and the Dayton Philharmonic just to name a few. Pattie enjoys gardening, playing bridge, skiing and spending time with her grandchildren.
Pat Koons was born and raised in Oakwood. He is a graduate of Oakwood High School class of 1999. Pat attended Miami University where he earned a Bachelors degree in Finance. Upon graduation, he joined AXA Advisors as a financial consultant specializing in life insurance and retirement income strategies. Pat enjoys golf and tennis, and growing the many special relationships he has within our community.
Kim, Pattie and Pat join current Foundation Council members: Molly Cobb, Jill Farley Davis, Sam Davis, Todd Duwel, Ellen Ireland (Chair), John Jervis, Janine McQuillan, Sandy Pierce, Linda Reed, Mary Jo Scalzo, and Toni Winger.
The Oakwood Schools Education Foundation, a component of The Dayton Foundation, provides students with diverse and distinctive opportunities, which go above and beyond the reach of the district's normal operating budget. Pursuing its mission, "Enhancing Excellence through Philanthropy," the Foundation provides significant annual support for quality initiatives, including teacher and administrative grants, scholarships and special wish list items.
For more information on the Oakwood Schools Education Foundation, please contact Karen Gillingham, Director, at 297- 5332.
---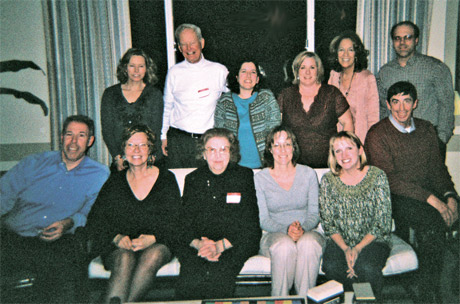 POSSSIE: Professional Oakwood Singles in Service, Socialization and Self Improvement Education is a newly formed organization with the mission of serving the needs of single professional residents of Oakwood. Opportunities to socialize, participate in community service projects and attend workshops designed to address the unique needs and interests of the single population are underway.
Long known and valued for its family and senior friendly programming, the city now has a vehicle to address the needs of a major segment of the population that had previously been unserved. Statistics show that approximately 3,000 Oakwood residents are single.
February events include a workshop on Stress Management to be held Feb. 6. Along with the workshop, community service opportunities at the Oaktree Corner, Center For Grieving Children, will be discussed.
If you are a single resident of Oakwood, here is your opportunity to socialize, serve the community and grow with other single residents. If you would like to participate in this exciting new group, or if you would like more information, please call Kathy Judy at 294-0493.