By Burt Saidel
James Morris is a god. James Morris is also the world's leading bass-baritone who spends a great deal of time as a god.
As Wotan, the chief god in the pantheon of Norse mythology, Morris has been a god on every continent and in every great opera house. Wagner's opera cycle, The Ring of the Nibelungs, demands operatic greatness in every one of its manifold aspects. Central to the first three of "The Ring's" four operas is Wotan. James Morris' Wotan reigns in Valhalla and in the world of opera.
Dayton Opera Impresario Tom Bankston invited Morris as the star of Dayton Opera's 2009 Star Gala. Many expected the imposing god, complete with spear and eye-patch, to dispense Wagnerian mythic magic from the stage of the Schuster.
As a feature of the well-known "Bankston Magic," Impresario Tom asked Morris to concentrate on art songs and other operatic areas. The result was an exciting exploration of the depth and range of the bass-baritone literature not often heard in such a concentration.
James Morris doesn't need a horned helmet and spear to look like a god. Tall, handsome, bearded, he looks as if he was born in white tie and tails. He was accompanied by pianist Robert Morrison of the Metropolitan Opera. That is, also, another story.
The original pianist was to be another Met assistant conductor, Joshua Greene. A sudden illness last week caused a frenetic flurry of activity. Morrison was able to learn the program in only two days and was a flawless accompaniment to Morris' diverse and difficult program.
The recital began with works by Handel and Mozart as Morris found his voice in the remarkable acoustics of the Schuster. Five of Richard Strauss' art songs followed which give our soloist an opportunity to display wide variations in dynamics and nuances of personality. The program would have benefited, however, by more familiar and arioso selections.
Opera took center stage as Morris sang Prince Gremin's aria from Tchaikovsky's Eugene Onegin. The stunning interpretation of this love-aria was met with bravos from the audience.
Firmly planted in the opera world, Morris delivered Banquo's dramatic warning from Verdi's Macbeth followed by a quick visit to the antics of Don Giovanni and Prince Phillip's plaintive aria from Verdi's Don Carlos. That aria was a preview of Morris' role as the king in Cincinnati Opera's production of the Verdi masterpiece this coming summer.
In an interesting departure, Morris introduced the audience to the music of American composer John Duke. Three songs on the well-know poetry of Edwin Arlington Robinson were rich in meaning and musical content.
The finale of the program took a reigning god into the realm of great American musical theater. Morris charmed and moved the hearts of the audience with medleys from South Pacific, and Man of La Mancha. He closed with the magnificent "Soliloquy" from Carousel.
In his introduction, Impresario Tom Bankston surprised all by announcing that Morris had appeared with Dayton Opera in two roles in 1969, one year before his Met debut. After hearing him in 2009, we can't wait another 40 years to hear this magnificent voice!
DTG's The Paris Letter
Dayton Theatre Guild is willing, and able, to take dramatic challenges. In their latest, Jon Robin Baitz' The Paris Letter, they have met a formidable challenge with all its incumbent risks.
The play, a modern Greek Tragedy, covers 40 years, two generations and mega shifts in societal attitudes about gender selection, homosexuality. In 1962, a bright and sensitive young Princeton graduate, Sandy, has a life-changing affair with Anton.
In a well-written but often confusing series of telescoping flash-backs and fast forwards, we see that Sandy's problem and his ultimate downfall is not his homosexuality but his guilt and joylessness. He has material success (the mega-millions tossed around in the dialogue are astounding) a loving marriage to an understanding woman who knows his past and its sexual undercurrents. As society evolves over the 40 years of the play, Sandy still carries his guilt and his inability to commit himself to others and even to himself.
Five actors play dove-tailing parts with superb ability and conviction. The cast is led by master-actor Gil Martin whose Anton is a protagonist as well as the Greek-style narrator. Sandy is played by Michael Boyd who always meets his characters head on and evokes their personae.
Henni Fisher plays young Sandy's rich, doting Jewish mother as well as his loving wife. She has the best scenes and handles them marvelously. Matt Curry and Ian Manual assist with major characters in pivotal moments.
The play must bridge society's gap and that of the audience. I felt there was TMI, too much information, about the details of gay loving. Greg Smith's direction smoothed many of the perplexities of the play in spite of marked character confusion during the first act.
Again, Dayton Theatre Guild brings us theatrical challenges. It is the fortunate audience which must deal with them. The play continues through March 15th. Try the challenge!
---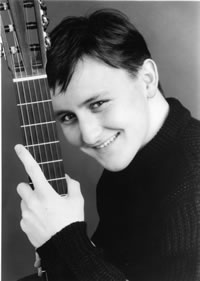 Vanguard Concerts presents for its fourth concert of the season, young Croatian Robert Belinic, classical guitarist, at the Dayton Art Institute's NCR Renaissance Auditorium on Saturday, March 14, at 8 p.m.
Born in 1981 in Zagreb, Croatia, Robert Belinic grew up in the nearby town of Popovaca. He began to play the drums at the age of three. When he was eight years old, he starred in "Tale from Croatia," the first film released in newly-independent Croatia. He began to study classical guitar at the age of eleven at the music school in Kutina with Zvonko Susnjar, and continued his studies with Ante Cagalj in Zagreb. Every year since 1995, he has participated in the International Summer School for Guitar on the Croatian island of Hvar. He graduated from the Leopold Mozart Hochaschule for Musik in Augsburg, Germany, where he held an assistantship and earned his Master's Degree with Professor Franz Halasz.
His program in Dayton will be: Prelude, Fugue and Allegro in E flat major BWV 998, Johann Sebastian Bach Introduction and Variations on "Marlborough s'en va-ten guerro, Fernando Sor Vals No. 3, Op. 8, Agustin Barrios Mangore, Julia Florida, Cueca Four Dances for Guitar, Ante Cagalj Sonata, Leo Brouwer Three Venezuelan Folk Dances, Antonio Lauro
Ticket prices are $20 for adults, $15 for students and may be purchased at Hauer Music, 120 S Patterson Blvd., Wright State University Box Office and at the Dayton Art Institute, night of the concert only, or online at www.daytonartinstitute.org For additional information or tickets, please call 937-436-0244 or 937-512-0144
---
The Dayton Art Institute today announced it will feature the artistic legacy of Dayton native Robert Whitmore, with the retrospective exhibition, "In the Glen: The Art of Robert Whitmore." The exhibition will open Jan. 31 and close April 5, 2009. It features approximately sixty works of art that were jointly selected by Will South, DAI Chief Curator, and Kay Koeninger, Associate Professor of Art History at Sinclair
College.
Whitmore attended Steele High School in Dayton before going on to study at the prestigious Art Institute of Chicago from 1913 to 1917. He is known for being an accomplished painter, printmaker and draftsman.
From Chicago, Whitmore served in World War I, and attended the Cincinnati Art Academy in 1919. In the 1920's, he began teaching at the recently established Dayton Art Institute. Whitmore purchased twenty-nine acres outside of Yellow Springs in 1924 that were once part of a farm owned by Horace Mann, the first president of Antioch College.
Whitmore's youngest son, Jon, lives on that same acreage along with hundreds of works of art by his father, and it is through Jon's generosity in sharing them that "In the Glen: The Art of Robert Whitmore" was made possible.
---
Link Gallery, 519 East Fifth St.., located in The Oregon Arts District, presents the work of Glen Cebulash and Rachel Stanzione. Glen Cebulash and Rachel Stanzione are placing their work together in this husband-and-wife exhibit for the first time. Their work addresses the human form in a variety of mediums, including painting, sculpture and collage.
The exhibit will run through the month of March 28 and will be part of the First Friday Event, March 6, 5-10 p.m. Gallery go-ers can board the Wright Flyer Trolley for free rides along Fifth Street, taking participants to all of the OAD galleries and to other art venues in downtown Dayton.
Artist Talk-Wine Reception: Saturday, March 21, 6:30 p.m., talk begins at 7 p.m.
---
Opera Overtures slated at four venues
Dayton Opera's 2008-2009 "Love Triumphant" season final show, Lehar's The Merry Widow, is a thrilling and energetic show that appeals to all levels of opera audiences. To help audience members prepare for these exciting performances, Dayton Opera is pleased to offer Opera Overtures, free-to-the-public talks about the opera's story, history and other entertaining tidbits. Talks are one-hour long and led by Luke Dennis, Director of Arts Education for Muse Machine.
THE MERRY WIDOW (Lehar)
Wed., March 11, – 7:00 p.m.
Emporium Wines & Underdog Café, 233 Xenia Ave., Yellow Springs
Sun., March 15, – 5:00 p.m.
Books & Company, Town & Country Shopping Center
Thurs., March 19, – 7:30 p.m.
Washington-Centerville Public Library, Spring Valley Rd.
Tues., March 24, - 7:00 p.m.
Trinity Presbyterian Church, 3211 Lakeview Ave., Dayton