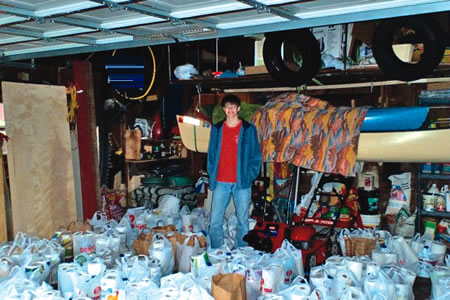 On behalf of Chris Mudry, Eagle Scout candidate for Troop 320 as well as our oldest son, we would like to sincerely thank the Oakwood community for embracing Chris' project. The response was overwhelming and Chris was able to reach and go beyond his goal of a six-month supply of consumable products for the Humane Society of Greater Dayton. Our garage and living room/dining room was filled with various cat and dog items as well as paper towels and bleach!!

The Humane Society of Greater Dayton is a wonderful organization and we urge you to visit their website at www.humanesocietyday ton.org/. There are many opportunities for you to donate, volunteer, and of course, adopt.

Thank you again for your kindness.
Oleh and Sandy Mudry
312 Collingwood Avenue
---
I admire my daughter for speaking up about "Round Town". If Mr. Welch thinks she needs Kool-Aid then he should serve it with a medal! She has heard me complain about the one-sided view it casts on our little town and decided to do something about it. Good for her! The problem is not that the column exists but that it fails to portray Oakwood in its true sense. I can live with the grammatical errors, the obligatory quotation mark in each sentence and even the overuse of exclamation points. What I struggle with is reading about the same tiny group of people week after week. I have been polling people for the past year and have yet to meet one that doesn't roll their eyes when I mention "Round Town". Not one. The general feeling is that the writer is out of touch with the community. Some have suggested that the author may not be aware that an east side of town even exists. I have lived in Dallas, Detroit, Chattanooga and East Lansing. I am acutely aware that Oakwood is one in a million as far as communities go. Sadly it is a community divided. In these economic times I am glad that my daughter recognizes right from wrong. Rambling about the best table at the club or New York shopping...maybe even who you know at Harvard is self-indulgent and out of touch. Come to Starbucks or Central Perk to mingle with the real citizens of Oakwood. Otherwise change the name to "Round Ridgeway or 333".

Proud Parent,
Jill Souders