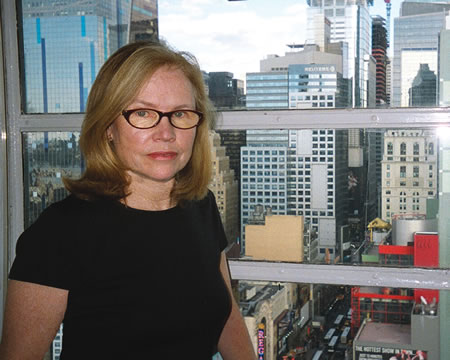 Thirty-four years ago this coming April, the Vietnam War will have come to an end; but brutal effects of the Vietnam War remain. Birth defects ravage the country where millions are children of parents exposed to Agent Orange. Today "hot spots" still mark areas near former US Air Force bases located in the south of Vietnam where the military dumped or sprayed toxic herbicides used in defoliating the jungles of Vietnam.
Recently, Think TV aired a documentary titled "The Last Ghost of War," dealing with this tragic legacy. Narrated by Kevin Kline, it follows a class action suit against 32 American chemical companies for their use of these herbicides.
This documentary has a significant Oakwood connection. It has been produced and directed by former Oakwood resident, Janet Gardner, owner of The Gardner Group, a New York City not-for-profit corporation which produces documentaries that decipher critical world issues, especially those dealing with Southeast Asia. The Gardner Group also has a special interest in films about hidden history.
Janet Gardner grew up in Oakwood at 902 Schantz Avenue, a member of the Gardner family who owned the Gardner Board and Carton Company of Middletown, OH. Had she not moved with her family to Connecticut in the tenth grade, she would have graduated with the Oakwood High School Class of '58.
The world has been Gardner's workplace. Her adventures give glaring recognition of her intellect, courage and dedication to educating people about the social issues that plague society – not only ours, but those in other countries, as well. Especially Vietnam.
Following high school graduation, her college credentials include Skidmore, Mexico City College, Cooper Union in New York, and New York University's Graduate Film School, where she studied documentary film-making. Her training, schooling and talent positioned her well for the career she has developed.
She was hired by NBC News during which time she worked on NBC's two-hour evening newscast; Pia Lindstrom, Ingrid Bergman's daughter, provided voice-over for some of the pieces Gardner wrote and filmed.
"I then went to CBS News as a film editor," she said. "I stayed with CBS for three years where I got to write and field-produce news films."
In 1979 she went to work for the Cleveland Plain Dealer where she stayed for two years as a feature writer. Then, in 1990, her brother, E. Ty Gardner, a distributor of educational films to schools and libraries, asked her to write and produce a documentary on the United Nations. The result was "The United Nations: It's More Than You Think, an overview of the UN and its agencies. It was followed by several other documentaries - The Runaway Series, which includes "Children of the Night" and "Starting Over," the story of runaway children in Los Angeles who had turned to, or had been forced into, prostitution; both have won several awards.
Her interest in Southeast Asia began almost three decades ago, when she covered post-war Vietnam and the Agent Orange issue for the New Jersey edition of The New York Times, Boston Globe, The Nation, and other publications. She was sent to Viet Nam with a delegation of scholars, educators and Vietnam veterans at a time when there was embargo on travel there. "However, twelve of us toured the country," Gardner said. "We were there for two weeks. We worked day and night, every single night until 11:30. It was a life-changing trip."
She wrote a piece about the trip for the Boston Globe travel section, which described the trip's mission as work toward reconciliation between the United States government and the government of Vietnam. "Vietnam became my beat," she said. She has made more than 14 visits in 25 years.
In 1993, while working on another film on the history and culture of Vietnam, Gardner and her crew discovered a system of underground tunnels in the north of the country. According to her report, it was "a secret world unto itself, a village that went underground in North Vietnam. They had built a series of five layers of tunnels that connected one village with another," Gardner said. "They could have stayed there for ten more years." This amazing life below the surface, which had been carpet-bombed, is covered in a film entitled A World Beneath the War. It was purchased by Discovery and has been broadcast on Discovery Networks International and PBS stations nationwide and is available through the distributor, Filmakers Library Inc. in New York.
Other films followed. Precious Cargo deals with the first generation of Vietnamese adoptees. "Two thousand children were airlifted to the US overnight as the North Vietnamese were taking over Saigon," Gardner said. "They were adopted by Americans." Precious Cargo is that story, and has been shown world wide by National Geographic International as well as PBS. (For more information and photos visit pbs.org/preciouscargo and www.gardnerdocgroup.com).
Whatever stimulus Janet Gardner received from her family and from her early years in Oakwood, the results have provided the world with dramatic, intelligent and concerning reports on problems that scar society, especially those left by war.
Members of the Gardner family remain here. Her cousin, Connie Gardner Flotron still lives in Oakwood, and Janet's aunt, Gloria Gardner, resides in Kettering.
Gloria Gardner remembers Janet as she grew up, "She was a darling girl, quite serious, studious. She is my niece – my husband's brother's daughter. She comes from a wonderful family. She was, and still is, delightful."
---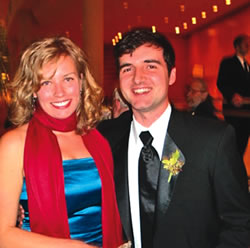 Mr. and Mrs. Edward Kimmich of Oakwood, Ohio announce the engagement of their daughter, Miss Leslie Anne Kimmich, to Mr. Justin W. Seery, son of Mr. Lynn Seery and Ms. Georgiana C. Nye also of Oakwood. A July 4th wedding is planned.
Miss Kimmich graduated from Oakwood High School, Class of 2000. She graduated from Miami University in 2004 and is employed by the New York City Department of Education as an eighth grade science teacher in a magnet math and science school.
Mr. Seery also graduated in 2000 from Oakwood High School and in 2004 cum laude from Georgetown University's School of Foreign Service. In May 2008 he graduated cum laude from Cornell University's School of Law where he served on the Law Review. He is employed as an attorney specializing in mergers and acquisitions for the firm of Cleary Gottlieb Steen and Hamilton in New York City.
---
Dear Oakwood Community,
The Oakwood High School class of 2009 is currently fundraising for its Prom, "This Side of Paradise." The dance, scheduled for April 25, will take place on a riverboat on the Ohio River. With its cost estimated around $20,000, the senior class is selling Black Medallion mulch to offset the expense.
Oakwood High School students will be taking orders until March 25. Black Medallion mulch is of the highest quality, perfect for any spring garden. The cost is $4 per bag with pick up. However, if you want students to deliver your mulch to your residence, the cost will be $4.50 per bag. Pick up and delivery dates are April 6, 7, and 8. For information about the mulch, please visit the company's website at mulchmfg.com or contact Pat Glynn at 1-800-793-2629.
If you wish to purchase mulch, please feel free to contact me at smith.adam2009@gmail.com.
Thank you very much.
Adam Smith
OHS Senior Class Secretary