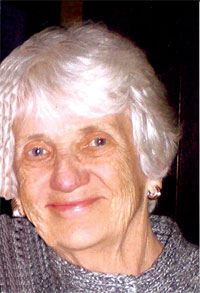 Helen B. Kaminski, age 74, of Oakwood, passed away with her family by her side on Sunday, July 5, 2009 at Kettering Medical Center. She attended Holy Angels and St. Peter's Catholic Church. Helen graduated from St. Bonaventure High School, in Columbus, NE. She was a loving and selfless wife, mother, 'nana', aunt, sister and friend, Helen was a dearly loved matriarch, our "family maestro." She was the former owner of the Hulman Building Smoke Shoppe where she enjoyed and befriended countless patrons. She regularly volunteered for St. Vincent DePaul and many other service organizations where she served with her husband, Stanley. Her devotion to faith and family, compassion and civic dedication guided her life and endeavors. Through the years, Helen and Stanley traveled throughout the world and Rome where she attended a Papal Mass celebrated by Pope John Paul II. She is preceded in death by her parents, James and Mary Ann Dunn of NE. Helen is survived by Stanley, her loving husband of 55 years; four sons including Timmothy of MT, Mark of HI, Douglas (Connie) of Kettering and Robb of FL and two daughters; Jill (Max) Park of NJ and Kara (James) Thomas of Columbus, OH. She has twelve grandchildren: Emily, Elise, Kaelyn, Madeline, Connor, Laynie, Molly, Lilianne, David, Maressa, Trey and Shane. Her brother Jerry, Aunt Paula of NE and many beloved nephews, nieces and cousins also survive her. She was the loving force of our family, and will be greatly missed. Mass was held Saturday, July 11, 2009 at St. Joseph Catholic Church, 411 E. 2nd St., Dayton, with Father Ed Pratt officiating. Family received friends on Friday, July 10, 2009 at Routsong Funeral Home, 2100 E. Stroop Rd. at Woodman in Kettering. Mom loved flowers and especially daisies. If desired, donations may be made to St. Vincent DePaul Society, 1133 Edwin C. Moses Blvd., Ste., 300 Dayton, OH 45408. Condolences and other remembrances may be sent to the family at www.routsong.com.
Robert "Bob" C. Warner, age 92, of Oakwood, passed away on Friday, June 19, 2009. Bob received his degree in Engineering from Tri-State University in Indiana. He served in the United States Army during WWII. Bob enlisted in the United States Air Force Reserve and retired as Lieutenant Colonel. He retired from Westinghouse Electric Defense Aerospace Division after 42 years of service. He was a charter member of Sycamore Creek Country Club. Bob is survived by his wife of 39 years, Marcia K. Warner; son, Douglas S. Warner; daughter, Carole F. (Jack) King; grandchildren, Richard A. Warner and Athena Papatanious; sister, Eleanor Walden and many other relatives and friends. A memorial service was held on Saturday, June 27, 2009 at at Routsong Funeral Home, 2100 East Stroop Road, Kettering. Inurnment in Maplewood Cemetery in Marlborough, MA. In lieu of flowers, contributions may be made to Fisher House Foundation, Inc. at WPAFB, 111 Rockville Pike, Suite 420, Rockville, MD 20850. Condolences and other remembrances may be sent to the family at www.routsong.com.
Alan T. Dowler, age 90, died June 17, 2009 at Sunrise Assisted Living in Oakwood, Ohio. Born May 4, 1919 in Wheeling, West Virginia to Louis and Laura Dowler, he was a graduate of Warwood High School and Bethany College. Alan was a Captain in the U.S. Army Air Corps during World War II and served in the European Theatre building airstrips and maintaining aircraft. He was involved in the invasion of Normandy and the liberation of Dachau, and was awarded the Bronze Star for meritorious service to his country. He spent his working years as an industrial engineer, specializing in government defense as well as in optimizing manufacturing processes at non-defense related companies. In retirement, Alan made it his personal mission to visit the sick at Medina General Hospital (Medina, OH) and became well loved serving in this capacity. He was a member of the United Church of Christ, Congregational in Medina and Christ United Methodist Church in Kettering, OH. Whenever asked how he was doing, his favorite reply was "terrible . . . terribly good!" Alan was preceded in death by Barbara, his wife of 58 years, and his brothers Kermit and Bill. He is survived by his brother Donald Dowler of Dallas, TX, and his children: daughter Katherine (Stephen) Murphy of Oakwood, OH, and sons Robert (Patricia) Dowler of Stratford, CT and Thomas (Renné) Dowler of Washington, PA. He is also survived by six grandchildren: Sarah, Anne and Patrick Murphy, Susan and Timothy Dowler, and Faith Dowler. Alan's beloved dog and long time companion, 14-year-old Buddy, will continue ministering to the residents of Sunrise. Visitation will be held Wednesday, July 1 from 5-8 p.m. at Waite & Son Funeral Home, 765 N. Court St., Medina. A memorial service will be held Thursday, July 2 at 10 a.m. at the Medina United Church of Christ, Congregational, 217 E. Liberty St., officiated by the Rev. Dr. Neal Sadler and the Rev. Sharon Knowles-Kiesel. Close family friend Fred Chatfield will serve as organist. Burial with full military honors will be held at Ohio Western Reserve National Cemetery in Rittman, OH.
Kenneth Leroy Smallwood, of Oakwood, passed on Sunday, June 7, 2009. He is survived by his wife, Joy Erd Smallwood, son William Smallwood (Brenda), daughters Deborah Smallwood Wittenhagen (Robert), Sandra Smallwood Helmkamp (Greg), grandchildren Shauna Cotton, Tiffanie Burney, Amanda Morris, Skylar and Tanner Smallwood, Brandon, Connor and Brooke Heitkamp, plus 10 great-grandchildren. He is also survived by his sister, Alice Smallwood Herold (Robert) and brother Robert Smallwood (Mary), plus numerous nieces and nephews and special friends George Moore and Heather Gibson. He was preceded in death by his wife of 54 years, Joan Jennings Smallwood, daughter, Leslie Smallwood, parents Verne and Olive Smallwood and sister Betty Smallwood Berger. Ken graduated from Carlisle High School and attended the University of Dayton. He served 3 years in the U.S. Navy during World War II in both the European Theater of Operations and the Pacific Theater of Operations. He was with NCR Corporation for 28 years and retired from Hobart Corporation. A memorial service will be held on Sunday, 3 p.m., June 19, at the Gebhart-Schmidt-Parramore Funeral Home, 508 E. Linden Ave., Miamisburg, OH. Visitation one hour prior to the service. Reverand Rob Wackerman officiating. Contributions may be made to the First Church of Christ, Scientist, 105 Sawmill Rd., Dayton, OH 45409 or Hospice of Dayton, 324 Wilmington Ave., Dayton, OH 45420. Personal condolences may be forwarded to the family by visiting the obituaries at www.gebhartschmidtparramore.com.
Ben Cook, 1927-2009, passed away unexpectedly June 2, 2009 at his home. Ben was born in Dayton OH and grew up in St. Mary's. After graduating High School at age 16, Ben volunteered in the Navy. Following Navy service, he attended OSU Business School. Ben married Mary Ann Hemmert in 1947. Next call to duty was Korea where he served as Corporal in the U.S. Army. Ben then became a successful commercial and residential real estate appraiser. He was the Director of Real Estate with the Montgomery County Auditor's office for 28 years, retiring at the age of 71. Proud Oakwood resident 1960-1987. Ben is remembered as a loving husband, father and grandfather. Survived by wife, Mary Ann of 61 years., daughter Diane Labrie, and grandchildren Harry E. Labrie and Mary Elisabeth Labrie. For the fortunate many that knew Ben, we recognize a man of dignity, grace, respect, honor and humor. As Ben would say at evening's end, "Show me the way to go home. I'm tired and I gotta go to bed." In accordance with Ben's wishes, his body was donated to Wright State University. In lieu of flowers, the family requests donations be made to Oakwood Boy Scout Troop 101.
Jane Long Smith Shaw, died May 23, 2009 at the wonderful age of 90. Born September 19, 1918, in Dayton, Ohio, the daughter of Hazel Swink Long and Raymond Long. Mrs. Shaw was a resident of Dayton for sixty-three years. She attended Randolph Macon Women's College and graduated from the University of Dayton. Mrs. Shaw was a member of St. Paul's Episcopal Church, the Dayton Country Club, a member of the Board of the Dayton Philharmonic Women's Association, President of the Board of the Volunteer Service Bureau and President of the Junior League Shop Board. For twenty years, Mrs. Shaw was a member of the faculty of the Harman Avenue School, teaching fifth grade. She was widow of Leslie L. Smith, Jr. Mrs. Shaw moved to Hilton Head Island in 1981, when she married M. Thomas Shaw. He preceded her in death in May of 1995. On Hilton Head, Mrs. Shaw was a member of All Saints Episcopal Church, where she had been a member of the alter guild. She was a member of the Sea Pines Country Club, a volunteer for the Hilton Head Hospital Auxiliary for 27 years, she also volunteered in the office of the Deep Well Project. She was a sustaining member of the Savannah Junior League. Mrs. Shaw is survived by a daughter, Sherry Mills Hayes and her husband Stephen of Dayton, Ohio; two granddaughters, Melissa Mills of Dayton, and Leslie Mills Nelson and her husband Andrew; a great granddaughter Sydney Scott Nelson, and a great grandson Sean Andrew Nelson, all of Fairfield, Connecticut. Four stepchildren, Penelope Shaw Deters and her husband Lee of Louisville, KY, Bishop M. Thomas Shaw III of Cambridge, MA, Sam Shaw and his wife Nancy of Boulder, CO, and Stephen Shaw and his wife Linda of Portland, OR. A memorial service was held on Friday, May 29, 2009, at 2 p.m., at All Saints Episcopal Church, Hilton Head Island, with inurnment following at the church columbarium. Contributions may be made to Deep Well Project, Post Office Box 5543, Hilton Head Island, SC 29938, or All Saints Episcopal Church, 3001 Meeting Street, Hilton Head Island, SC 29926. The Island Funeral Home and Crematory is in charge of arrangements.
Stratos George Vlahos, age 82, of Oakwood, passed away Wednesday, May 27, 2009. Stratos was a retired civil servant, having worked at Wright-Patterson AFB as a flight line heavy mobile equipment mechanic. He and his family emigrated from Greece and came to the United States in 1966, in order to provide his children a better life, and a greater opportunity at education. Stratos was born Efstratios George Vlahos in the village of Paleochori, Arcadia, Greece. He was raised in Greece during a time of world crisis and great national turmoil, having lived through the invasion and occupation by Germany, as well as the Greek Civil War that followed WWII. One of the most difficult times of his life came when he served as an infantryman during the Greek Civil War because he fought against his own countrymen. While this was difficult for him, he firmly believed in the fight for Democracy against Communism that threatened to overtake Greece at that time. Stratos was a very outgoing man. He enjoyed meeting new friends and could hold a conversation with anyone. Stratos had a passion for cooking and dancing. His Greek recipes rivaled the best, and he enjoyed cooking hundreds of trays of Moussaka during the annual Greek festival. Stratos was also owner of the Apollo Restaurant, which he founded near the Oregon District in the mid 70s. He was one of the most animated Greek dancers during the annual World Affair at the Dayton Convention Center. Stratos was preceded in death by his parents, George and Asimo, his brother Pete, and his sister Yota. He is survived by his wife of 53 years, Vasiliki, brother John and his wife Soula; son Pete and his wife Jane; son George and his wife Suzanne; daughter Stella Franchina and her husband Joe; granddaughters Alexia, Vasiliki (Leah), and Helen and numerous nephews, nieces, and friends. Funeral services will be held at 10:00 AM Monday, June 1, 2009 at the Annunciation Greek Orthodox Church, 500 Belmonte Park North, with Father Mark Emroll officiating. The family will receive friends from 4:00 to 7:00 PM, Sunday, May 31, 2009 at the Routsong Funeral Home, 2100 E. Stroop Rd, Kettering, with Trisagion prayers at 5:00 PM. Condolences may be sent to the family at www.routsong.com.
John P. Turner III, of Washington Twp., formerly of Oakwood, died at his home Tuesday, May 26, 2009. John was born August 12, 1943 in Bellefonte, PA. to John and Arlyn Turner, who predeceased him. He was also predeceased by his beloved in-laws, Dr. Robert Alan and Barbara Fanning. John graduated from Oakwood High School in 1962 and attended Vanderbilt University and Ohio State University. John also served in the Marine Corp Reserves for many years. He began his career as a buyer for Rike's. He was most recently employed by Weiler Welding and Dorothy Lane Market. A salesman by trade, John was truly a "people person" and never knew a stranger. A loving and adored family man, John is survived by his wife of 43 years Judy (Fanning), his son Jeff (Marci) and their children Brendon, Lauren, Zach and Emma and his daughter Carrie Turner Dan (Shawn) and their children Nicholas and Cami. He is also survived by his sisters Carolyn Bouton and her children Cathy, Jen (Kevin Peters) and Dianne, Nancy Pruner and her daughter Polly Leasure (Will), sister-in-law Janet Fanning Dues (John) and their children Elizabeth, Lt. John J. Dues Jr. and Christopher and treasured friends Bob and Sally Stein and their children Rob, and Barb Stein Rau (Tom) and their son Jack. He is also survived by his step-mother Jeanne Stark Turner, of Tequesta, FL. A memorial service was held on Saturday, May 30, 2009 at St. Paul's Episcopal Church, 33 W. Dixon Ave., Oakwood with The Rev. Jack F. Koepke III officiating. Family received friends on Friday, May 29, 2009 at Routsong Funeral Home, 2100 E. Stroop Rd., Kettering. Contributions in John's memory can be made to either the Alzheimer's Association – Miami Valley Chapter, 3797 Summit Glen Drive, Dayton, Ohio 45449, or the ALS Association – Central and Southern Ohio Chapter, 1170 Old Henderson Rd., Suite 221, Columbus, Ohio 43220. Condolences and other remembrances may be sent to the family at www.routsong.com.
Jay Sumner Haverstick, age 69, of Centerville passed away unexpectedly on May 19, 2009 in Death Valley, CA while pursuing his passion for photography. Jay was born May 8, 1940, the son of the late Joseph and Helen Haverstick in Dayton, Ohio. He was graduated from Oakwood High School, class of 1958 and earned his bachelor's degree in hotel and restaurant management from Michigan State University in 1962. He was past president of Phi Kappa Sigma Fraternity. In 1974 he established his first restaurant, The Yankee Tavern. Jay went on to open three more restaurants, Jay's of Dayton (1976), Cincinnati (1981) and Lexington, KY (1986). He took special pride in his Dayton Restaurant located in the historical Oregon District. Jay was very active in the community and his profession. He served as president of the Miami Valley Restaurant Association and was chairman of the Ohio Restaurant Association. Jay had a great passion for life and loved photography, gardening, reading, cooking and fine wine. He is survived by his devoted wife of 37 years, Ida "Idystick" Haverstick; son, Joseph (Rebecca) Haverstick; daughter, Amy Haverstick; grandchildren, Andrew and Lauren; brothers, Ned Haverstick and Kim (Joanie) Haverstick; nephews, Sam (Helen) Haverstick and Ben (Amy) Haverstick; niece, Camilla Haverstick; beloved dog, Augie; his family of employees, past and present; and many other relatives and friends. Family received employees and past employees 1:00 to 3:00 PM, Wednesday, May 27, 2009 at Jay's Seafood Restaurant, 225 East Sixth Street in Dayton and received the public 5:00 to 9:00 PM Wednesday at the Restaurant. Private funeral services will be held at the request of the family. Burial will be in Woodland Cemetery and Arboretum. In lieu of flowers, Jay's family requests that contributions be given in Jay's memory to the American Heart Association and the American Diabetic Association. Arrangements entrusted to Routsong Funeral Home. Condolences and other remembrances may be sent to www.routsong.com.
Barbara Jane Stratis, age 86, passed away Thursday, May 21, 2009 in Kettering. Barbara is preceded in death by her parents, Herbert & Helen (Hutcheson) Dressler, sister and brother-in-law Margaret & Robert McKie, and brother-in-law Robert Stratis. She attended Cottey College in Nevada, MO, Kansas State College in Emporia, KS, and received her BA in Education & Business from Peru State College in Peru, NE. Barbara worked at Christ Hospital in Cincinnati, OH, taught at Jefferson Elementary in Dayton, Carousel House & Orchard Park Elementary in Kettering. She was a member of P.E.O. Chapter Z & T.T.T. Society Chapter F where she held numerous offices. She was also a member of Christ United Methodist Church, Kettering, OH. Barbara was a volunteer & former officer of the Goodwill of Dayton; Oakwood Band Parents; the Dayton Philharmonic Volunteer Asso.; and Grace Methodist Church Couplets. She is survived by her husband Leon of nearly 60 years; children James Lee Stratis (Janis) of Bellbrook, Susan Montesano (Andy) of Oakwood, David Stratis (Haynes Johns) of Chicago; grandchildren Kari, Kelly (Jon Keim) & Mark Stratis, AJ & Jami Montesano; great-grandchild Jocelyn Keim; sister-in-law Mary Stratis, niece Stacey Stratis; nephews Greg Stratis, John McKie & Dick McKie (Sue) and several great nieces & great nephews. Funeral services will be held 12 noon, Tuesday, May 26, 2009 at the Routsong Funeral Home, 2100 E. Stroop Rd., Kettering, OH, with Rev. Debbie Egloff officiating. Burial will be in David's Cemetery. The family will receive friends from 10:00 am until time of service. For other remembrances and condolences please visit our website at www.routsong.com.
Maxwell Hammond Stamper, Jr., passed away last night (May 7, 2009) at the age of 87, while recovering from a heart attack at the Veterans Hospital in Dayton, Ohio. He resided for over 50 years at 175 Lookout Drive in Oakwood, a suburb of Dayton, Ohio. Stamper was a prominent attorney in Dayton, Ohio, who was decorated with The Bronze Star for heroic achievement in the U.S. Marine Corps in World War II, and was among the first troops to land in Japan and survey the atomic bombsite at Nagasaki. He is survived by his four children, Dr. Bruce Maxwell Stamper, publisher and editor of MaximsNews Network; Robert Hammond Stamper, president of National Databank Service, Inc., and resident of Oakwood; Joan Stamper-Elking, a real estate agent with Prudential One Realtors, and resident of Oakwood; and Christopher Hillman Stamper and his wife, Sharon Schuh of West Carrollton, Ohio. He is also survived by his grandchildren who affectionately referred to him as "Bopple": Genevieve Clare Stamper, living in New York City; Gwendolyn Amelia Stamper of New York City; Erin Elizabeth Stamper of Washington D.C.; Jonathan Maxwell Elking and Jason Robert Elking of Oakwood and John, Meagen and Kelly, as well as great grandchildren Tyler, Bailey, Jesse, Caitlin, Colton, and Jacob all of the Dayton area. Maxwell H. Stamper, Jr. was born in Middletown, Ohio, on January 22, 1922, to the parents of Maxwell Hammond Stamper, Sr. and Luna Adams Stamper. He was the grandson of Greenbery Stamper, an attorney and politician in eastern Kentucky. Mr. Stamper graduated from Middletown High School in 1940. At Stetson University, he met and later married another freshman, Ruth Amelia Hillman of Orlando, Florida and Paterson, New Jersey. They remained a loving couple for 53 years, until Ruth Stamper passed away in May 1996. His studies at Stetson were interrupted by the attack on Pearl Harbor. He volunteered for the United States Marine Corp, and was commissioned a Second Lieutenant in the Second Marine Division, where he was an expert rifleman and a specialist in demolition. "We were supposed to hit the Japanese beachhead late in September, 1945, and that was the suicide mission. But with the A-bomb, they started thinking that it might not be. And that's how the A-bomb saved my life." Lt. Stamper went to Saipan, Tinian, Saipan [again], Okinawa, and Nagasaki and helped capture the islands to build air bases to bomb Japan with B-29s. The planes that later dropped the A-bombs. After landing on the beaches, Lt. Stamper's rifle platoon specialized in cave fighting and demolition. As a result, he suffered severe and life-long hearing loss from the explosions while he was in the caves. Lt. Stamper was decorated with THE BRONZE STAR METAL, "For heroic achievement…against the enemy while serving with a Marine infantry battalion on Okinawa, on 19 June 1945. In September 1945, Lt. Stamper was among the first troops to land in Japan, where his 8th Regiment marched across the Nagasaki bombsite, a few weeks after the A-bomb was dropped. "When I reached the top of the cup I could view the city — what was the city of Nagasaki, and for miles I couldn't see a full brick. It was just all twisted steel and rubble of brick debris…for miles. "There was a feeling of sadness… for all the people who had died. And the next thought was that if it hadn't been for that bomb, all of us would have died, and a million more American soldiers." Upon returning to the United States, Mr. Stamper finished his BA in history from Stetson University, and then went on to receive his law degree from Harvard Law School, Cambridge, Mass. In 1950, Max and Ruth moved to Dayton, Ohio, and lived in Oakwood where in 1960, they build a post-modern home on Lookout Drive that overlooks Dayton and the Miami Valley. For some 50 years, he was a prominent attorney in Dayton. He joined the firm of Harshman, Young, Colvin and Alexander, and his law practice included a variety of specializations including labor, corporate, and criminal. In 1990, he established his own law firm in Oakwood. Throughout his career, he always devoted a large proportion of his law practice to needy clients. "He carried more poor people on his back than all the rest of the law firm put together," said Adah Mae Thompson, legal secretary for 40 years. Also, he would often enter as a friend of the court on behalf of needy defendants, and around town the older lawyers greeted him, "Good Morning, Amicus-Curiae." The Oakwood Rotarians were cheered up with his many speeches, and at the Dayton YMCA he was a skilled and tenacious handball player, who never played with gloves. For years, his main transportation was a '57 Ford Thunderbird convertible. "I bought it for Ruthie, it was a great car with the biggest police interceptor engine they made." For some five decades, Max and Ruth attended the First Baptist Church in downtown Dayton. In the 1950s and 1960s, he formed a business partnership that built hundreds of new homes in East Dayton. Later, he established several manufacturing corporations, one utilizing high-tech plastic injection molding, and another to develop the chemical engineering of "breathing, plastic fabric." Max loved Tennyson, Burns, Wordsworth, Shelley, Keats, and Byron. He loved books of all kinds, and had a life-long interest in ancient history and old orations. A memorial service will be held on Saturday, May 23 at 11 a.m. at the First Baptist Church, Monument Street, downtown Dayton.
Joseph A. Macke, age 85, of Kettering, loving and loved husband, father, and grandfather passed away Tuesday, May 5, 2009 at Kettering Medical Center. He was preceded in death by his parents, Edward and Mary Angela Macke and beloved and devoted wife, Dorothy Macke. Survived by his sons, Bruce (Linda) and Rick; grandchildren, Jennifer and John (Brooke); and brother, Edward. Joseph proudly served his country in the United States Air Force in World War II and retired from WPAFB in 1986. Private graveside services will be held in David's Cemetery. In lieu of flowers contributions may be given in Joseph's memory to Hospice of Dayton, 324 Wilmington Ave., Dayton, Ohio 45420. Condolences and other remembrances may be sent to the family at www.routsong.com.
Susan L. (Randall) McManus, age 59, of Kettering, passed away Tuesday, April 28, 2009 after a brief illness. She is preceded in death by her father, Dr. Jack Randall. She is survived by her loving husband of 40 years, James (Mag) McManus; mother, Mary Randall of Oakwood; sons, Daniel and David; daughter and son-in-law, Jill McManus and Matthew Kerns; grandchildren, Samantha and Emily McManus; siblings, Dr. David (Mary Kay) Randall of CO, Jim (Louise) Randall of Kettering, Patty (Doug) Stansfield of Oakwood, Dr. William (Lauren) Randall of Oakwood; nieces and nephews, Jennie, Ben, Catie, Joey, Sam, Jack, Ellie, and Abby. Susan is a graduate of Oakwood High School 1967 and dedicated her life to her family. Family received friends Thursday, April 30, 2009 at Newcomer Funeral Home, 3940 Kettering Blvd., Kettering. Memorial services followed. In lieu of flowers, donations may be made to the Humane Society of Greater Dayton. To leave a special message for the family online, visit www.Newcomer Dayton.com.
Charles Wendelken-Wilson, longtime conductor of the Dayton Philharmonic Orchestra and a popular and enduring fixture in the area's classical music scene, died Sunday morning, May 3, 2009, at Hospice of Dayton. He was 71. According to longtime friends Steve and Rachel Bankey, Mr. Wendelken-Wilson had been in declining health for some time; death was from natural causes. Mr. Wendelken-Wilson became the DPO's second music director, taking the reins from founding director Paul Katz for the 1975-76 season. He remained at the podium for 12 years, starting a subscription Pops series in 1978-79 and spearheading the still-popular All Orchestra Night Concerts. In 1990, Mr. Wendelken-Wilson became artistic director and conductor for the Miami Valley Symphony Orchestra; most recently, he acted as music director for Dayton Public Radio (WDPR 88.1), where he hosted an afternoon show, and an occasional conductor with the Dayton Opera. Tom Bankston, general manager and artistic director for the Dayton Opera, said Mr. Wendelken-Wilson "brought such a sense of history ... We're going to miss him, for all the things he brought to the city, the voice everyone listened for every afternoon on WDPR — there were so many layers to how he affected the musical life of Dayton." A native of New Jersey, Mr. Wendelken-Wilson came to Dayton from the New York City Opera Company, where he began his career as an organist and pianist soon after graduating from Mannes College of Music in New York City. Soon, he was promoted to conductor at the New York City Opera before eventually taking a post as an assistant conductor of the Boston Symphony Orchestra under the renowned Erich Leinsdorf. In Dayton, he is remembered as a "musician's musician," said Mike Coogan, a trombone player who worked with Mr. Wendelken-Wilson in the Miami Valley Symphony Orchestra. "He was one of the most amazing musicians I've ever met, and just a great man." Neal Gittleman, current music director for the Dayton Philharmonic, remembers Mr. Wendelken-Wilson as an inspiring force. "There was something about his commitment to making music that was just really honest, really inspiring," Gittleman said. "You could see it in the way musicians played for him; you could see it in the way musicians talked about him. They really liked it when he was on the podium. "He brought a lot of good things to the Dayton Philharmonic," Gittleman continued. "It was very hard ... Paul Katz had been there for 42 years, and then this guy shows up to be the music director. He really helped the orchestra grow at a very important time, moving beyond the founding music director. He helped it become what it is today." Rachel Bankey, who worked with Mr. Wendelken-Wilson over the years and, specifically, in the founding of the Opera Funatics, believes opera may have been his first love. "I think he started out wanting to be a tenor, and he really didn't have the pipes to do that — when his voice changed and he became a bass baritone, it was out of the question," she laughed. "His love was opera. "In 1991 he started conducting the Miami Valley Symphony Orchestra, and made it a force to be reckoned with for people whose first job was not being a musician — schoolteachers, engineers, and young people, too. It's a great orchestra for people to learn the orchestral repertoire." Oakwood Register arts critic Dr. Burt Saidel remarked that "we all knew and really loved Charles. His tenure at the DPO was its emergence into a major regional orchestra. He came to us from New York City Opera where he was a major staff conductor and has been acknowledged as Beverly Sills' favorite conductor by many including Sills. As conductor of the Miami Valley Symphony and most recently as music director of Dayton Public Radio, his contributions were legion! He lived for music and spread his love of the art to all." Mr. Wendelken-Wilson settled in Dayton, preferring life in the Miami Valley to returning to the East Coast. Friends of Mr. Wendelken-Wilson, who has no surviving family, are planning a memorial service to celebrate his life, details of which are pending.
Wallis "Wally" Welch, age 86, of Kettering, passed away Tuesday, April 21, 2009 at Lincoln Park Manor. She was preceded in death by her parents, Rev. Curt Talmedge Walters and Mrs. Effie Castle Walters; brothers, Paul Walters and Ernest (Lenora) Walters; nephew, Ronald Walters; sister, Esther (James) Anderson; niece, Sharron Anderson. She is survived by her loving husband of 35 years, Ervin L. Welch; step-daughter, Marilyn (Dr. Scott) Hotes of San Francisco; step-son, Dr. Bryant (Debbie) Welch of Hilton Head, SC; step-grandsons, Lucas Welch of NY and Tucker Welch of Boston, Mass; sister, Barbara (Ben) Wardlow of Clarksville, OH; life-long friend, Jean Heinzerling of Cincinnati; niece, Lynn Stinson of Bloomfield Hills, MI; and many nieces and nephews. Wally began a long modeling career at age five with the renowned painter and photographer Nicholas Boris of Cincinnati. Her photograph won first prize in Greece and New York. She continued her work with Mr. Boris until his death in 1934. Her fashion career continued with the Conover agency in New York. She returned to Cincinnati, modeling at various department stores and also in Dayton, modeling at Rike's for many years. Wally continued her career at the Guenther, Brown and Berne Advertising Agency in Cincinnati. She was a member of David's United Church of Christ. Family received friends Friday, April 24 at David's Church, 170 West David Road, Kettering. Services followed with Rev. Becky Erb Strang officiating. Interment in Woodside Cemetery, Middletown, Ohio. In lieu of flowers, contributions may be given in Wally's memory to the Montgomery County Public Library. Arrangements entrusted to Routsong Funeral Home. Condolences and other remembrances may be sent to the family at www.routsong.com.
Patricia Joanne Floan, age 52, formerly of Dayton Ohio, a resident of Winston-Salem, North Carolina for the last seven years, passed away Sunday April tle with Breast Cancer. Patty was a Pediatric Registered Nurse at Brenner Childrens Hospital in Winston-Salem for nearly six years. She is survived by her spouse, Joseph Weller, of Panama City, FL. Mother, Glenna Floan, Daughter, Lauren Connell, her brothers, Steve, Craig, Doug and his wife, Eileen, nieces and nephews, aunts and uncles, and cousins. Patty was a graduate of the Oakwood High School class of 1975. She received her nursing degree from Christ Hospital and Xavier University in Cincinnati. Patty fought her disease with dignity and a beautiful smile that no one who knew her will ever forget. Patty spent her life nurturing relationships with friends and family. A memorial service was held on Saturday, the 25th of April at the Lutheran Church of Our Saviour, 155 Thruston Blvd E., Oakwood, Ohio.
Dr. James C. Dunaway, age 71, of Dayton, departed this life on Monday, April 20, 2009 after a 2 1⁄2 year battle with prostate cancer. Jim was born on August 10, 1937 near Enterprise AL a son of Herman and Lillie Mae (Crumpler) Dunaway. He is preceded in death by his siblings, Pete, Edsel and Lovie. He is survived by his wife of 50 years, Carole (Bock) Dunaway; four sons, David (Rebecca), Dr. Daniel (Angela), Matthew (Kirsten) and Dr. Romeo (Lena) Massoud; 11 grandchildren, Spencer, Ike, Drew, Drake, Darick, Dawson, Grace, Katherine, Christian, Vianna, and Safia; and his extended family, Jerry (Jane) Bock, Marilyn (Richard) Bock Woolums and Michael Bock. He served as pastor in the West Ohio Conference of the United Methodist Church for 50 years. Churches served were Moscow Ohio Charge, Glenwood in Columbus, Somerset, John Wesley in Cincinnati, Christ Church in Kettering, Trinity in Milford, First Church in Van Wert and Centerville Church. He held degrees from Asbury College, METHESCO and United Seminary. Jim loved his family and his churches and was a great friend to all. Jim touched many lives both in and out of the church. He will be greatly missed. Services were held Friday, April 24, 2009 at Centerville United Methodist Church, 63 E. Franklin St., Centerville, Ohio, Dr. L. Steven Fewell, Rev. Patty Matthews and Rev. Greg Crabtree officiating. In lieu of flowers, contributions may be made to Hospice of Dayton, 324 Wilmington Ave., Dayton, Ohio 45420 or Centerville United Methodist Church. Arrangements in care of TOBIAS FUNERAL HOME – FAR HILLS CHAPEL, Dayton. Condolences may be made to www.tobiasfuneralhome.com. "ROLL TIDE"!
Vincent Anthony Codispoti, DDS, age 87, of Kettering, OH, passed away Friday, April 24, 2009 in Dayton. He was preceded in death by his wife Ruthella Codispoti, his parents Bruno & Anna Maria Codispoti and sister Elizabeth Codispoti. Doc Codi attended Ohio University and graduated from Ohio State University College of Dentistry in 1950. He joined the Army Air Corps in 1942 and was a Flight Officer in the 8th Air Corps, 401st Bombardment Group, 612th Squadron stationed in England. He practiced dentistry in the Dayton area for 20 years and is remembered fondly by many of his former patients. Doc Codi is survived by his children; Marissa (John) Joseph of Beavercreek, Gregory (Connie) Codispoti of Columbus, OH, Jim (Allison) Codispoti of Kettering, and Michael (Kathy) Codispoti of Sugarcreek Township, OH, grandchildren; Marc, Christopher, Benjamin and Rebecca Codispoti, Jill Joseph and Nikki McKiernan and great-grandson Jared McKiernan, two brothers; Isidore Codispoti of Canton, OH and Andivo Codispoti of Brewster, OH. Doc Codi was an avid fan of the Ohio State Buckeyes and the Cleveland Browns. The family invites guests to show their support by dressing in team colors. In lieu of flowers, the family asks that contributions be made to Hospice of Dayton, 324 Wilmington Avenue, Kettering, Ohio 45420. The family would like to express their thanks to the Staff of One Lincoln Park for the last 13 years of excellent care and friendship. Also our thanks to Miami Valley Hospital, 5 Cardiology, CICU Pod 3, and 5 Telemetry for their care. Special thanks to Drs. Clymer, Jain, Evans, Ambalavanan and Leisring. The family will receive friends 4 to 6: 30 PM Wednesday, April 29, 2009 at the Routsong Funeral Home, 2100 E. Stroop Rd. Kettering, OH with a Memorial Service to follow with Fr. John Putka officiating. Private burial will be at the convenience of the family. For other remembrances and condolences please visit our website at www.routsong.com.
Anne Taylor McGary Hubler, age 79, passed away at her residence Monday, April 13, 2009 in Hopkinton, MA. Anne was born on October 6, 1929 in Dayton, Ohio to Walter and Mary McGary. Until the final 1 ? years of her life, Anne was a lifetime resident of Dayton. She graduated from Oakwood High School and was a longtime supporter of the visual and performing arts in Dayton and throughout the state of Ohio. Anne was involved in the Civil Rights movement and was a member of the Dayton Junior League, working to bring positive social change to her Dayton community. From the 1970s to 2008 Anne actively supported numerous local and regional arts organizations both in professional roles and as a tireless volunteer. She was the General Manager of the Dayton Contemporary Dance Company in its founding years, General Manager of the Dayton Children's Theater, President of the Friends of the Dayton Ballet, Manager of Creativity 80s programs with the Engineering Department at the University of Dayton, and President of the Miami Valley Art Quilt Network. Anne was a member of the Dayton Art Institute, Dayton Visual Arts Center, Ohio Art League, Ohio Designer Craftsmen, and many local and regional art quilt groups. In the early 1990s Anne started her own art career in fiber art. Her goal was to elevate fiber art or womens art, to the status of fine art. She exhibited her work in numerous galleries across the state of Ohio including the Governors Mansion and the White Houses permanent art collections. She won many awards including the Individual Excellence Award from the Ohio Arts Council in 2006, and a lifetime achievement Special Commendation Award from the Board of County Commissioners and the Montgomery County Arts and Cultural District in 2008. Anne was preceded in death by her parents, her 1st husband William Kuntz Jr., and her 2nd husband George Beckman Hubler. Anne is survived by her sisters Ellen Rill, Patricia Mudd and Mary Driscoll; her five children William Kuntz III, George (Pamela) Hubler Jr., James Hubler, Mary (Steven) Ansell, and Hazel (Kent) Chapple; and nine grandchildren, Robert and Andrew Kuntz, Reed, Mitchell and Haley Hubler, Louisa, Rachel and Samuel Ansell, Finley Chapple. A memorial will be held in June in the Dayton area. Please send a donation to a Dayton arts organization in lieu of flowers.
Robert S. Margolis, age 95, of Dayton, Ohio passed away Monday April 13, 2009. A lifelong Daytonian, he was born January 5, 1914. He will be sadly missed by all who knew him. Preceded in death by his beloved wife, Audrey V. Margolis; he is survived by his sister, Mrs. lrving (Carline) Ravel of Austin, TX.; brother and sister-in-law. John A. and Audrey O. Margolis of Dayton; 2 daughters and son-in-law, Merrie Lyn and Douglas J. Blackford of Dayton, and Cyr V. Daniel of New Boston, N.H.; 2 granddaughters, Ariel and Julia Daniel and several nieces and nephews. Mr. Margolis leaves behind a lifetime of service, a love of community and a legacy of leadership achieved by few. A graduate of the Wharton School, University of Pennsylvania - 1936, he served his country as lieutenant commander in the United States Navy from 1942-45. He began his career at the Metropolitan Clothing Company, founded by his father (JH Margolis), serving as President from 1951-1978 and as Chairman of the Board 1979. He left the Met in 1980 to become President of GZK, Inc. Restaurant systems and remained as respected consultant and CEO Emeritus until his death. Mr. Margolis was a lifelong devotee to public service. The organizations he was most proud of being affiliated with are the United Way of Greater Dayton (Campaign Chairman, 1964), the Dayton Area Chamber of Commerce (President, 1968), and the Area Progress Council (Chairman 1968-9). In addition, he served on the Board of Directors for many companies including: The Third National Sank and Trust Co., Interstate Financial Corp., Society Corp., Junior Achievement of Dayton and Miami Valley Inc., the Dayton Philharmonic Orchestra Assoc., Dayton Retail Merchants Assoc. (where he also was President), Mens Wear Retailers of America, Dayton Better Business Bureaus Downtown Dayton Assoc., the National Conference of Christians and Jews, Temple Israel (9 years) and the Dayton Racquet Club. He served as Trustee for the Montgomery County Public Library, Air Force Museum Foundation, Aviation Hall of Fame, Dayton Boys Club (22 years), Childrens Hospital Society of Dayton, the Cox Heart Institute and, he took great pride in being Officer of the Day for St. Josephs Annual Picnic. He was on the Kettering Memorial Hospital Civic Advisory Board and served as President of their Development Fund as well as Trustee Emeritus for the Kettering Medical Foundation. He served on the Board, was Chairman of the Military Affairs and industrial Development Committees as well as 1st and 2nd VP and President of the Dayton Area Chamber of Commerce from 1966-68. At United Fund he was Combined Campaign General Chairman (1964) Chairman of the Deferred Giving Fund and 2nd Vice President. He served on the Board of Directors and as president for 3 years on United Way. He was a big believer in the importance of a good education and was Trustee of Sinclair Community College Foundation. At University of Dayton, he was Trustee and served as Co-Chair for Special Gifts for the New Horizons Fund Campaign and the Combined Special Gifts Drive for UD and Wright State. Awards include: Citizens Legion of Honor (1969), Dayton Boys Club Bronze Keystone (1974), Big Brothers/Big Sisters Special Honoree (1985), Brookfield Clothing Academy for Retail Promotion, and the Boy Scouts of America (3 separate awards for special service to scouting). He was a member of the Kiwanis Club, the Hundred Club, the 49 Club, Dayton Racquet Club, Meadowbrook Country Club and Moraine Country Club. His final honor came In July 2008, when he was presented the Legacy Recognition Award for a Life of Leadership and Community Service by the United Way of Greater Dayton. At Mr. Margolis request there will be no service. The family would especially like to thank Teresa, Sherri and Donna from Home Instead Senior Care, for providing such excellent support/care in the last months of his life. In lieu of flowers contributions may be made to the United Way of Greater Dayton or the charity of your choice.
Katherine Elizabeth Benham "Kit" England, passed away April 12, 2009 peacefully at home surrounded by her family after a prolonged battle with breast cancer. Born September 18, 1946 in Dayton, OH to Emily Verwold and James Ellsworth Benham. She graduated from Oakwood High School and William Woods College with a degree in Education, followed by a Masters in Reading Education from the University of Houston. She taught primary school in Spring Branch, TX and in the Centerville School District. While raising a loving family, she devoted her life to extensive volunteer work. She served as Board Member and Chair of the United Way of Greater Dayton, Board of Trustees and Chair of Montgomery County Children Services, past President of the Junior League of Dayton, International Board of Directors of the Association of Junior League, Board of Trustees and Chair of Saint Joseph's Residential Treatment and Childcare Center, Board of Trustees and Secretary of Senior Citizens' Center of Greater Dayton Area, Chair of Dayton Art Institute Experiencenter, and Board of Trustees of Planned Parenthood of Montgomery County. Additionally she worked with Dayton Foundation, Designer Show House, Bara Court of Ladies Oriental Shrine, Public Television Auction, Aullwood Audubon Center, Friends of Dayton Ballet, Miami Valley Regional Planning Commission, Leadership Dayton, Kettering Holiday at Home, United Way Task Force, United Issues Forums, Honorary Chair of Susan B Koman Cancer Walk, Voluntary Action Center, and numerous projects with Kettering Foundation. Her favorite activities included performing with Center Stage Show Choir, playing bridge, and traveling. She was a loving Sheltie owner and extraordinary cook, perhaps inspired by the years spent working with her father and grandmother at Benham's Catering. She was a faithful member of Christ United Methodist Church. Survived by husband of 40 years Stephen; children Brandon (Liz), Ashley (Nick) Heniser, Lindsey (Matt) Bayer, Justen; grandchildren Madison, Graham, Ashlyn; sister Mary Lynn "Mitzi" (Bob) Mittlestead; nephews Brad, Tyler, Todd; aunts "No-no" Covert and Enid Dover; mother-in-law Dorothy (Bob) Masters; and a loving network of friends and relatives. Memorial service was held at Christ United Methodist Church on Saturday, April 18th. In lieu of flowers, Kit requested donations be sent to the Avon Walk for Breast Cancer to support her children's ongoing participation in the fight for a cure of breast cancer. These donations should be directed to "The Whole Kit and Kaboodle" team found at http://www.avonwalk.org under the New York 2009 Walk.
Salvatore "Sam" Auditore, age 78, of Dayton, OH, passed away April 10, 2009 at Oak Creek Terrace Nursing Home. Sam was born June 15, 1930 in Gloucester, MA, and graduated from Gloucester High School in June 1948. He enlisted in the U.S. Coast Guard in 1950 and married Clara "Molly" Adams in 1951. He received his bachelor's degree in civil engineering from Northeastern University in 1959 and immediately accepted a position with General Electric in New York. In 1965 he moved his family to Dayton and began work as a civilian employee at Wright Patterson Air Force Base. While there Sam contributed to avionics developments for a variety of missile projects, including the ALCM (Air Launch Cruise Missile) and Stealth fighter. Sam truly was a rocket scientist and was twice nominated as engineer of the year for his work in the Advanced Systems Division at WPAFB. In June 1972 he earned his Master's in engineering management from University of Dayton. He retired in 1990, but continued working as a volunteer docent for the Cox Arboretum and as a substitute teacher. In his free time, Sam enjoyed golfing with his friends, skiing and held a private pilot's license. He traveled back to his hometown of Gloucester often and especially enjoyed attending the St. Peter's Fiesta. He was an avid RF boat enthusiast and enjoyed traveling, sketching, bicycling and square dancing with his good friend Elaine. He was also a proud member of American Legion Post #598. He was preceded in death by his parents, Captain Joseph and Jennie (Ciarametaro) Auditore of Gloucester; his loving wife of 43 years, Clara "Molly" Adams; daughter, Pamela; and two brothers, John and Joseph; He is survived by three sons Stephen (Vicki) of Dayton, Philip of Dallas, and Thomas (Kelly) of Dayton; daughter, Marie Boughen (Brian) currently living in Bermuda; seven grandchildren, Alexis, Sara, Stephanie, David, Kelsey, Samantha and Sienna; three brothers, Peter, Frank and Vincent; four sisters, Sandra Gray (Claude), Rosemary Ristino (Arthur), Pamela Auditore and Rita Kleiner (Eric); and his long-time companion Elaine Rosenstein as well as many nieces, nephews and friends. A memorial service was held on Monday, April 13 at Tobias Funeral Home, Far Hills Chapel, 5471 Far Hills Rd. at Rahn Rd. The family also received visitors on April 13. Sam will be buried in the Auditore family plot in Seaside Cemetery in Gloucester, MA. In lieu of flowers, donations may be made to Cox Arboretum in Sam's honor. Sam lived a long and "molto bene" life and will be missed by many. Salute d'Amour!.