"Hike to Houk" is an Oakwood Centennial event on Sunday, June 22 from 1 p.m.-4 p.m. beginning and ending at the Smith School field. There will be crafts, naturalists, animals, a scavenger hunt, music, prizes and a hike to our new Centennial Park through Loy Garden, Elizabeth Garden and Houk Stream. The event and all the activities will be free to the public.
At the field, K-12 Gallery for Young People will be there with a fun make and take craft. Up and Running and Roll will have information about improving or getting your fitness program started. As well as many other fun ideas that can help you become more environmentally conscious.
You will start the hike at the field and it will take you to Loy Garden on Park Road. A scavenger hunt will begin at the entrance of the park and continue through Elizabeth Garden and Houk Stream. There will be a musician playing in the garden. Loy Garden features a multi-level walking trail that rises and falls as it follows the stream through the park. The trail ends at Forrer Road.
As you continue on to Elizabeth Garden, the scavenger hunt will continue as well as a naturalist walking people through the garden educating visitors on the natural features of the park as well as answering any questions people may have. The entrance to Elizabeth Garden is across from Loy Garden on Forrer Road. The park trail meanders along the stream and ends near the intersection of Forrer and Ridgeway Road.
As you cross Ridgeway onto Oakwood Avenue, you will find the entrance to Houk Stream. In Houk Stream Park, Tom Hissong, a naturalist from Aullwood Audubon Center and Farm will have a live animal display of creatures that can be found in a forested stream habitat. He will answer questions about these animals, the habitat and other wild life to look for in this park environment. While you explore and finish up the scavenger hunt, take a moment to get a sneak peek at plans for the new Centennial Park. A walk across the bridge leads you into this new park area where hiking trails and a "Hidden Garden" will be just a few of the highlights of things to come. A dedication ceremony for the new bridge at Centennial Park will take place at 2: 30 p.m.
After exploring Houk Stream and Centennial Park, you will hike back to the Smith School field on Park Road.
The event is rain or shine. If it is raining, activities will be held in the Smith School Gym. If you have questions about the event or are interested in volunteering for the event, please contact K. C. Stack at kstack@woh.rr.com
This event brought to you through the generous support of Vectren.
---
By Ingrid Hofeldt

It's hard to believe that communities close to us such as Moraine. Dayton and Kettering can have poverty and hunger problems. What about the health of these less fortunate kids? They have just as much right to healthy foods such as fruits and veggies as we do. This year, Giving Strings will be donating their proceeds to a branch of The Food Bank of Dayton called The Kid's Café, a place where kids go to enjoy healthy nourishing food, a safe place to play, and social and recreational opportunities to meet other kids. The Kid's Café operates Monday through Friday at various churches, schools, and after- school programs…. But what about the weekend?
Giving Strings will be supporting a similar project through the Food Bank of Dayton called the Good-to-Go Backpack Program. This program helps 1000 local children in need every weekend. Each backpack is filled with kid-friendly, easy to open and easily prepared foods. No one but the child knows what is in his or her backpack to preserve their confidentiality and dignity.
The Giving Strings Concert will take place on Saturday, Aug. 9 at 7 p.m. in Shafor Park. Everyone is welcome to listen or play. Please call 293-5753 for details. This year canned goods as well as donations will be appreciated.
---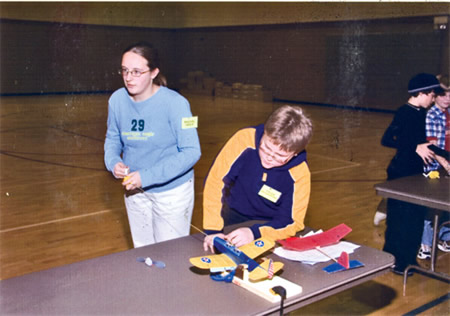 E.D. Smith fifth grader Tyler Baumgartner has his Stunt Cub airplane ready to fly. He is helping Rachel Hock, a student at Van Buren Middle School, Kettering, wind the rubber band motor of her scale model of the WWII-era PT-19 Trainer.
A gossamer model airplane, weighing just under a half gram, is released from the hand of one of Dale Whitford's students. Propelled by a wound-up rubber band motor, the plane moves forward, almost suspended in the air, looking more like a large butterfly than a model airplane. The plane circles slowly upward, climbing to about 20 feet above the gymnasium floor before running out of rubber band power and gently gliding back down to a soft landing.
Dale Whitford has been teaching kids from grades four through twelve the fine art of building model airplanes at Christ United Methodist Church on Shroyer Road for the past 10 years. He himself has been occupied with this particular hobby for over 30 years. A retired aeronautical engineer, he is one of the founding members of the University of Dayton Research Institute. He is also one of the leading experts on the Wright Brothers and their singular invention – the airplane. Teaching the next two or so generations a little about the principles of lift, thrust, drag and gravity, in addition to how airplanes are constructed, has become a pleasurable pastime for him.
Not that he doesn't have help. A team of sixteen instructors provide much needed support and advice for the limit of 30 students that invariably fill his class. No student experience is required. Classes for beginners, intermediate, advanced, competition and experienced are provided to match each student's abilities. The course is offered by the church as a public service.
The class meets every Tuesday for 15 weeks, beginning Aug. 26 from 4 to 6 p.m. and ending on Dec. 2. At the end of the course, to demonstrate the student's progress and achievement, an Air Show is held for family and friends on Tuesday, Dec. 9.
A class fee of $35 is charged for the cost of materials and supplies. Registrations are accepted on a first-come, first-served basis. Parents should realize this class requires regular attendance for the full period of each class.
Pick up a hard copy of The Oakwood Register for a Model Airplane Class Registration form. Please send the completed application along with a check for $30 made out to Dale Whitford to the address following: Dale Whitford, 642 Cushing Ave., Kettering, OH 45429.
For more information call 299-3744 or email daleandsyl@sbcglobal.net .
---
Stewart Street Bridge over the Great Miami River is scheduled to close to all traffic on Monday, June 23 as the City of Dayton begins an 18-month, $16.5 million project to replace the nearly century-old bridge. Preliminary work along Patterson Blvd. and Edwin C. Moses Blvd. will begin this week. Traffic will be maintained during the preliminary work.
During the closure, the posted detour route will direct motorists to use Edwin C Moses Blvd., Washington Street, Ludlow Street, Perry Street, and Patterson Blvd. Motorists traveling to and from Interstate 75 are encouraged to use US Route 35 to the main/Jefferson Street Exits to access businesses and institutions on the east side of the river.
The City of Dayton has contracted with Ahern & Associates, Inc. for the replacement and improvement of the bridge. Actual demolition on the bridge will begin June 23. The new bridge is expected to be completed by Dec. 1, 2009.
The existing bridge was constructed in 1911 and is beginning to show structural problems. The Stewart Street Bridge is one of nine bridges being replaced in Dayton.
As part of the "Catch the Reading Bug!" Summer Reading Club for kids entering grades K-5, the Wright Library is hosting free bug-related programs every Thursday during the summer. The first program, "Gone With the Windshield," will be held on June 12 at 2 pm.
Cartoonist Jeff Nicholas will present a bug-filled program swarming with original illustrations, poems, and instructions for drawing cartoon insects.
The program will be held in the Meeting Room, and no registration is required.
As part of the Oakwood Centennial Celebration, Trudy Krisher will be leading a two-part memoir-writing workshop at Wright Library starting on Tuesday, June 17 from 6-8 pm and continuing on Tuesday, June 24 from 6-8 pm In the first week participants will learn about memoir-writing techniques, and in the second week they will share their stories with fellow participants.
The program will be held in the library meeting room, and registration is required. Light refreshments will be served. For registration and questions, contact the library at (937) 294-7171.
As part of the "Catch the Reading Bug!" Summer Reading Club for kids entering grades K-5, the Wright Library is hosting free bug-related programs every Thursday during the summer. On June 19 at 2 and 3:30 pm, Mad Science of Cincinnati returns with workshops about bugs.
The 2:00 pm program is intended for kids entering grades 1-3, and the 3:30 pm program is intended for kids entering grades 4-6. The program will be held in the Meeting Room.
Space is limited, so registration is required. For more information or to register for the program, please contact the Youth Services Department at 294-7171.
Join us for free buggy movie fun this summer at Wright Library. Bring the entire family! Popcorn will be provided. This month's movies are:
• Monday, June 23 at 4 pm "A Bug's Life"
• Monday, June 30 at 6 pm "Ant Bully"
Movies are shown in the Library Meeting Room, and no registration is required.

For more information, please contact the Youth Services Department at 294-717 or visit the website at www.wrightlibrary.org.