On Friday, June 6, the Oakwood Community Center held it annual MVRAC (Miami Valley Recreation Activities Council) Youth Talent Show. Four of the performers were from Oakwood, Sarah Ratton, Carson, Ashley, Hayley Penchoff. The other performers were Kristen & Christopher Wehner. This years overall winners, who will compete at the Fraze Wednesday, Aug. 6, 7 p.m., are Carson Bohner, Hayley Penchoff, and Kristen & Christopher Wehner.
Pictured, left to right for: Carson, Ashley, Kristen, Hayley Penchoff, Sarah Ratton and Christopher Wehner.
The Department of Leisure Services would like to thank all of our brave and talented performers. They all did a wonderful job. One performer in particular, Sarah Ratton, did an outstanding job under stressful circumstances. Due to technical difficulties, her CD did not work in not only one but three different CD players. Eventually she did perform outside the Teen Center in the OCC, (the CD would only play on the computer) in front of just her family, the judges, and the people exercising in the OCC Health Center. In this unusual setting Sarah had a great performance, and showed amazing resolve in this out of the ordinary and unique setting.
Again, thanks to all of the performers for their remarkable performances, and good luck to Carson, Hayley, and Kristen & Christopher at the Fraze in August (the show is free and open to the public.
---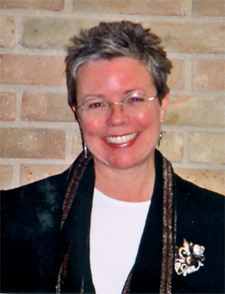 Oakwood resident Suzanne Mitolo has received a Lucile Cornetet Individual Award for professional development from the Delta Kappa Gamma Educational Foundation. This award will enable Suzanne to attend the 2008 North American Reggio Emilia Alliance (NAREA) annual Summer Conference in Boulder, Colorado. Merlene Carlisle, Educational Foundation Board of Trustees chair, announced that the foundation awarded $20,222 to outstanding educators to enable them to attend professional activities in their respective fields.
Mitolo teaches art at Centerville Primary Village South and has been influenced by the teaching philosophy practiced by early childhood educators in Reggio Emilia, Italy.
"The NAREA conference will serve as inspiration for my teaching practice as I learn from some of the leading figures of the Reggio approach from Italy and the United States," Mitolo said.
The DKG Educational Foundation is an honorary organization for women educators with more than 114,000 members in 16 countries. Suzanne Mitolo is a member of the Pi Chapter of this organization.
---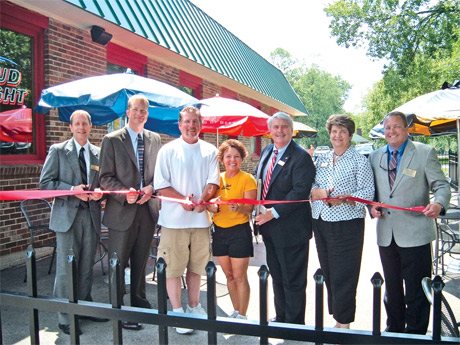 Pictured, left to right: Gregg Gorsuch, Kettering Economic Development Director, Mark Schweiterman, Kettering City Manager, Fred and Sandy McGhee, Norton's Grill owners, Mayor Don Patterson, Peggy Lehner, city council member, Kevin Jones, KMO Chamber board member.
A ribbon cutting was held June 5 by the Kettering-Moraine-Oakwood Chamber of Commerce at Norton's Grill, located at 2505 Wilmington Pike in Kettering, OH, to celebrate their new menu, look, and cook.
"I really wanted to transform Norton's Grill from 'the neighborhood bar' into 'the neighborhood restaurant'" said owner Fred McGee. "Norton's has been a Kettering institution for 22 years, and I wanted it to be even more of a community-friendly place."
The aesthetic transformation of the restaurant included adding a new set of awnings, a 70-seat patio, and converting the pool room into a media room, with all sorts of TVs to watch any type of programming. "I'll even see soap operas on" joked McGee.
But one of the more popular of the changes involves the food. "We decided to hire Bill Webb, who worked at Carver's and the Dayton Country Club" said McGee. "He's a down-to-earth guy with 30 years of experience, so we really wanted him to join
our team." Webb is responsible for creating the new menu (including a Saturday and Sunday breakfast menu), which has everything from Egg Rolls to Norton's Famous Ribs on it.
In addition to all of their changes, McGee is still thinking of new ways to serve the community. "We just got a pizza oven, so hopefully we'll add pizzas to our menu shortly" he said. "Not only that, but our entire menu can be deliv-ered right to your door—even the ribs."
---
Whispers Home recently learned that it has been nominated for The Best of Intima Magazine's prestigious Best Shop Awards for the fifth consecutive year.
Whispers has enjoyed nominations each year since 2004, when Best of Intima began the Best Shop Awards in the United States to honor independent specialty stores across the country. Nominations are submitted by the brands that jury the awards, which include exclusive names such as Chantelle, Claire Pettibone, Cosabella, Elle Macpherson, Hanky Panky, Panache, Princesse Tam-Tam, Simone-Perele and Wacoal – all of which are available at Whispers.
In addition to the five consecutive Best Shop nominations, Whispers was named among five U.S. finalists in the Personal Touch category in both 2004 and 2006.
Whispers opened in November of 2001 in the Shops of Oakwood and prides itself on offering the finest lingerie, Yves Delorme linens for bed, bath and table, and gift items from the U.S. and around the globe. Personalized attention, especially in the area of bra fittings, is a key part of Whispers' services; all sales associates are certified as trained experts in the art of bra fitting. Because bras are such an important part of the business, Whispers' owner, Judy Wyatt, created the Sharing Support event, in which women receive a discount on a new bra for each gently-used or never-worn bra they bring in; those bras are then donated to Clothes that Work to benefit women interviewing for jobs. In addition to having trained specialists for bra fittings,
Whispers offers a personal shopping service for gift items when customers cannot visit the store, bridal and gift registry, and complimentary gift wrap, alterations, and ground shipping.
Wyatt is delighted with this national recognition for her six-and-a-half-year-old boutique. "Our goal at Whispers is to take very good care of every customer. When they are happy, we are happy. My dedicated, well-trained and personable staff helps makes it all happen," says Wyatt. "I'm fortunate to have great customers and a great team to help fulfill my vision, and this industry acknowledgement is again an added honor."
Finalists for this year's Best Shop Awards will be notified in late July, and winners will be announced in an August ceremony in New York.
---
A group of Oakwood citizens gathered recently at the newly installed Centennial Bridge at Houk Stream to celebrate its public opening.
---
What's your talent? Comedy? Dancing? Juggling? Acting? Music? Singing? Group or Solo? Anything goes in this Centennial Talent Show. Oakwood's Got Talent! being held Sunday, Aug. 17 as part of the Oakwood Centennial Closing Ceremony held at Mack Hummon Field behind the high school. Join the fun and be part of Oakwood history!
Cash prizes will be awarded to the winners of each category, with a total pursr of $1500. Secret celebrity judges will determine the winners. Categories include: Junior (under 15 years of age), Teen/College (16-22 years of age), Adult (22 years of age and up).
Acts must register no later than Saturday, June 28. Registration forms are located at the City Building (30 Park Ave.), the Oakwood Community Center (105 Patterson Rd.), Wright Library (1776 Far Hills Ave.), and on the following websites: www.ci.oak
wood.oh.us and www.villageofoakwood.com. Registration forms should be sent to Susan Hearn, 1115 Oakwood Ave., Dayton, Ohio 45419.
Each contestant will compete in an audition to earn a spot on the show. Audition dates are July 8, 9, 15 and 16 from 4 to 7 p.m.
Oakwood's Got Talent is open to Oakwood residents only. Groups are only required to have one Oakwood resident. The talent show is also only open to amateurs. For any questions, please contact Suzanne Donnelly at 293-3410 or Dan Ferneding at 581-1961.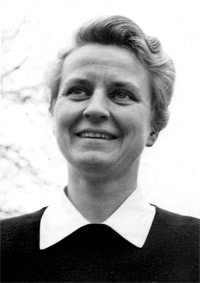 With the Oakwood Centennial celebration now in full swing, and the Athletic Hall of Fame announcement made for honoring at a banquet in August, I thought it appropriate to devote some space to a teacher/coach who truly had the students and the school in her heart. There have been many, but high on the list is Bess Hayner, who coached the girls' sports for 26 years. Bess grew up in Dayton View and went to Longfellow grade school. She came to Oakwood in 1930 after graduating from the University of Wisconsin. For a few years she taught biology, but it became obvious that her real skills were in athletics.
She motivated the girls to be competitive and good sports. Her teams played high schools and colleges throughout the state, challenging and beating them. Oakwood acquired a real name for itself in the sport of field hockey which wasn't well known in the early 30's except for popularity primarily in the east. As interest in the team sport grew, Oakwood girls vied for positions on the team and cheered the team from the stands. The spirit of comradeship was contagious and school spirit for hockey was equally as high as that for football. All this and more is chronicled in two huge scrapbooks that she filled with clippings, pictures, souvenirs, newsletters, personal letters and telegrams.
As the thirties and forties progressed she added other sports to the menu, and Oakwood became known for women's tennis and basketball. The war years took its toll on the football team, but girls hockey soldiered on for a 54-game-winning streak which ended in 1946 with a loss to University of Cincinnati. This was particularly heartbreaking because Life magazine had been here to photograph the team for a cover story. It had been promoted by Howard J. Smith, father of Joey Thiele and Katie Makarius, in extensive correspondence in which he touted them as "symbolic of the perfect American School Girl." After diligent follow up, Life contacted The Dayton Daily News to check out his claims and check out the girls to see if they were as attractive as Smith had said. "Is there any star who is particularly good looking" asked the telegram to the DDN.
When Life got serious about doing the article, they started telegraphing for particulars about the team, its record, personality of the coach and players, and whether they could be released from school early so as to accommodate the midday sun. Photographer Herbert (Hank) Walker arrived on November 12, 1946 for the shoot. Well, the inevitable happened. After 54 games from 1939 to 1946, the Jill's lost its game with University of Cincinnati on November 19. A short article in the newspaper quoted an axiom: "A Life cover is the kiss of death to the athletic star pictured." The story never ran, but the full story of the incident with some Life pictures are in the scrapbook that she kept. A personal handwritten note to her dated November 24 from a teacher in the Department of Classics at U.C. praises the team and their sportsmanship in defeat, saying that he will never forget it. And so they continued in the sport for many years. Not many girls went through Oakwood without at least a peripheral contact with field hockey.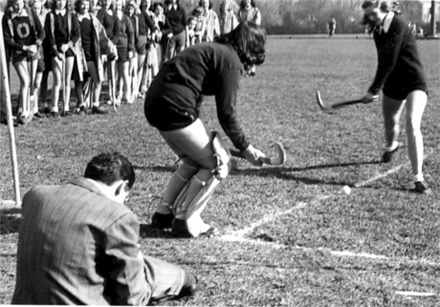 Life magazine's Herbert Walker photographs action during OHS/University of Cincinnati field hockey bout held in 1946.
Her girls always referred to her as "Hayner." The scrapbooks tell of successes and participation in basketball, tennis, baseball, golf and intramural sports such as ping pong, badminton and bowling. Her teams were always league leaders, with the undefeated 1950 basketball team, of Bonnie MacKay, Joanne Maginnis, Nancy (Smitty) Smiley, Rosie Kleinhenz, Moon Mullen and Betty Epstein as an example.
In tennis, she coached the Jill's with such natural talents as Bonnie MacKay and Betty Epstein. Earlier, Lois Geis had been the Dayton Tennis Center and Journal-Herald Champ for two years. Later Marian Bergen held the J-H crown and Peach Pohl took the Dayton Tennis Center crown. Such stars as Joanne (DeDe) Demarse, Mary Lou Shank, Gretchen Focke and Barbara Sharkey were big news. Betty Epstein and Bonnie MacKay dominated the news for many years; Betty from the days of her pre-teens as four-time winner of the J-H trophy and Bonnie playing both locally and on the tour with her well known brother Barry. There are clippings from an earlier Oakwood tennis star, Virginia Hollinger, who became the National Women's Indoor Champion in 1938. Coached by her father, she was known as "Little Miss Poker Face" on tour. (She died in 1946 at age 28.)
Hayner wasn't active in golf, but that didn't deter her from keeping up with young stars such as Betty Lee Boren, several time city golf champion, Sally Price, always a contender, and Marjorie Wendel, a challenger.
Her scrapbooks are a history of Oakwood from the 30's thru the early 50's, telling of horse shows, prom queens, class officers, scholastic honors, swimming parties and commencement programs and parties.
One clipping tells of getting together with the Beavercreek coach to plan the season schedule – that coach was Josephine Auld, who later joined Oakwood's staff and stayed with us for many years as Mrs. Sipe.
The last part of the scrapbook series has a happy/sad element since she included deaths from car and plane accidents, WW II deaths and teachers deaths. On a happier note, there is an extensive engagement and wedding coverage – undoubtedly the best resource for tracing this kind of data that exists. There are some human interest stories of service in WW II.
These notes of an "era" known as "Hayner" take one back better than going through old Acorns because each clipping mentions names of people, some of whom we have forgotten and some of whom still live here and we see among us. They show a genuine love of young people which was returned to her many fold.
Retiring after 26 years in 1956, Hayner was replaced by Betty Epstein, a recent graduate of the University of Michigan. On her 25th anniversary, the Boosters Club presented her with a silver vase and all the team members were presented with gold hockey charms as a memento of an undefeated season. Her players will always remember her for the apples she gave out after each hockey practice and each will always have some incident to mark those years.