CLICK
FOR THE
WHO AND WHERE !!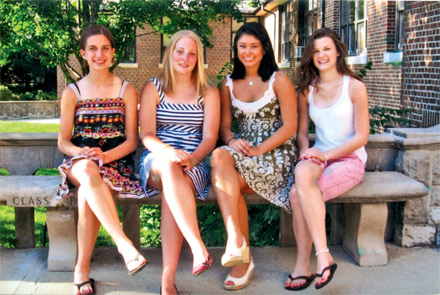 Four seniors-to-be from Oakwood will be among the 900 girls participating in the 62nd annual session of Buckeye Girls State at Ashland College. They are, pictured left to right: Julia Sizek, Alexandra Harmony, Ali Botello and Nora Murphy.
Seven seniors-to-be from Oakwood, Centerville and Kettering Fairmont are among the 900 girls participating in the 62nd annual session of Buckeye Girls State at Ashland College. The session began Sunday, June 15, and concludes on Saturday, June 21.
It is a fast-paced program of mock government at the state, county and city levels. The main objective of the Girls State program is to train young women who have completed their junior year at high school, in the duties, rights and privileges of citizenship by providing the attendee the opportunity to actively participate in a democratic form of government.
Local delegates to Girls State are: Julia Sizek, Ali Botello and Nora Murphy of Oakwood; Katy Weigel and Allison Streithorst of Kettering. Kettering American Legion Auxiliary 598 will be sponsoring these girls. Delegates Alexandra Harmony of Oakwood (sponsored by Unit 526) and Allison Cochran of Centerville (sponsored by Unit 776) will be attending. Assisting at Buckeye Girls State will be Auxiliary Unit #598 members: Madeline Phipps (City Counselor), Carol F. Kelly, Unit Americanism Chairman (Residence Hall Counselor) and Department President, Carol T. Robinson, Auxiliary Unit #776.
As the girls arrive at Girls State they are assigned to one of two political parties. The residence hall in which they live during the program is their designated county and the floor on which they live is their city. The students will file petitions for candidacy for a variety of offices from Governor to city council and participate in the election process. After elections and inaugurations, they will put government in action.
Special guest during the week at Girls State includes Gov. Strickland. He makes no promises as to his appearance, but he has been at BGS before.
---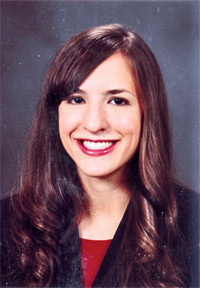 Moriah Lynn Conner, M.D. (nee Timko), a 2002 Oakwood High School alumni, graduated from Northeastern Ohio University College of Medicine on May 17, 2008.
Dr. Conner is the daughter of Leonard Timko of Dayton, Ohio Phyllis Timko of Blair, Nebraska. She was accepted into the accelerated six-year B.S./M.D. program directly out of high school and completed her undergraduate studies at the University of Akron, Summa Cum Laude. She matched in an Internal Medicine residency at Summa Health System, Akron City Hospital. Dr.
Conner will begin residency in July and will join her new husband, Dr. Ronald C. Connor, who is also a resident at Akron City Hospital.
---
Each year, the Oakwood Rotary hosts a high school exchange student for a full school year. The Rotary program differs from othe foreign exchange youth programs since we try to find three different host families over the course of a school year. That means that each family hosts for about 3 1/2 months.
In mid-August, our new exchange sstudent will arrive. His name is Daniel Leon and he is from Ecuador. Daniel is the president of his class, takes many challenging courses in school and is a great fan of music. He plays four musical instruments: piano, bass, drums and guitar. He is also a sports enthusiast. Daniel is 16 years old and will turn 17 in December 2008.
Hosting a foreign exchange student is a very rewarding experience and affords your family the opportunity to explore other cultures while developing life-long friendships. If you are interested in learning more information about hosting this student, please contact Debbie Hershey at 294-5854 or Terri Rubins at
297-0404.
---
A group of 18 high school students from all over Germany will arrive in Dayton this July to get a "jump start" on their English language and American culture before spending their exchange program in an American high school. Volunteer host families are needed for these German high school exchange students who will participate in an enrichment program this summer that will better enable them to live in the United States for an academic year. The students will arrive July 24 to stay through Aug. 22 with host families in Oakwood and the surrounding area as part of the Culture and Current Events Program, an aspect of the ASSE International Student Exchange Programs.
"They've all had at least six years of English, but they just need a little extra help so they'll have a better year," said coordinator Leah Hunt. Among the students arriving in July will be Julia Keller from Bremen, Germany. She likes soccer, reading and music. "I want to learn something about different cultures. I want to get to know a new school system and totally new way of life," Julia wrote in a high school exchange student application. Another exchange student, Nina Brose from Ostfildern, Germany, likes snowboarding, guitar and baking. "I'd like to find out more about the real American way of life in a family," Nina commented in her application.
Host families may select their exchange student based on a complete profile that includes a photo collage by the student and a personal essay describing his or her interests, hobbies and personality. All ASSE students bring their own spending money are fully insured. Host families provide a separate bed and daily meals to your host daughter or son. You and members of your family are invited to participate in the group activities, parties, weekly excursions and much more!
For more information on hosting a student, contact Leah at (937) 272-3104. For more information about ASSE International Student Exchange Programs is available at www.asse.com