Surgeon back home after five month tour of duty

By Lance Winkler

It's incredible to be home," said Maj. Jayson Dock one day after he returned from his first medical deployment to the Philippines. A general surgeon who completed his medical residency at Wright_Patterson Medical Center two years ago, Maj. Dock was part of a medical team that flew from Wright-Patterson AFB to the island of Sulu in the Phillipines and set up a clinic in the town of Holo as part of Operation Enduring Freedom. The other two medical professionals accompanying him from Wright Patterson AFB were Tammy Dunham, operations nurse, and Richard Dugrosa, emergency physician. The medical tour of duty lasted five months.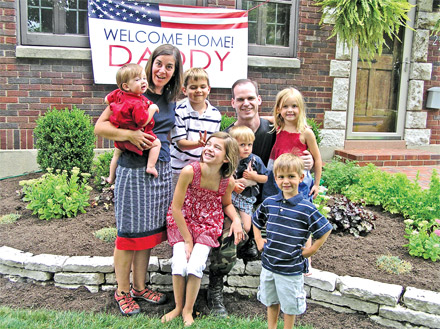 Pictured, left to right: wife Christine, Carus, 1, Carson, 7, Carissa, 10, Maj. Jayson Dock (USAF), Carben, 2, Carter, 4, and Carrigan, 5.
Maj. Dock has been a resident of Oakwood for seven years and he and his wife, Christine, love their home on Lonsdale Avenue. So do their six small children: Carus, Carson, Carissa, Carben, Carter and Carrigan. According to Christine, the Oakwood neighbor network work flawlessly in helping the family out while Maj. Dock was on active duty.
"We had a lot of Oakwood families bringing us meals. It made coming home from work and having a ready-made meal available for the kids' dinners really a pleasure," said Christine. "One neighbor mowed our grass. We'd like to thank our neighbors and friends so much for their kind support."


---
By Amy Borgert

A glorious weekend capped off Oakwood's four-month-long Centennial Celebration and the awards ceremony for the Oakwood High School Distinguished Alumni Award. Preceding the centennial's closing ceremony on Sunday, Aug. 17, the Distinguished Alumni Awards were held at Moraine Country Club on Saturday, Aug. 16.
The Blackbird Quartet - consisting of Josh Halpern on cello, Clara Hofeldt and Ellen Milligan on violin, and Amy Malone on viola – kicked off the evening with their music, along with a welcome from Alumni Director, Rande Rinn Chapman. After dinner, Nominating Committee Chair and host for the evening Jamie Greer and Superintendent of Oakwood City Schools Dr. Mary Jo Scalzo introduced the program for the evening and began the presentations to each of the four deserving recipients.

Harry Ebeling, Capt. Carl L. Henn, Mrs. Eleanor Pickrel Petersen and Frederick N. Young.
Harry G. Ebeling, a retired lawyer, history buff, and dedicated public servant, was the first to be recognized. Harry graduated in 1950 along with fellow nominee
Frederick N. Young, and remarked how he wished Young could have been there as well to share in the event. Upon receiving his award, Ebeling remarked, "I really enjoy being a citizen of Oakwood…and I look forward to being here until they carry me out feet first, as my mother used to say." Ebeling was joined by his wife, Marty Ebeling.
Captain Carl L. Henn, career navy man, as well as certified financial planner and environmental activist was honored next, and accepting on behalf of him was his sister, Sally Riffle. She recounted how she informed Carl that she thought he should be nominated. His first question was, "Who do I compete with?" When she answered everyone who graduated more than 15 years ago from Oakwood High School, his answer was, "wow". While Henn sadly passed away in August of 2007, Sally Riffle expressed thanks on his behalf to have received such an honor, knowing that he would have been proud.
Eleanor Pickrel Petersen's award followed, Eleanor being a lifelong activist on behalf of women and minorities in the Chicago community. Older sister Peggy Pickrel Anderson accepted on her behalf, noting that she was lucky she did not have to follow in her younger sister's shoes – since they were pretty big and pretty much moving all the time. She told of her tireless desire to provide women and minorities equal opportunities, and of her great energy, culminating often in post-meeting conga lines.
Frederick N. Young was the final recipient honored. This career barrister, activist and volunteer was active in the Dayton community, from politics to performance art. His law career led him to be involved in the establishment of two major area institutions –Wright State University and Children's Medical Center. He also served on the board of countless others, including the Victoria Theater Association, and the Human Race Theatre. He was represented by his wife Joyce, daughters Peggy Young and Shirley Spelman, and sister Cathy Ellis.
Finishing up the evening, Ellen Sherriff Ireland announced the establishment of the Oakwood Centennial Scholarship. This will be given annually to a senior student who distinguishes herself/himself during their high school career.
The OHS Distinguished Alumni Award was established as an annual award to recognize graduates of character and integrity who have distinguished themselves and honored our Alma Mater through outstanding leadership in their profession and service to their communities.

For more information on nominating an OHS Alumni, please contact Rande Rinn Chapman, Alumni Director, at 298-8711, or by email at: alumni@oakwood.k12.oh.us.