I keep reminding myself - it doesn't make any difference. What ever the Muse Machine mounts on the Victoria stage is a hit. In fact, it is a triumph of the effervescence of youth and intrinsic talent, molded by the devoted guidance and genius of Nate Horne and David Düsing.
This year, they revived their hit of 1997, For Me and My Girl. It took only a slight jog of memory to recall Tory Ross and Tyler Maynard, Angela Gaylor, Jill Paice and Ben Magnuson in that cast. All have gone on to successful careers on Broadway. Tory and Tyler drove all night to attend the opening night and looked as beautiful as ever.
For Me and My Girl was born in England in 1937. Its several lifetimes included hit runs in London and Broadway 50 years apart. It is a musical which lives for happy endings, characters oozing in charm and songs, not memorable but alive with humor and sentiment.
The present Muse generation did themselves proud. The stars and the entire ensemble lit up the stage. The dancing was nothing sort of amazing. Several spectacular tap numbers were choreographed and coached by a European import, Lea Glass.
The set was the one used in 1997. It was found, stored under tarps in a field in Pennsylvania. Resurrected, its clever kinetics made the show flow seamlessly. No costume package was available. The Muse mothers cut and sewed for weeks turning the women into Vogue models of the 1930s. The orchestra, under maestro Düsing, played the sprightly music beautifully.
As Bill, the lead male, Oakwood's Tyler Rife took the very essence of comedy, Ray Bolger-like, to the walls. He had the rubber legs, the hapless expressions and the timing of a veteran star, which he will undoubtedly become.
The cast made use of shtick after shtick leaving the audience breathless with laughter. Joining Tyler Rife in comedic mastery was Tommy Skelton as the stuffy family solicitor. In the spirit of the great Gilbert and Sullivan comedians, he changed personae in a nano-second becoming an exaggerated riot in gesture, song and dance.
Other leading performances were Kendall Young, Coleman Hemsath, Annabeth Kane, Jordan Knecht and Bryan Burckle. Romance was supplied by Abby Brown as the cockney girlfriend who morphs into a regal lady. She had the best songs and delivered them with a lovely voice.
As great as the show was, there was yet another feature. The production was dedicated to an icon in Dayton arts, Jackie Lockwood. Jackie is the very soul of a patron and passionate devotee of art as a core value of life. She has supported with her enthusiasm and her gifts nearly every aspect of our rich cultural life.
I revere her most as the person who saved Dayton Opera three decades ago. She did it with the verve and devotion she brings to every aspect of her life and our lives.
I am sorry that I missed the Saturday night performance when she and devoted husband Bill were on stage as visiting royalty in the great "Lambeth Walk" scene. In her case, it was type casting. Jackie is Dayton's arts royalty. Congratulations, your highness!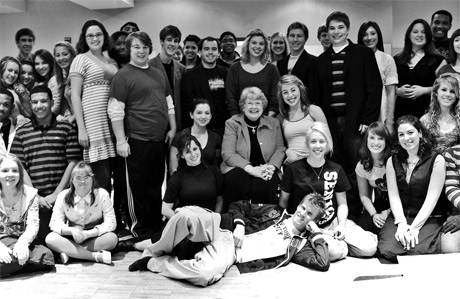 Muse Machine Honoree Jackie Lockwood pictured with of Me and My Girl.
The Dayton Visual Arts Center announces the sixteenth year of REACH Across Dayton. Begun by Paula Recko, Willis 'Bing' Davis (the Ohio Arts Council's choice for the 2009 Irma Lazarus award!) and Tess Little (one of the YWCA's 2009 Women of Influence honorees!), REACH is a celebration of our community in all its wonderful diversity.
This year's theme is Understanding Identity - and who among us has not at some point struggled with the question of "who am I, really?" It's one of the timeless themes for art, of course.
You don't have to be an artist (or a member of DVAC) to participate. We invite everyone to to be a part of the 2009 REACH Community Art Project by making a "quilt block" about yourself. We make it easy by providing the materials and artists to lead the way during four public workshops.
DVAC fiber artists who will be available during the workshops include: Jane A. Black, Debbie Emerick, Winnie Fiedler, Yuki Hall, Gerry Fogarty, Nosha Namahoyta, Christina Pereyma, Peri Irish Switzer and Sharon Weltner.
These drop-in workshops will be held:

Monday, Jan. 19, noon- 3 p.m.

Thursday, Jan. 29, 5-8 p.m.

Saturday, Jan. 31, 11 a.m.-2 p.m.

Thursday, Feb. 19, 5-8 p.m. (also hosting a W.O.W. Innovation Collaborative Brainstorming session - more on that later!)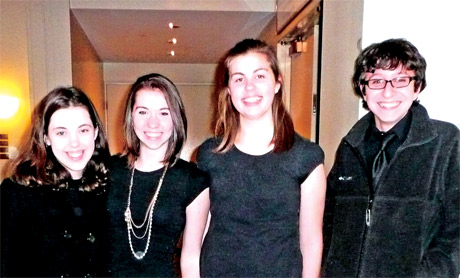 The Blackbird Quartet is pictured, from left: Ellen Milligan, violin; Clara Hofeldt, violin; Amy Malone, viola; and Josh Halpern, cello.
The Blackbird Quartet, comprised of musicians from Oakwood High School, will perform in the Schuster Center Wintergarden from 7-7:45 p.m. on Friday, Jan. 16 and Saturday, Jan. 17 as part of the Stars of Tomorrow program prior to the Dayton Philharmonic Orchestra concert.
The quartet has been performing at public and private events throughout the region since 2006, They are members of the Dayton Philharmonic Youth Orchestra, the
Dayton Philharmonic Junior String Orchestra, Muse Machine, Oakwood High School Orchestra, and Giving Strings.
Among their music selections will be Mozart's Quartet in C Major, K. 157 and Beethoven's Quartet in C Minor, Op. 18, #3 as well as other light classical favorites.
The Blackbird Quartet's performances in the Wintergarden are free and open to the public. At 8 p.m., violinist Rachel Barton Pine will perform with the Dayton Philharmonic Orchestra.
---
Dr. Franklin Cox, cello professor at Wright State University, will perform "The New Cello," a program of avant-garde and experimental solos for cello at St. Paul Catholic Church, 308 Phillips St. in Yellow Springs, at 7:30 p.m. on Wednesday, Jan. 14.
The program, drawn from works which Dr. Cox has performed on tour in Europe and the U.S., includes Helmut Lachenmann's Pression, Claus-Steffen Mahnkopf's L'Ange Nouveau, Michael Finnissy's Dove Figary, and Richard Barrett's Dark Ages, which requires two bows. Dr. Cox will perform Bach's C Major Suite in an "extended just intonation" devised by Ben Johnston, and two of his own compositions, Recoil and Clairvoyance.
Dr. Cox, a student of Gary Hoffman, Janos Starker and Peter Wiley, is the author of many scholarly articles on extended technique and innovative compositional styles. He has made several recordings and was a featured speaker and performer at the famous Darmstadt Festival.
Tickets at the door will be $10 adults, $5 students. For directions to St. Paul church, please phone (937) 767-7450. More information can be found at http://en.wikipedia. org/wiki/Franklin_Cox.
---

Link Gallery, 519 East Fifth St., Dayton, located in the Oregon Arts District, presents "Unchained II", an exhibit of works by an ensemble of some of Dayton's most notable artists. Included are lithographs, etchings, chine colle, paintings, sculpture, photographs, mixed media, wood, mobiles and glass.
Featured artists are: Julie Anderson, Michael Bashaw, Kaye Carlile, Glen Cebulash, Thomas Chapman, Stefan Chinov, Bob Colaizzi, Peter Gooch, Terry Hitt, Jeffrey Cortland Jones, Erin Holscher Almazan, Tom Keen, David Leach, Tracy Longley-Cook, Kevin Messer, Jim Moser, Susanne Scherette King, Andy Snow, Rachel Stanzione, Jon Swiindler, Jennifer Rosengarten, Marc Suda, Sean Wilkinson, Terry Welker, Joel Whitaker, and Jud Yalkut.
Images range from figurative to abstract. This exhibit will run through Jan. 31.
---
Introduction to Enameling
Age(s) 16 +
Learn how to fuse glass and metal to create beautiful, everlasting
works of art. In this introductory class, the emphasis will be on
exploring the properties of the medium and techniques of enameling.
The classes will cover dry sifting, stenciling, scrolling with glass lumps and threads, cloisonné and scraffito.

Sat., 9 a.m. – noon, Jan. 17 - Feb. 7
Fee: $85/resident; $95/non-resident
$20 materials fee due to instructor at first class
Instructor: Teresa Olavarria (Oakwood resident)
Call Rosewood at 937-296-0294 to register, hurry registration ends Jan 15th!