By Mark Bustillo

Our Oakwood Varsity wrestling team took their game to the 36th annual Bellbrook Invitational Saturday for some very intense competition this past weekend.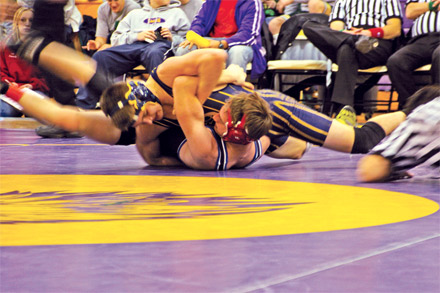 Alex Kooser was champion in the 130 pound class.
Among 12 teams all battling for top awards - Oakwood once again was there with an iron presence. The tournament was a regulation double elimination format with exciting action running on three mats which ran all day long. Other teams competing in the days event included Athens, Buckeye Valley, Chillicothe, Fairborn, Greeneview, Hillsboro, Kenton Ridge, Norwood, Ryle (Kentucky), Valley View and of course our host Bellbrook. In the midst of these contenders the Jacks certainly looked strong and intimidating.
Placing in the top ranks was a tough feat at Bellbrook but we earned our marks and even found a little gold in them thar hills. At 130 pounds, sophomore Alex Kooser went unbeaten and won his second title of the season with a dominating 16-4 major decision win in the semi-finals over state qualifier Caleb Lonkard, from team champion Ryle (KY) and in the championship match, Kooser finished his afternoon by beating top-seeded Brett Benedict of Greenview 9-4 and taking the top spot on the awards podium.
And although there wasn't much of a silver vein in this strike, there certainly was plenty of bronze. Sophomore Kevin Lee at 103 who has been a consistent medal winner this year brought home Bronze after a flurry of punishing wins and only one loss. At 112 senior Daniel Jacobs also triumphed over his opponents earning third place honors after a whole day of spectacular wins and only a single loss by one point to third seed from Athens. At 119, senior Paul Hochwalt returned from an extended absence due to an injury to throttle on his opponents and seize Bronze with only a single loss to a second seeder out of Greenville. At 135, Sophomore Will Lebouef lost only his first match to a top seed senior from Bellbrook but then battled undefeated for the remainder of the day to grab Bronze. And in other consolation matches Josh Hootman, Senior at 145 won all but two matches for a stylish fourth place finish. And finally at 215 pounds, Senior Matt Suits impressively sliced through his challengers with only twin losses to lock a tidy fourth place finish. Excellent job coaches and wrestlers!
So it was another great finish at a tough tournament for our Jacks. In the end our men held for a solid fifth place finish as a team behind champion team Ryle, runner-up Valley View, third place Athens and fourth place Greeneview.
Next up for the Jacks is a tri-meet this Thursday at home against Preble Shawnee and Waynesville at 6pm - and then next week Oakwood faces Dixie away on Wednesday, Jan. 21 at 6 p.m. in Dual competition. Go Go Lumberjacks!
By Kelly Kooser

Our Junior grapplers traveled north to compete in the Northridge Invitational this past Saturday and fell a few points short of the team title to SWBL foe Brookville. Oakwood placed second in the 6 team dual format behind Brookville but ahead of Centerville, Dayton Christian, Northridge, and Monroe.
Leading the way for the Jacks and taking home 1st place were Dalton Pearce at 80 lbs, Bo Powell 122lbs, and co-captains Dan Ehler 98 lbs. and Sam Stanley 205 lbs. Stanley, still undefeated this year, dominated the competition Saturday winning all of his matches including an exciting pin of the highly ranked heavyweight from Brookville.
Following in the footsteps of his older brothers, first year wrestler Mason Kooser 86 lbs. went 4-1 to bring home second place along with Jack Kegelmeyer 116 lbs. and team co-captain Alex Marquis 150 lbs. Also on the award podium for Oakwood and placing 3rd were Ben McMillan 116 lbs., Jacob Hootman 128 lbs., Rocco Baker 142 lbs., and Alex Hoecht 245 lbs.
Next up for the Oakwood Junior high wrestlers is a tri-meet tonight against Dayton Christian and Springboro and then again this Saturday, Jan. 20 in the pit for the Oakwood Invitational Tournament.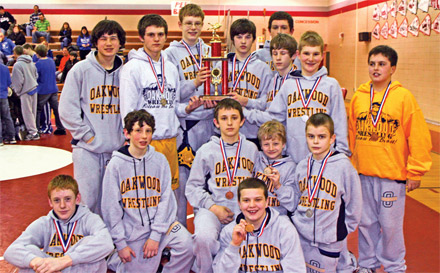 OJHS grapplers – Front Row L to R: Bo Powell, Ryan Burke, Daniel Gardner, Rocco Baker, Dalton Pearce, and Mason Kooser. Standing- Jack Cairney, Alex Marquis, Sam Stanley, Jacob Hootman, Daniel Stoecklein, Dan Ehler, Jack Kagelmeyer, and Ben McMillan.