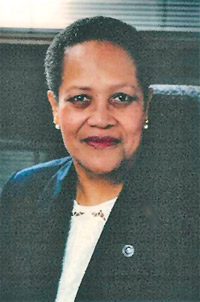 The cities of Kettering and Oakwood will host the Sixth Annual Martin Luther King Breakfast celebration Monday, Jan. 19, 2009. Sponsored by Kettering Medical Center Network, the breakfast will take place from 7:30 – 9:30 a.m. in the Activity Center at Christ United Methodist Church, 3990 Shroyer Rd. Kettering, Ohio.
The Kettering-Oakwood MLK Breakfast was originally created by Oakwood Mayor Judy Cook and former Kettering Mayor Marilou Smith in order to give residents a local opportunity to celebrate Dr. King's ideals.
This year's program will feature the dynamic Reverend Jerrie L. Bascome McGill, Ph.D. Dr. McGill is the first woman ordained into Christian Ministry at Tabernacle Missionary Baptist Church. McGill's long-term interests touch on matters pertaining to women around the world and African American women in particular. While involved in several community service activities and organizations, McGill is presently devoting more time and energy learning about transformation in individuals and institutions. McGill and her husband, Charles, reside in Dayton and are the parents of two grown children and a foster daughter as well as the proud grandparents to eight wonderful young people.
"We have seen the program evolve into a true "community" celebration, said Mayor Cook. "Our vision of bringing a variety of people together for the same unified purpose has been realized through this event." For ticket information, visit www.komlk.org.
Over the years, the Dayton community has created an event that reflects the best of Dr. Martin Luther King Jr.'s values and hopes – the need for a community to come together in good will and reconciliation. This year, it seems even more important that the Martin Luther King message be observed by all of us - Christians, Hindus, Jews, Muslims, persons from Dayton, Oakwood, Kettering, Centerville, Huber Heights, Trotwood, Clayton, the youth and the elderly, representatives from all the parts of the world who comprise the Dayton community.
The Dayton March begins in four separate locations. As each march proceeds, it gathers in more people until the truly joyous moment when east, west, south and north join tumultuously at Third & Main and four streams of people become one community.
This is not just an invitation but also a call to the community for all persons and organizations to be with us on Monday, Jan. 19, 2009. Youth and youth organizations are particularly called but everyone in the community is welcome. Banners recognizing any of our marching organizations will be very welcome. The starting point of the march for the South Quadrant is the Dayton Fairgrounds, and we will begin marching downtown at 11 a.m. Please feel free to join us for the march and celebration.
A workshop with Columbus Jungian analyst, Richard Sweeney, Ph. D. will be held on Saturday, Jan. 24. The workshop will go from 9:30 a.m.-1:30 p.m. Registration begins at 9:15 a.m. It will be held at St. Paul's Episcopal Church, 33 West Dixon, Oakwood, Ohio.
The workshop is sponsored by the C.G. Jung Association of Miami Valley. The title is: THE ALCHEMY OF EVERY DAY LIFE. Alchemy, when viewed symbolically, provides insight to life situations, dreams, fantasies, and emotional reactions. The study of alchemical symbols can reveal one's current psychic situation and point the way toward wholeness. We will focus on case studies, dream material, alchemical pictures, and the shared experiences of the participants. Everyone is welcome.
Coffee, tea, and hearty snacks are provided throughout the day. The fee is $55 at the door, but $45 prepaid by Jan 22 to C.G Jung Assoc., 6399 Sweet Briar Lane, Dayton, OH 45459. Contact: info@ungdayton.org. Website is: www.jungdayton.org.
The C. G, Jung Association is a not for profit organization and has provided the Miami Valley area with quality programming for twenty-five years.
---
POSSSIE: Professional Oakwood Singles in Service, Socialization and Self Improvement Education is a newly formed organization with the mission of serving the needs of single professional residents of Oakwood. Opportunities to socialize, participate in community service projects and attend workshops designed to address the unique needs and interests of the single population are underway. Long known and valued for its family and senior friendly programming, the city now has a vehicle to address the needs of a major segment of the population that had previously been unserved. Statistics show that approximately 3,000 Oakwood residents are single.
The first meeting of POSSSIE was held on Dec. 1, 2008 at the Wright Library with 23 people attending. The mission and future plans for the organization were discussed and attendees had a chance to meet each other, many whom unknowingly lived on the same streets! The second event was a holiday dinner at C¢est Tout Restaurant, complete with White Elephant exchange. The next two planned events are a pot luck dinner/game night on 1/17/09 and a Stress Management Workshop on 2/6/09. Along with the workshop, community service opportunities at the Oaktree Corner, Center For Grieving Children, will be discussed.
If you are a single resident of Oakwood, here is your opportunity to socialize, serve the community and grow with other single residents. If you would like to participate in this exciting new group, or if you would like more information, please call Kathy Judy at 294-0493.
Wii® Golf and Bowling is now @ the OCC! Wii is being used in rehabilitation centers, and senior centers around the country as a means of getting people to move and engage in mild forms of physical activities. Wii can be played by a single player just wanting to have some mild physical activity or up to 4 players as a social game.
What is nice about the Wii you do not have the weight of the ball, your fingers won't get stuck in the holes, you do not have to rent shoes, or carry a golf bag around. Stop in Tuesdays or Thursdays afternoons Starting Jan. 20, 2009 and Wii will show you how to play!
This workshop explores the art of memory writing and putting your life experiences into words. Participants will be given many tools to help them generate ideas and words for the page. Exercises, writing prompts, and fun activities will help to aid in this often difficult process. Participants will also read and discuss a memoir during each class meeting. Workshop starts in March.
Nothing goes better with writing than food! This workshop will feature a little bit of writing and a whole lot of eating and drinking! Bring your pen, journal, and an appetite. Theme-centered prompts will help to inspire both thinking and writing. Workshop starts in February.
Class for Teens

Writing a college application or scholarship essay can be stressful. Find out how to write an essay that not only reveals who you are and highlights your accomplishments, but also gives you an edge over other applicants. Workshop starts Feb. 8, 2009.
You know that Wright Library has a website, but do you know about all the amazing online resources that you can access through the library website in the comfort of your own home?
On Monday, Jan. 26 from 1:30 to 2:30 p.m., a Wright Library reference librarian will demonstrate how you can go online 24/7 and access research databases, newsletters, blogs, and more! The program will be held in the library meeting room. No advance registration is necessary. Anyone with questions can contact the Reference Department at (937) 294-7171.
Visit the Wright Library website at www.WrightLibrary.org.
January 16 is a double Inaugural Celebration; the first "3rd Friday Fling" in the Springs of 2009 and the historic Presidential Inauguration the following week. Join the festivities in Yellow Springs with shopping, gallery hopping and dining all evening.
You'll find art in many locations around town but special gallery openings are being held at Glen Helen where you can enjoy the Members Art Show Opening Reception and at The Art Space at 208 Dayton St. Stop into Yoga Springs Studio next door to The Art Space for a session of Happy Hour Yoga at 6 p.m.
The Emporium will be open for their usual Friday evening wine tasting and live music. You can even learn how to your own wine at Main Squeeze from 7:30 -
9:30 p.m.
The Little Art Theatre will be showing Doubt at 7 and 9:10 p.m.. Then head up to Sunrise Café for their Martini and Tapas Bar from 9:30 to 2:30. End the evening at Peach's Grill where Strange Arrangement will be playing progressive experimental rock starting at 10 p.m. There is a modest cover charge.
For more information, please contact the Yellow Springs Chamber of Commerce at 937-767-2686 or visit www.yellowspringsohio.org.