What did you give your sweetheart for Valentine's Day? If you took her to Dayton Opera's delightful The Elixir of Love, the gift will be unforgettable and almost as long lasting as a 14 carat diamond ring.
"Elixir" is a comic romp full to the brim with great music and wonderful singing. Gaetano Donizetti's versatile pen created the opera. Impresario Tom Bankston's marvelous cast, director and conductor created our own magic elixir of love.
Elixir of Love is a charming tale about an ardent swain, Nemorino, who worships the rich and beautiful Adina. To win her and remove his rival, the braggart Sergeant Belcore, he looks to the snake-oil salesman Dr. Dulcamara for a magic potion, an elixir of love.
The opera is set within a fanciful picture frame containing the action adding a sense of both reality and whimsical fantasy. My personal experience with several previous "Elixirs" has been marked by emphasis on the singing without the delightful comedic action.
Yes, even the great Pavarotti, near his prime, stood about the stage like a bag of potatoes while delivering the arias like a god. I prefer "Bankston Magic" as created by stage director Kathleen Clawson and conductor Joseph Mechavich.
The cast, a true collection of gems, was led by the return of Dayton's favorite tenor, Scott Piper. This was Scott's first comic opera after he has died elegantly on our stage in four dramatic tragedies. OK, he didn't die in his debut role, La Traviata, but he had a great deal to do with his lover's demise.
I have heard Scott sing 10 roles over as many years. His voice grows in power and retains its beauty and grace. He sings all over the world but considers Dayton to be his operatic home. Next season he will cause another death in the opera Faust to keep his string alive.
Scott was matched with the perfect love interest. His Adina is sung in triumphant debut by the beautiful Rachel Watkins. Rachel has a lyrical voice, easily encompassing the bel canto range. The first notes of her aria "Della Crudele Isotta," were mesmerizing. Her actions matched the music and the character. She won Nemorino's heart and every red-blooded man in the audience, as well.
Together, Scott and Rachel created an operatic ambiance erasing all memories of the previous static "Elixir" performances forever. Their chemistry together, particularly in the long "duet scenes," was simply wonderful.
As the boisterous Don Juan wannabe Sergeant Belcore, Jeremy Kelly made an impressive debut. He pranced on stage leading his "battle ready" troop. In typical homage to Italian military progress, the troop consisted of two riflemen and two flag wavers. His actions, obnoxious posturing and overbearing presence, made the comedy live. His vocal gifts gave life to his arias, as well.
The return of Met star Thomas Hammons made the oily charm of Dr. Dulcamara a show-stopper at each of his wonderful comic arias. He arrived from above in a golden balloon basket and spread his delightful message with verve and élan.
As Adina's friend Gianetta, Katherine Lindhart made her impressive debut. Cute and lively, the only problem was that Donizetti didn't give her enough to sing with her charming voice. The chorus, augmented by four charming children, is a very active part of the opera. Jeff Powell's charges did voice, action and, clad in village costumes, could be featured in the Elle magazine of 1820.
We have in Elixir of Love, another Dayton Opera, Bankston Magic, triumph. There are performances on Friday and Sunday Feb. 20th and 22nd. Those are still very valid Valentine gifts.
University of Dayton's arts are often a well-kept secret. Every experience I have with the UD singers, dancers and actors has been positive.
To prepare for the opera, I attended a Liederabend, a recital of German art songs, at the Sears Recital Hall in the Jesse Philips Center. The recital, a joint project of the German Department and the Department of Music, featured students singing and reading German poetry with student piano accompaniment.
Eight singers, readers and pianists blended to make a most wonderful evening of song and German Kultur. The selections included music by Schubert, Schumann, Brahms, Liszt, Bach and Hensel. The poetry was also wide-ranging.
All of the artists were quite talented and dedicated to their performances. I especially enjoyed several very promising singers. Baritone Sam Kriedenweiss sang Schubert's Frühlingsglaube and Der Tod und das Madchen with power and sensitivity.
Sopranos Jessica Cole and Jacquelyn Schneider gave expression to their difficult songs. Mezzo-soprano Amberly VanArsdall used her soaring voice to perform two challenging Schumann Lieds.
My congratulations to all the artists and to their professors, Elke Hatch of the German department and Linda Snyder of the Department of Music, for creating such a fine program. It enriched the experience of their students and the audience.
---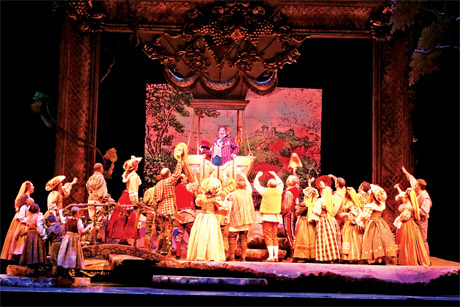 The traveling quack Dr. Dulcamara (Thomas Hammons) arrives in a hot air balloons to the cheers of the villages in Dayton Opera's production of Donizetti's The Elixir of Love at the Schuster Center. Tickets are available for the final two performances, Friday at 8 p.m. and Sunday at 3 p.m., by calling 228-3630 or visiting www.daytonopera.org.
---
Dayton Opera, one of the oldest opera companies in the United States, will celebrate its 49th year with four artistically varied masterpieces. This Masterpiece Season opens Oct. 17, 23 and 25 with Guiseppe Verdi's Romantic Masterpiece, La Traviata, filled with both beautiful and familiar music.
On Jan. 29, 2010, a Bel Canto Masterpiece will be presented as the Dayton Opera Star Gala presents Metropolitan Opera tenor Lawrence Brownlee in recital. The program will be repeated on Jan. 31.
A Devilish Masterpiece arrives next on April 10, 16 and 18 with a production of Charles Gounod's "Faust." And rounding out the season is a Comic Masterpiece, "The Mikado" by Gilbert and Sullivan.
"Our 49th season offers four artistically varied masterpieces, creating a true operatic gallery of 'Art that Sings; two well–loved grand operas, a cherished audience favorite from the operetta repertory and the showcasing of an international opera star," commented Thomas Bankston, General and Artistic Director of Dayton Opera. "And of course all these masterpieces are beautifully framed on the stage of the Mead Theatre in the Schuster Center."
Currently running are two more performances of "The Elixir of Love" Donizetti's romantic comedy to be performed this Friday, Feb. 20 and Sunday, Feb. 22. To order tickets call Ticket Center Stage 228-3630.
---
The Ohio Arts Council announces its Focusing the Light: The Art and Practice of Planning is now available! This seven-volume series provides those who work in the arts and nonprofits with strategies, tips, and techniques for successful project planning, advocacy and evaluation.
Focusing the Light was developed by the Ohio Arts Council with contributions from arts and education colleagues across the country to illustrate what is needed to create significant projects and programs for communities, secure funding for these initiatives, and evaluate the results. This seven-volume series is comprised of texts that provide strategies, tips and techniques for successful planning, advocacy and evaluation for those who work in the arts and nonprofit industry. The series covers arts advocacy and strategic planning as well as broader planning topics.
Each of the seven volumes in Focusing the Light offers clear, proven steps to help maximize efforts and steer organizations toward winning results. The series
details how to:
• Create a comprehensive project plan.
• Define and describe a course of action.
• Implement plan activities.
• Document your program's efforts and successes.
• Evaluate and refine the plan.
• Gain support for the plan.
The complete set is available for $20 including shipping and handling. For more information and to order visit www.focusingthelight.org.
---
The Dayton Philharmonic Volunteer Association's Young People's Concert Previews were named a Gold Award winner by the League of American Orchestras. The award will be presented to the DPVA at the League's annual convention June 9-12 in Chicago IL.
Rave reviews from elementary school teachers in a 14 county area prompted the DPVA to submit the Young People's Concert Preview Program for national award consideration. These highly visual presentations quickly capture the attention of the over 90,000 elementary school children in 249 schools that view one of these presentations prior to attending a Young People's Concert.
Marsha Wood and Richard Hulsman, two members of the DPVA, head the award winning team. The team is being recognized for its well written concert preview scripts and their animated electronic presentations complete with embedded sound files.
The League of American Orchestras leads, encourages and supports America's orchestras. It also communicates to the public the value and importance of orchestras and the music they perform. Annually the League recognizes outstanding educational programs across the nation through its Gold Award.
---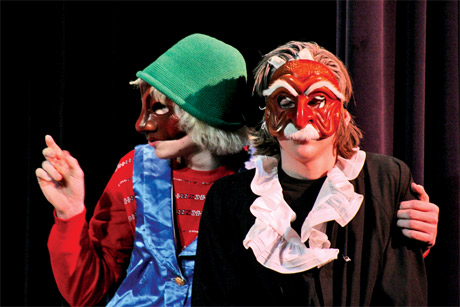 Eighth grader Shadow V. Woolf (green hat) as Truffaldino and the old man, eighth grader Luke Shafer as Pantelone, took part in the junior high school play The Servant of Two Masters. The play was directed by Jean Berry.