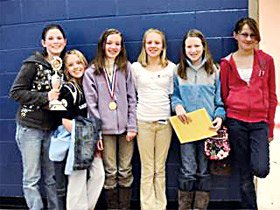 Congratulations to
the following
award winners:
Mary Grace Donnelly
7th place and Best of Round, Megan Cleary
2nd place.
Lee McClory 14th place, Sophia Cothrel 13th place and Best of Round, Ingrid Hofeldt 12th place, Alexa Coon 7th place, and Hadley Smith 6th place and Best of Round.
The 8th grade team won a First Place trophy for overall team score.
Power of the Pen is coached by Susanne King and John Holland.

Fantastic writing girls!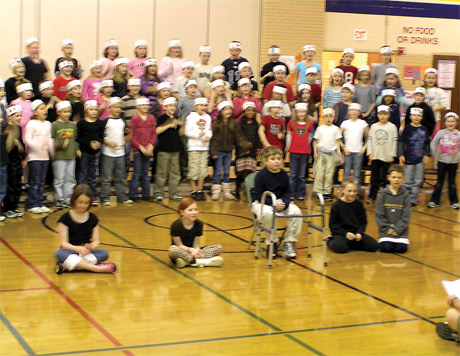 The entire class of second and third grade students of Smith School recently spent several weeks working with Muse Machine artist-in-residence Michael Lippert. Funded by the Smith School PTO, the program included the creation and production of two original plays by the students. The plays were done as a unique and "artistic" way to understand and communicate a portion of the social studies curriculum in
each grade.
The second grade class is currently studying geography. Their play was entitled "The Mysterious Map Book" and explored the concepts of continents, countries, states, cities and communities. The curriculum for the third grade class concentrates on economics. The third graders produced a play called "Extreme Economics," which covered the concepts of opportunity cost, goods and services, production, consumers and supply and demand.
The students memorized the entire text of the plays as well as some simple choreography, practicing with director Lippert and at home. Much of the play was done in unison, but each student also had one or two solo lines. The students gave two performances for the rest of the student body, family and friends on Wednesday and Thursday of last week.