In a thrilling game, Oakwood Jacks lost a heartbreaker 85-87 in the final seconds to Bellbrook, Friday night in the packed and loud Pit.
At the half, Bellbrook led 41-35. Oakwood came to life early in the second half to make up the deficit and tied the game at 49-49. The exciting game continued with tied scores and several lead changes. Oakwood lead as much as six points in the second half on the shoulders of Robby Sherk and Sam Sanders.
With 2: 17 remaining in the game, Oakwood's lead was cut to one at 80-79. Baskets were traded for the last tie at 84-84 with 35.5 seconds remaining. Bellbrook held the ball for the last shot of the game. With less than 11 seconds remaining, Bellbrook scored a three-pointer from the left corner to break the tie to go ahead 87-84. Robby Sherk was fouled immediately with less than 1.4 seconds remaining and was sent to the foul line for the one-on-one. Robby converted the first foul shot, and on the second foul shot attempt, Robby intentionally shot the ball hard against the basket hoping to get the rebound to score, but Bellbrook grabbed the rebound as time expired to end this thrilling game.
Robby Sherk (Sr) was the top scorer at 25, followed by Sam Sanders (So) with 17, and Scott Feldmiller (Jr) with 14.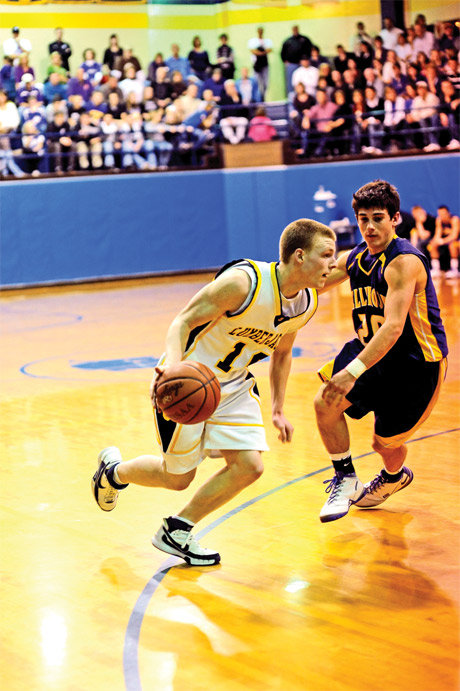 Photos by Leon Chuck, www.PressboxPhoto.com
Scott Feldmiller (Jr) drives towards the basket.
Robby Sherk (Sr) scores two of his 25 points in the game.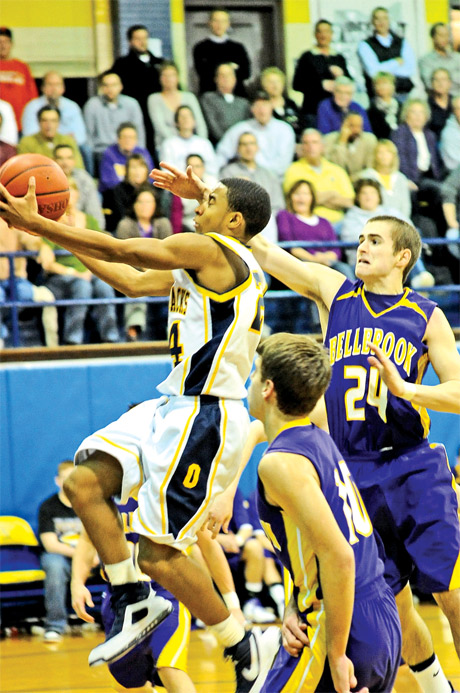 Sam Sanders (So) drives through heavy lane traffic.
OHS swim and diving teams sweep SWBL

By William Kugel

The Oakwood men's and women's swimming and diving teams continued their dominance of the Southwestern Buckeye League (SWBL) with resounding victories at the league championships on Saturday, Feb. 7. The women's team won their 7th consecutive championship, once again dominating the competition racking up 204 points to 78 each for runners-up Valley View and Bellbrook. The men's team swam to their 4th consecutive championship beating runner-up Bellbrook 180-166.
For the OHS women, individual league championships were earned by Haley Pohlman in the 100 Breaststroke, Natasha Wahl in the 100 Butterfly, Maddie Hochwalt in the 200 IM, and Caroline Hartel in diving. In the 200 Medley Relay and 400 Freestyle Relay, Pohlman, Wahl, and Hochwalt teamed with Ellen Viereckl for convincing victories.
For the OHS men, individual league champions were Daniel Schmitz in the 200 Freestyle and 500 Freestyle (both in meet records), David Ireland in the 100 Butterfly (meet record) and 100 Breaststroke, Brent Turner in the 50 Freestyle, and Andy Lamb in the 100 Backstroke. These four swimmers also were victorious in the 200 Medley Relay and 200 Freestyle Relay, both races being won in meet records.
Team championships, however, are rarely won without significant team depth. For the OHS women, the following swimmers finished in the top eight and earned points for the team:
Ellen Viereckl: 2nd in 50 Freestyle and 2nd in 100 Freestyle, Anna Johnsen: 4th in 50 Freestyle and 4th in 500 Freestyle, Amy Beck: 7th in 50 Freestyle and 7th in 500 Freestyle, Elizabeth Connelly: 8th in 50 Freestyle and 7th in 100 Freestyle, Sarah Lofquist: 3rd in 100 Freestyle and 3rd in 200 Freestyle, Emily Kugel: 5th in 100 Freestyle and 5th in 100 Backstroke, Natasha Wahl: 2nd in 200 Freestyle, Elizabeth Johnsen: 4th in 200 Freestyle and 7th in 100 Backstroke, Caroline Turner: 6th in 200 Freestyle and 4th in 100 Breaststroke, Sarah Wilhoit: 3rd in 500 Freestyle and 4th in 100 Backstroke, Maddie Hochwalt: 3rd in the 100 Breaststroke, Erin Johnson: 7th in the 100 Breaststroke, Alexandra Harmony: 3rd in the 100 Butterfly, Anne Connelly: 5th in the 100 Butterfly and 6th in the 200 IM, Haley Pohlman: 2nd in the 200 IM, and Grace Hahn: 3rd in diving. Turner, Kugel, Lofquist, and Anna Johnsen finished 2nd in the 200 Freestyle Relay. Rounding out the SWBL Championship team for the women were Katie Woodie, Sara Denka, and Emily Edwards, all three of whom had 9th or 10th place finishes in their respective events.
For the OHS men, they also demonstrated significant depth with the following point-earning finishes:
Adam Smith: 5th in 50 Freestyle and 7th in 100 Breaststroke, Marcus Viereckl: 6th in 50 Freestyle, Brent Turner: 2nd in 100 Freestyle, AJ Montesano: 5th in 100 Freestyle and 7th in 200 Freestyle, Sean Mooney: 5th in 200 Freestyle and 3rd in 500 Freestyle, Chris Sneeder: 5th in 500 Freestyle and 7th in 200 IM, Michael Chapman: 7th in 500 Freestyle, Buck Powell: 5th in 100 Backstroke and 7th in 100 Butterfly, Jacob Langhorne: 4th in 100 Breaststroke and 6th in 100 Butterfly, Jack Chambers: 8th in 100 Butterfly and 4th in 200 IM, Andy Lamb: 2nd in 200 IM, Michael Walker: 4th in diving, and Peter Schweizer: 5th in diving. Mooney, Powell, Langhorne and Chambers teamed up for a 2nd place finish in the 400 Freestyle Relay. The team also received strong performances from swimmers Perry Fulford, Will Reese, Matt Harlan, and Jeff Key.
By Mark Bustillo

This last Saturday our Mighty Lumberjacks competed at the end of season Southwestern Buckeye League Tournament held over two days Friday and Saturday at the "not so hospitable" Bellbrook High School.
There were 14 teams from all over Southwestern Ohio competing and the stakes were high in this crystallizing event for the entire league.
In brief – this is exactly why Wrestling is considered by ESPN as the toughest high school sport in the country. And all of our men felt the pressure knowing what it might mean to rank at the top of the League.
So there they were at season's end at Bellbrook – brothers in arms vying for honor despite injuries, flu, and mounting competition. And absolutely – Honor was born. We saw some amazing feats Saturday.
Kevin Lee at 103 again was on fire – leading the team as he tore through each opponent round after round. Lee has a surgical approach – he strikes quick with his set ups and executes singles and doubles, taking points, and delivering pins like its his full time job. Lee threw down all comers throughout the day only to meet top seed Cody Steiner from Waynesville in finals to lose a very close heated battle grabbing Silver at the end of a long two days. This Sophomore will be one to watch all through Sectionals, Districts and perhaps State competition over the coming weeks.
Then comes the formidable Daniel Jacobs. At 112 DJ has a harrowing wait and snap style. He sets up patiently and then strikes. On the mat DJ is fluid - I saw a lot of killer fi ishes and then when the ref doesn't like his arm bars he throws a half or works a cradle. No one during regular rounds could deal with his surprise attack strategy - all fell in his wake. DJ moved into finals undefeated and met top seed Frederickson of Dixie. This proved to be a tumultuous battle. In the end Frederickson moved ahead 5-4 and then stalled to the finish to eek out a 1 point win over DJ. It was Silver won – but Gold deserved.
Now we have our Alex Kooser at 130 who was second seeded behind Kleinberg from Eaton who Alex had beaten previously. Alex has had an exceptional season winning with sheer will and diversity. With him, it's a perfect set up, to an ankle pick, to a half or an arm bar, with points racking all the while. You never know what's coming next – his moves are unpredictable and he is an exceptional finisher. With that – Kooser finished all his challengers all day long only to meet his nemesis Kleinberg who was also undefeated in Finals. It was a dizzying match which Frederickson turned into a defensive win by inching ahead and then holding on. Kooser lost by decision 5-4 clinching Silver for the event overall.
If you've never seen him wrestle – you should know Iron Will Leboeuf has a grip. Its about control, form, strength and determination. His double leg shots are deep and clean, wrists are never lost and pinning combos are…well they are pinning combos. With that Will won all his matches during the day except for one only to find himself in finals against Nathan Bolton of Bellbrook. That one was a battle for the books – Bolton was a difficult defender and Will lost a close one 4-0 to secure a fourth place spot.
Overall the two day event was a struggle. Easy matches were nowhere in sight and Oakwood ended up finishing seventh out of 14 teams. When all was done - despite a respectable finish - there seemed to be an air of dismay about the close wins and a few difficult losses. Perhaps this was a wake up call for what is to come this Friday and Saturday at the Tippecanoe Division II Sectional Competition where our Jacks will compete hoping to progress to Districts and State. The trip North will certainly be worth it – come on up and support the team!!!