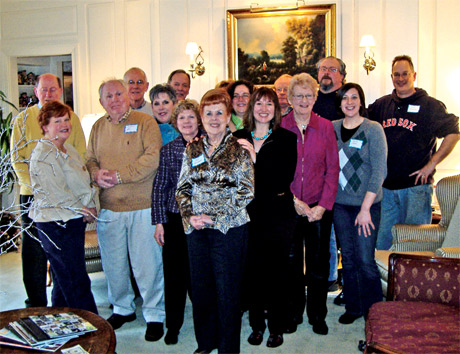 Oakwood Sister City gathering at Toni Wingers house.

On Sunday, Feb. 15, current and prospective Oakwood Sister City Association Board members gathered at the home of Membership Coordinator Toni Winger to renew Oakwood's pledge to honor President Eisenhower's 1956 mandate for citizen diplomacy. The meeting provided a forum for discussing ideas about generating interest and support for Sister Cities in the Oakwood community in order to more actively fulfill the stated mission of Sister Cities International: "Promote peace through mutual respect, understanding and cooperation – one individual, one community at a time." This mission means a lot to many in Oakwood who treasure the memory of Lou Wozar, Oakwood resident and one of the founders of Sister Cities International.
After offering membership to all those present, the newly united members of Oakwood Sister City Association held a vote to establish officers and a Board whose members represent both a continuation and a revitalization of a common goal. The elected officers are as follows: President, Kirsten Halling; Immediate Past-President, Bob Hitchcock; Vice-President, Carol Holm; Secretary, Liz Georgin; Treasurer, Ron Versic. Lucy Baker and Elizabeth Molinaro were nominated as board members responsible for publicity, and Toni Winger graciously agreed to help out as Membership Coordinator through the transition. As the Oakwood Sister City Association moves forward, it will be working closely with representatives from the City of Oakwood, Sister Cities International and other Ohio Sister City organizations. Kettering Sister City President Bob Van Leeuwen has pledged his group's assistance, and has offered to plan a joint fund-raiser. He invites all Oakwood citizens to join Kettering for exchange and travel opportunities with its Sister Cities Kettering, England and Steyr, Austria.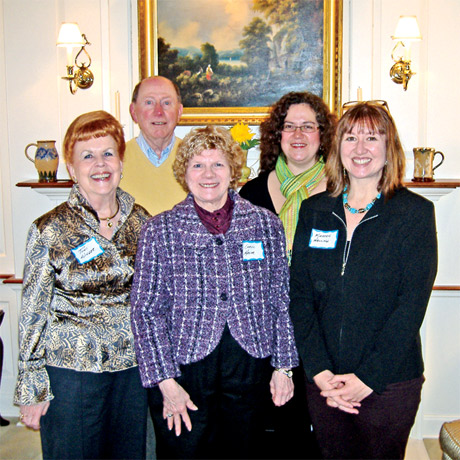 Newly installed officers, back row: Bob Hitchcock, immediate past president; Lucy Baker, publicity coordinator; front row: Toni Winger, membership coordinator; Carol Holm, vice-president; Kirsten Halling, president.
In addition to having an official Friendship Pact with Unterhaching, Germany, Oakwood currently has two very beautiful and dynamic French speaking sister cities: one in Le Vésinet, France, a suburb of Paris and the other in Outremont, Canada, a suburb of Montreal. Members of the Oakwood Sister City Association may enjoy the benefits of cultural exchange, guided tourism, student exchanges, and keypal relationships with these cities. Future activities include: a photo contest sponsored by Le Vésinet, hosting a few students from Le Vésinet as early as this summer, a delegation to Outremont to renew contact with our Canadian friends, a "Survival French" class fund-raiser, a Smith Gardens party, a barbecue and a membership drive. A general meeting will be held in March and will be announced in the Oakwood Register. In the meanwhile, please join the list by emailing oakwoodsistercity@gmail.com for updates on activities and meetings and to share your ideas.
---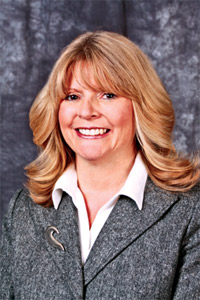 Freund, Freeze & Arnold is pleased to announce that Susan Blasik-Miller been named as 2009 Best Lawyers Personal Injury Litigator of the Year. Best Lawyers, the oldest and most respected peer-review publication in the legal profession, is designating "Lawyers of the Year" in high-profile legal specialties in large legal communities. These specialties are Banking Law, Bet-the-Company Litigation, Corporate Law, Family Law, Personal Injury Litigation, and Real Estate Law. Only a single lawyer in each specialty in each community is being honored as the "Lawyer of the Year."
Best Lawyers compiles its lists of outstanding attorneys by conducting exhaustive peer-review surveys in which thousands of leading lawyers confidentially evaluate their professional peers. The current, 15th edition of The Best Lawyers in America (2009), is based on more than 2.5 million detailed evaluations of lawyers by other lawyers.
---
Karen Hochwalt's aerobics class pose in their wonderful hand knitted hats. Lovingly made by a generous member of the class, the hats are knit in traditional Irish patterns in a rainbow of colors and flatter everyone.
---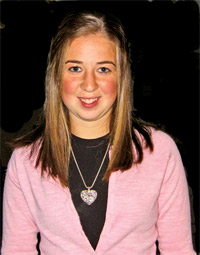 Lauren Sobol, 17, a senior at Oakwood High School, was named among eight other Ohio students as a Distinguished Finalist for the 2009 Prudential Spirit of Community Awards, a nationwide program honoring young people for outstanding acts of volunteerism.
As part of her volunteering efforts, Sobol has assembled and distributed more than 700 decorated pillowcases filled with books, toys, and games to needy children. As a junior representative for Secret Smiles of Dayton, Lauren collects dona tions from groups and individuals, decorates pillowcases and stuffs them with the collected items, and delivers the completed bundles to Secret Smiles officials for distribution to disadvantaged kids.
The awards program, now in its 14th year, is conducted by Prudential Financial in partnership with the National Association of Secondary School Principals (NASSP)..
Each awardee will receive an engraved bronze medallion.
---
Robin Crum, the Edwin D. Smith Elementary School PTO "Up with Art" chairperson, obtained a National Endowment for the Humanities grant for E.D. Smith Elementary and Oakwood Junior High which will permit each school to each acquire a collection of 40 high-quality reproductions of American art entitled "Picturing America."
---
By Steven A. Ingram

It is a loving gesture. Sharing the hidden joy of a life well lived by your father. Especially when he is still alive. Daughter Lena faxed a personal press release to the Oakwood Register editor: "My father survived two bouts with cancer, walks two blocks to work at the University of Dayton, has been president of his professional society and is simply a great dad."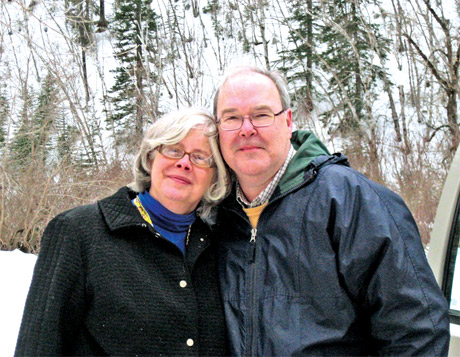 Dr. Dan Miller and wife Barbara
A long time resident of Oakwood, Dr. Dan Miller lives on the edge of Irving Avenue. The modest two story brown shingled house is as unassuming and unnoticed by hundreds of cars a day. Boo, the dog is the first responder to the chiming doorbell. Barks like a Great Dane, greets like a confident butler. He is actually a Rotweiller-Husky mix.
A Frank Lloyd Wright-inspired prairie home. Plenty of places to sit. Made for conversation-seating not too close together-words will be the way to connect. He sits in the big wine-colored, large paisley chair under the rich wood outline that separates the living area from the dining room. Antiques smartly placed, not cluttered, enjoyed-functional and artful, pleasing to the eye. He and his wife, Barbara, have been married for 39 years. They collect furniture, mainly inherited antiques.
Born and raised in Iowa, Dr. Miller attended the University of Iowa. Played football and basketball. Majored in science for two years. Took an introductory course in Sociology and got hooked-pulled away from both athletics and science.
Miller's sociology professor at the University of Iowa was charismatic and insightful about the "shock studies" of Stanley Milgram which used electrical shocks to test whether or not persons would tell the truth or simply "be obedient" in order to avoid being shocked. The strength of the shocks was not harmful but certainly jolting as they were increased by 15-volt increments up to 250 volts. A new sociologist was born in the midst of those studies, "I wanted to do that kind of research", Miller said. Not shocking research but precise and thought provoking. "I've always been a questioning person," Miller says.
Dr. Miller has been a professor of Sociology for 35 years. The University of Dayton pays him to read widely and discuss what he reads. The motto of scholarship is less "publish or perish" and more of reading and actively reflecting with students. "The University values the publication of work when it is ready instead of rushing it," says Miller.
What is a Sociologist? Miller explains, "I am a symbolic interactionist…studying all the symbols human beings use-like language and non-verbal behaviors-to get things done." How is anything accomplished? After all, he points out, "We are currently in a symbolic context to support this current interview." Sociology is the study of all forms of interaction between living beings. He cites the atrocities of Abu Ghraib and the "Bay of Pigs" fiasco of Kennedy's administration as perfect studies for sociology. "People followed orders without thinking about what was to be accomplished," Miller says. Many go along with whatever a group thinks without any questioning. "The current economic crisis is another perfect example-ridiculous loans given-that was more than greed, it was a psychological process," concludes Miller.
Dr. Miller is an active cancer survivor. Far from having all the time in the world, he had to check his schedule to find time for the current interview. His teaching is in remission while his cancer treatments conclude. In the meantime, he attends meetings and performs administrative duties in the Sociology Department at the University of Dayton.
Dr. Miller raises his left arm and points to the edge of his armpit with his right hand, "I developed male breast cancer." Rare, but the number of cases is rising because men are more willing to recognize it and receive treatment. "A lump the size of a golf ball." His wife confirmed the lump. They schedule a lumpectomy immediately. Mayo Clinic performed successful surgery. Dr. Miller was cancer free. That was nine years ago.
The summer of 2008 brought home a high prostate specific antigen (PSA) test result. Biopsy confirmed a return of cancer, "Oh, no! Not again. Why me?" Dr. Miller used symbols to express himself, "It was like I had an alien life form inside me-a starship from another planet-I wanted it killed or taken out." He chooses radiation as the form of treatment. It is successful. He is, again, cancer free. February 10, 2009 was the last of his 43 treatments for prostate cancer.
There have been many side effects of his treatment, but the most severe has been fatigue. He is gaining energy and looking forward to playing golf but adds, "My basketball and football days are gone."
The positive side effects of his cancer include the support from his colleagues at the University of Dayton, friends who sustain him, family who comfort him and his neighbor who shovels snow from his sidewalk. "I can't say too much about how nice people are," says Miller.
As a result of his first bout with cancer, Dr. Miller says he learned that his wife suffered more than he. "Sure I had deep vein thrombosis in my leg, but she suffered more…she needed to express how she was doing," he said. Miller encourages the spouses of patients to "get the stress off their shoulders" by expressing their thoughts and feelings.
Moving slow but deliberate, Dr. Miller is robust and speaks eagerly about his work and life. As a professor he enjoys watching students mature. He is gratified when the occasional student will make contact years later to affirm the relevance of the sociology courses. One student sent his gratitude in a clip from YouTube illustrating "complexity theory" showing two persons meeting and moving from unfocused to focused interaction.
A founding member, Dr. Miller is a past president of the Society for the Study of Symbolic Interaction. It is a 600 member theoretical society. He attends the annual Couch Stone Symposium sponsored by the society. Miller studied with Carl Couch who was the brains behind the founding the organization and for whom the symposium is named.
If he were to deliver a "Last Lecture" similar to Professor Randy Pausch of Carnegie Mellon University, Dr. Miller outlined his points, "Gratitude for my students who keep me up, alive and challenged. Realizing the rich garden of Sociology. Encouraging persons to use time to cultivate something of worthy inquiry rather than rushing to get something out before it is cured."
Dr. Miller and his wife Barbara have two grown children-both Oakwood High School graduates: Lena Miller is Promotions Director of an ABC affiliate in Rapid City, South Dakota; and Nate Miller is a Human Rights attorney in New York City along with his partner, Maya Steinitz, who is also an attorney. Dr. Miller recalls that "Nate could argue from age 3 and Lena was always playing modeling as a child."
The greatest joy in the past year for Dr. Miller has been his 18-month-old granddaughter, Romy. "We Skype every weekend." Dr. Miller's face beams with a mild smile and kind eyes.
Dan Miller is an ordinary man who has done something that is extraordinary. Although there has been pain and threat to his life, these have been occasions for compassion for others. His eyes, misty and moist, "I have a home, wife, family and good job. There are many who have much less and are losing what they have."
Humility, gratitude, and hope - a compassionate scholar - Dan Miller.