By Burt Saidel
This column has a definite greater Dayton flavor. Occasionally, I can cover performances and events from other cities and even other countries. Rarely do I have the opportunity to focus on the real home "beat" - Oakwood.
Most of my readers know that I am only an "adopted" Oakwood citizen. Alice and I live in the far North of Dayton but I can use the old saw, "Some of my best friends come from Oakwood."
Oakwood has so many interesting and appealing activities and attributes. I've attended the Oakwood Rotary Club meetings, even served as guest speaker.
Thanks to the prodding of life-long friend Dick Cummings, I have helped build all manner of things to help Oakwood projects. Perhaps the most interesting were some elaborate boxes to haul the items for the pancake breakfast in and out of storage at the Oakwood Municipal Building. For that, I am rewarded annually with more pancakes than a normal human can eat.
Among the Oakwood landmarks which I have always admired is St. Paul's Episcopal Church. An imposing presence on Dixon Avenue, it is a remarkable example of modernized English Gothic architecture. Completed in 1957, the church is stately and beautiful in its simplicity and richly understated details.
I have attended many services, primarily life cycle events, at St. Paul's. The church building is enhanced by the warmth of the services and clergy. The present Rector, Rev. John Koepke, is known as Jack. His friendly demeanor and ever-present good humor can be felt at activities throughout Dayton.
Recently I received a call from good friend Pam McGinnis announcing a major restoration of St. Paul's. I was a bit surprised since I considered the church to be pristine as well as beautiful. Pam asked me if St. Paul's could enlist the "God Squad" to create and donate a Communion table for the restoration.
Many also know that the God Squad is a name given to me and my hearty band of fellow woodworkers. Over nearly two decades, we have created many works which stand in churches, synagogues, schools, symphony halls and lately - an antique beer truck for Carillon Historic Park. We donate all of our works and take great enjoyment from the creative process.
I didn't even have to ask my fellow God-Squaders - Harold Prigozen and Dick Cummings – the answer was yes. When we consulted with St. Paul's Administrator and Music Director, John Johns, we learned a great deal about the church and plans for the future.
Sixty years had left its mark on the church. The marks were not scars but a need for updating aspects of the building. Mundane items such as asbestos removal and concrete repair are prominent in the plans. Less mundane but rather normal were installation of new carpeting, better lighting, refreshed painting and accommodation for handicapped access.
What was most remarkable about the plan was the desire to bring the impressive altar and its inspiring features a feeling of greater closeness to the congregation. This reflects a very warm and positive change in our time and in our concept of how personal religion can and should be.
Rev. Koepke has said that the temporary worship space in the Parish Hall has been greeted with enthusiasm by the congregation. It is smaller and closer, more intimate and personal. It is Rev. Koepke's desire and the mission of the restoration, to beautify and modernize the church and to make its large inspiring space have the personality of today.
Our communion table will be close to the congregational pews. The service will be brought to the worshippers. I know that the architectural inspiration of this magnificent church will be enhanced by the sympathetic attitude of its enlightened leadership.
I report to my dear readers about this for many purposes. First, it is a change in an important Oakwood landmark. Secondly, it will enhance the congregation's experience. To me, most important is the recognition that what the world needs is more friendliness, more personal involvement, less distance between the individual and his inspiration – and, more inspiration.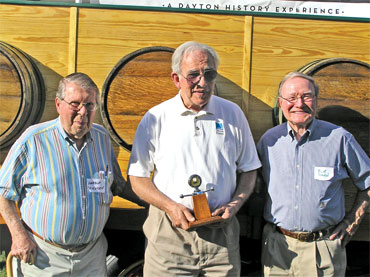 Left to right: 'God Squad' members Dr. Harold Prigozen, Dr. Richard Cummings and Dr. Burt Saidel in front of their most secular and recent creation, a Model T beer truck.