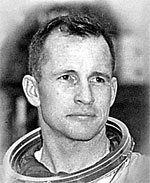 The 48th Annual Aviation Hall of Fame Enshrinement Dinner & Ceremony was held on Saturday, July 18, at the Dayton Convention Center. Among the four individuals being enshrined into the Hall of Fame was the late Edward H. White, II, the first American to walk in space during Gemini IV in 1965, and who died in the Apollo 1 fire in 1967 along with astronauts Gus Grissom and Roger Chaffee. Presenting White for enshrinement was 1979 Enshrinee and the first man to walk on the lunar surface, astronaut Neil Armstrong. White's son and daughter, Edward H. White, III and Bonnie White Baer, accepted on behalf of the family.
White's 2009 enshrinement classmates included astronaut Eileen M. Collins, the first female Shuttle Commander; former Cessna CEO and Chairman, Russell W. Meyer, Jr.; and the late, great Hollywood actor and WWII veteran James M. Stewart.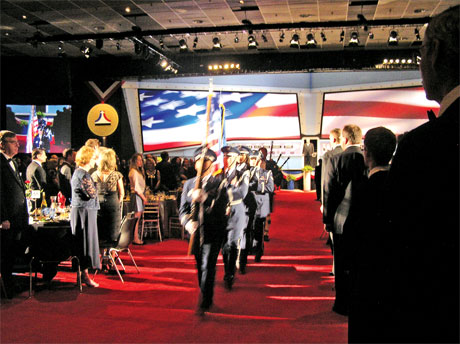 WPAFB Honor Guard opened NAHF ceremony.
During the ceremony, biographical narrator Carl Day mentioned an Oakwood connection - the White family lived in Oakwood for a time and that Edward White, II attended Oakwood High School in the seventh, eighth and ninth grade during the years of 1943-45. Attending the ceremony were five of White's former OHS classmates: Ruth Hoecker, Marilyn Tolnich, Erma Murray, Joey Theile, Jim Buchanan and Glen Walters, all of whom went on to graduate in the OHS class of 1948.
On person in particular was best friends with White during those years. Glen Walters has very fond memories his friend, who originally arrived at Oakwood Jr. High School every morning transported by bus from the airbase at Patterson Field where his father, Maj. Gen. Edward H. White, Sr. was stationed. Later on the family moved to Oakwood and lived on the 200 block of Monteray Avenue. Walters' family lived a short hop away at 247 Dellwood Avenue.
"He was a great guy. He was a practical joker, he was a prankster, he was a good student and a great athlete," Walters said of White. On the athletic side, White ran on the track team and played on the varsity football team in the ninth grade. According to Walters, there is a picture of him on the football team in the 1945 Acorn yearbook and another picture of him as well in the 1944 eighth grade class picture.
As far as practical jokes were concerned, "they were Halloween-type pranks. We'd sneak up on a house while the family was inside the house and stack all the porch furniture against the front door," Walters said. During the summer months, White would come stay at the Walters' house for two weeks at time followed by Walters enjoying a two-week 'tour of duty' at Patterson Field. Pranks continued on-base as well, with a half dozen boys "streaking" past the Officer's Club veranda and jumping in the pool, swimming across and out again. "We had a great time as kids," Walters said.
Their friendship continued after White's family moved to Washington, D.C. Walters graduated from OHS in 1948 and attended Denison University; White received an appointment to the U.S. Military Academy at West Point. During his time at West Point, White met Patricia Finegan who would become his wife. Walters in-turn married Susan Simons.
After a three-and-a-half year tour of duty in Bitburg, Germany flying F-86 and F-100 fighter aircraft, White entered the University of Michigan under the Air Force Institute of Technology program and graduated with a Master of Science degree in Aeronautical Engineering. As for Walters, he graduated with a bachelor's degree in English and completed a master's degree in Communication at the University of Dayton.
After attending the Air ForceTest Pilot Program at Edwards Air Force Base in 1959, White returned to Wright-Patterson AFB as a zero-G flight instructor and extended flight training captain. In 1962, White was named by NASA a member of Project Gemini, one of nine out of a pool of 200 candidates to become an astronaut. He was headed to Houston, Texas.
"He and his family spent the last night in Oakwood at our house on Dellwood," Walters said. "My kids loved him and called him Captain Eddie. Our anniversaries were three days apart and we often celebrated them by going to our favorite restaurant, The Tropics in north Dayton. One time we went two times – once to celebrate our anniversary and three days later to celebrate their anniversary," Walters said.
White's flight into space was aboard the Gemini IV, and White invited Walters down to Cape Canaveral for a week of fishing and to watch the launch. White made the history books when he undertook the first American spacewalk for 21 minutes.
White was then selected as the senior pilot for the first Apollo mission on March 21, 1966. His star was rising ever higher. Chosen to accompany him was command pilot Virgil "Gus" Grissom and pilot Roger Chaffee.
On January 27, 1967, the trio entered the Apollo I capsule on the launchpad for a practice session. A fire broke out in the cockpit and the pure oxygen environment turned the interior into an inferno, killing all three astronauts.
Walters attended his friend's funeral at West Point. At the end of the funeral, White's widow, Patricia "put her head on my shoulder and said, "Do you realize he died on your anniversary and we buried him on ours?"
Today, Walters remembers his friend as clearly as if he was with him yesterday and found the enshrinement ceremony particularly poignant. When asked if he thought White could have been the first man on the moon, he paused and said, "I think there was a good chance of it."
Mark Friday, July 31 on your calendar for a special evening of music on "The Farm," 1911 Ridgeway Rd. On that evening John and MJ Gray are inviting the community to a free community concert by the Oakwood High School Marching Band in the beautiful setting of the Gray's outdoor amphitheatre. Under the direction of Ron Nelson, the band will play selections from their upcoming season. Following the concert refreshments and dessert will be provided by the Oakwood Band Parents Association.
Look for the flyer in this week's Oakwood Register with complete information about this gift to the community from the John Grays.
Francine will now officially get her garden.
The area in Centennial Park at Houk Stream called Hidden Garden is slated to be restored and renamed in honor of the late Francine van der Hoeven following approval by Oakwood City Council at last night's meeting.
Mrs. van der Hoeven, a long-time member of The Garden Club of Dayton, had created her own Hidden Garden at home on Park Road amidst many landscape improvements. After she died in January 2008, the idea of establishing a garden in her name emerged from the kindness of those who wanted to make lasting gifts in lieu of flowers at the time of her funeral. And in response to that, her husband, Dr. Ludolph van der Hoeven, donated $20,000 to make the restoration project a reality. An additional $40,000 from the city's general fund plus $10,000 from the Bullock Endowment Trust Fund will also go towards the project.
Council's legislation was passed in the form of two separate resolutions: 1) to establish Francine's Garden and 2) to authorize the city manager (or his designee) to negotiate via informal competitive procedures for the purchase of landscape services.
"A wonderful memorial to a beautiful woman," commented Mayor Judy Cook.
Among status reports at the meeting, Councilman Steven Byington announced the Sugar Camp/Pointe Oakwood development project is "moving along quite well." The debris currently at the site will be crushed and used as fill, he added. Byington also said work on Old River Trail has begun and grading for the road should begin in a couple of weeks.
In relation to this, Council passed an emergency ordinance allowing for the transfer of 1.994 acres to the Oakwood Investment Group at the northern edge of Pointe Oakwood in order to build Old River Trail, consistent with the approved master development plan in exchange for the grant of right-of-way to the city. The urgency of passing the ordinance is to provide access to the city's athletic fields and in compliance with the purchase contract with NCR for those fields.
Following a presentation by Oakwood Manager Norbert Klopsch, Council also passed a resolution allowing the Miami Valley Communications Council (MVCC) to implement an opt-out natural gas aggregation program on the city's behalf. The program manager and natural gas supplier will be American Municipal Power-Ohio and Interstate Gas Supply, Inc. (IGS), respectively.
The billing cycle would begin in late August/early September, and estimated cost savings are expected to be $45-$55 per year for the average residential customer. After the March 2010 billing period, the price will be negotiated for the following three months, and if the price is not acceptable the program will be cancelled. In this event, or if a customer leaves the program, IGS will return the customers to Vectren. The opt-out program applies to customers using less than 5,000 ccf per year. Customers can opt-out of the program during the 21-day billing period, and will have a second chance to decline enrollment upon receipt of a rescind letter by Vectren. Customers can leave the program at any time without a cancellation fee.
Oakwood City Council will hold its next regular meeting on Monday, Aug. 3, 2009.